---
---
Parenting
Children's games that mom & dad can play without going batty

I grew up with board games of all sorts, playing 5-6 hour "train games" with my brother and his friends, or Settlers of Catan back when it was only available in German. So when my wife and I were blessed with children I was already looking forward to playing games with them.
But if my kids and I were going to play games, I wanted to be able to actually play them. I was on the hunt for games which would involve some skill, and yet allow for a bit of competition between a dad and his preschool daughters. It wasn't like I was going to try my hardest, but I also didn't want to just be pretending to do my turn. I wanted games where I could try, at least a little, or perhaps level the playing field by attempting tougher moves than my daughters. I wanted to play too.
I soon found out that was a tall order. Most children's games are entirely chance, or either mind-numbingly simple, or even more mind-numbingly repetitive. But after some searching I was able to find five games that proved to be a challenge for both dad and daughters.
ANIMAL UPON ANIMAL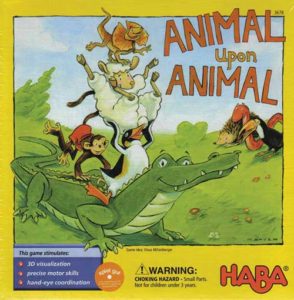 by HABA
10-20 minutes to play
2-4 players
Ages 5 and up
This is a stacking game, with the wooden pieces all shaped liked various animals. The variety is interesting: it has penguins, snakes, sheep, and monkeys – not animals that normally hang out – and at the bottom of the pile is a big long alligator that everybody piles on. Players start with seven pieces and take turns adding one or two animals to the stack, trying to make sure not to knock any down. The first one to get rid of all their animals wins.
Of course the little beasties are going to come tumbling down, so one nice feature of the game – especially for youngsters whose fingers aren't yet so nimble – is that if you do end up starting an animal avalanche you only have to put a maximum of two of them in your own pile. So no player is going to fall too far behind.
Our oldest daughter really enjoyed this, but while the game says it is for 4 to 99, our four-year-old found it just a bit too hard and frustrating yet. However, I'm thinking that by the time she hits five this will be a real hit. Animal upon Animal is a good one for the whole family.
COOCOO THE ROCKING CLOWN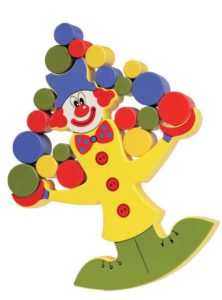 by Blue Orange
5-10 minutes to play
2-5 players
Ages 4 and up
This is a balancing game, with players taking turns adding a "ball" (actually a wooden cylinder) to one side or the other of CooCoo's outstretched arms. Put too many on one side and he'll tip over!
That's all there is to it – simple enough for 4 years olds to play, but there's still enough here to keep adults challenged too. I can play this with my kids and try my best; I just leave the easy spots for them and challenge myself by going for the harder ones.
Though it isn't in the rules, it works both as a competitive game (placing your ball so it will be hard for the next person to find a good spot) and as a collaborative effort (How many balls can we work together to get on CooCoo?).
All the pieces are wood, which is wonderful. The only downside to this solid construction is that CooCoo himself is heavy enough that, if he manages to fall off the table, he may well chip (our CooCoo has a few bits broken off from the tips of his fingers). So don't place him near the edge of the table!
This is great fun in half hour doses, and mom and dad may even find themselves playing it when the kids are in bed.
QWIRKLE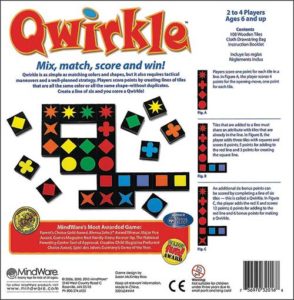 by Mindware
30-45 minutes to play
2-4 players
Ages 6 and up
Qwirkle is a great strategic game, which takes less than a minute to explain. It comes with 108 solid wooden tiles, coming in six different shapes, in six different colors. Points are scored by laying out a line of tiles that match each other either by color or by shape. So, for example, I could lay out a line of three that was made up of (see the left side of the back of the box picture): an orange sun, an orange star, and an orange diamond. That would get me three points. Next turn someone could expand off of my orange diamond by laying a yellow, green and red diamond beside it.
Simple, right? True, but this is also an intriguing enough game for MENSA to endorse too.
I've tried this with my four-year-old, and while she enjoyed it, I had to help her every turn – I was essentially playing against myself. Six seems the lowest age for a child to be able to play on her own. It says it's for groups of two to four but we've done it with as many as six successfully.
Everyone we've played this with seemed to enjoy it. That's probably why it has sold millions, spawned several spin-offs and even has its own app for Apple products.
SPOT IT JR.!

by Blue Orange
5 minutes to play
2-6 players
Ages 4 and up
On a turn the dealer will lay down two of the round cards and then players race to spot and call out the name of the one animal that is shown on both cards. Every card has pictures of six different animals, shown in various sizes, and somehow they've managed to arrange it so that whenever you flip two cards over there will always be one, and only one, pairing. The first to name it gets to keep the set, and the person with the most sets at the end wins.
This is a simplified version of the adult Spot it!, with the only difference being that the adult game has more items per card. I found I did sometimes have to go a bit easy on my kids – I couldn't try my hardest – but already my six year old is hard to beat.
It says it is for 2-6 players, but I'll add that with my younger daughter this is a fun game only if it's just me and her. In the larger group she just can't compete and it's no fun.
I appreciate how fast it is – five minutes or less – which means there's always time for at least one round!
GOBBLET GOBBLERS & GOBBLET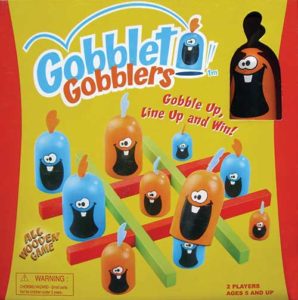 by Blue Orange
2-5 minutes to play
2 player
AGES 5 AND UP
Our oldest, on account of being the oldest, wins most games our girls play. She's a fairly gracious winner, but I wasn't so sure she was a gracious loser. To give her some practice I picked up Gobblet Gobblers, a quick game that takes some skill that I could play with her. That way she would get lots of practice at losing. Or at least that was the plan.
This is tic-tac-toe with the added feature that some pieces can eat others. Each player gets three big gobblers, three medium sized ones, and three small gobblers. The big ones can stack on top of (or "eat") the medium and small gobblers, while the medium gobblers can eat only the smaller ones. And the smallest gobblers are stuck at the bottom of the food chain: they can't eat anyone.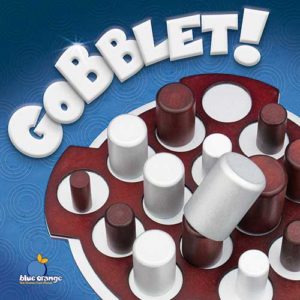 It's a very fun and very short game: it takes just a couple minutes to play. That means in just ten minutes of competing against her dad my daughter got a chance to lose – and practice doing it the right way – a half dozen times. It is a children's game, but not a childish game – parents don't have to turn their brains off to enjoy playing it. In fact I've played this with my wife. Some of my nephews and nieces, ranging in age from 5 to over 20 have all found the game quite addictive too. It's about $25, with solid wood pieces that will stand up to good use.
I should add that my 6-year-old happened upon a winning strategy that, if she starts with it, will win every time! It took her dear old dad quite a while to figure out why she had started winning every time, so I also got some good practice at losing graciously. (This was not going quite as planned!) So, we later upgraded from the 3-by-3 Gobblet Gobblers board to the adult version, Gobblet, which features a 4-by-4 board, and 12 pieces per player instead of 9. And it seems to have no guaranteed way to win.
Both games are being put to regular use in our home even now more than a year after we bought.
All these games are readily available through Amazon or other online stores.
This article first appeared in the May 2016 issue.