---
---
Interview with an artist
Jim Menken transforms tree trunks!

Interview with an artist
*****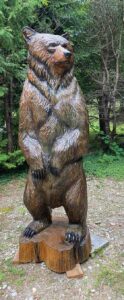 An 8-foot tall grizzly!
When you think of a sculptor, the image of a chainsaw does not immediately come to mind. But for Ontario sculptor and carver Jim Menken, the chainsaw is the tool of choice for creating his masterpieces large and small.
Menken has had a lifelong interest in art. But in 2003, while still working as a teacher, Jim saw a chainsaw carver at a local festival and became so enthralled with the process that upon arriving home later that day he carved a heron! And he literally has been carving ever since – transforming old trees, stumps and logs into beautiful works of art for a wide range of clients.
Jim took up this new passion full time in 2005. He now lives and carves in the town of Mono in beautiful Dufferin County (about 1 hour north west of Toronto) on a property that is perfect for a chainsaw carver; isolated, and with no neighbors within earshot. He has never advertised once and the phone calls and emails have never stopped since. Jim considers this a gift – an answer to prayer.
Jim is inspired by God's creation and uses his God-given talents, a chainsaw and a few other tools to depict animals, people, and select objects as realistically as possible. Jim's portfolio includes bears, beavers, birds of prey, critters and pets. Living close to the Bruce Trail and the breath-taking Hockley Valley, provides Jim with an endless stream of inspiration and interesting subjects to draw from.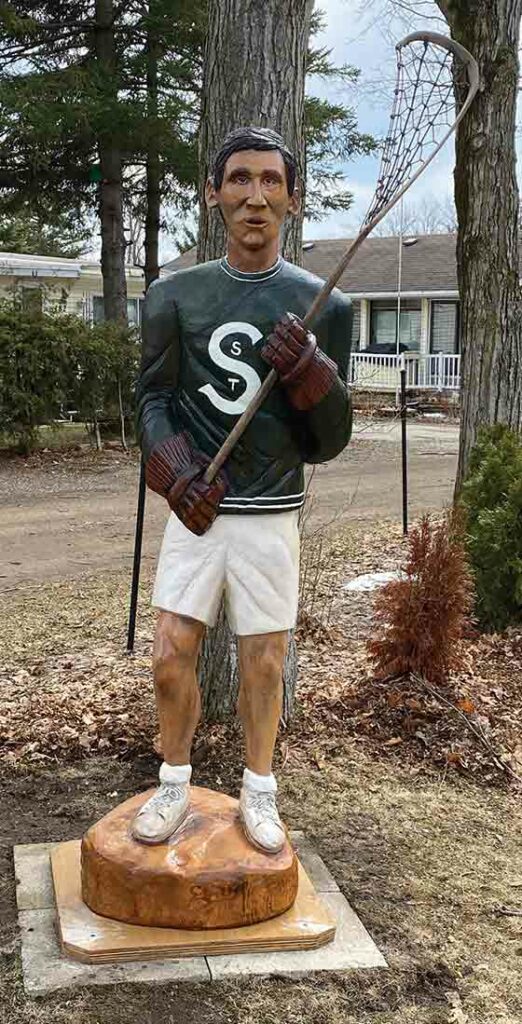 This commission was of a grandfather who'd played lacrosse in his younger days.
Interestingly, Jim does not title his pieces! This is partly because Jim's work is almost 100% commissioned. He does not create pieces and then try to sell them. Rather, Menken enjoys the challenge of commissioned works where the client picks the subject.
Menken says his clients often have memories attached to their trees and will ask him to carve something to help preserve those memories. In this way Jim meets many different people from different backgrounds and his life and work intersect with many interesting stories.
In 2005 Jim was commissioned to carve the veteran for Gage Park in Brampton. It was an existing tree in the park. The legion is close by and veteran Bill Bettridge was used as a model. Unfortunately, the tree had a bit of a seam in it, so it began to decay over time. In 2013 a replacement carving was commissioned. Last year the city commissioned a bronze sculpture modeled after Jim's original carving which was returned to Jim who then passed it on to Bill's family.
Jim has never set foot back in the classroom but he is available for chainsaw carving demonstrations throughout the year. In the winter he demonstrates ice carving and sculpture. Perhaps he'll inspire the next budding sculptor to lay down the traditional tools and pick up a chainsaw instead. It appears you can take the teacher out of the classroom but you can't take the classroom out of the teacher.
Jim is married to artist Deb Menken, and has 3 grown children who are all artistic as well! He is a member of the Orangeville Canadian Reformed Church. Visit Jim's website, JimMenken.com, to learn more about his work and you can also follow him on Facebook (@JimMenkenCarving) and Instagram (@jimmenken).
If you have a suggestion for an artist you'd like to see profiled in RP please email Jason Bouwman at [email protected].