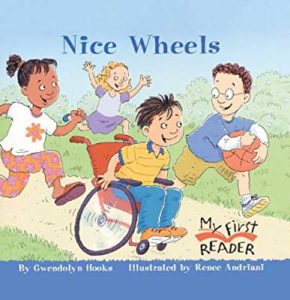 While we were at the library one of my daughters grabbed Nice Wheels, a book featuring a boy zipping across the cover in a wheelchair. I thought it was a great choice; my children don't know anyone in a wheelchair so this seemed like it would a good way to teach them that whether we're standing or sitting, we're all people.
But that wasn't the moral of this story. The author wanted to teach my daughters that our value comes from what we can do.
The book begins with a wheelchair-bound boy rolling into class and a second boy wanting to know, "Can he do what we can do?" By day's end we've learned that the boy in the wheelchair can sing just like everyone else, and can paint, and listen, and laugh, and eat lunch, and share like everyone else too. And as the book draws to a close the second boy decides that, shucks, if this boy in his wheelchair can do everything we can do, why not be his friend?
While the author's heart was in the right place, her thinking couldn't be more wrong. If we're worth befriending because we can do things, what if we can't do things? If our value is tied to what we can do, then what of a boy who can't sing, or paint, or eat lunch with the other kids?
Comedy and tragedy
The world believes that our worth is tied to our ability. That's why we have feminists arguing that women can do anything men can do, even including all that brawny stuff. No matter that men have way more muscle, feminists won't admit men make better firefighters, soldiers or alligator wrestlers. They can't concede that men can do more in these areas because in their worldview that means men are more valuable than women.
Feminist confusion is comical, but equating ability with worth can also be deadly. It's this same thinking behind abortion: we can kill the unborn at 10 weeks because they can't do this yet, or at 20 weeks because they can't do that yet. It's also the impetus behind legalized euthanasia: if a strong healthy young man wants to commit suicide we'll try to stop him, but if an old man requests euthanasia because his physical and mental abilities are diminishing, well, that's supposed to be understandable.
Dripping in the church
In our churches we oppose abortion and euthanasia. We know our lives are valuable even when we can't do anything at all. We know it, but daily we manage to forget it. We tie our sense of worth to how much we make, or have donated, or to the position we hold. Or we base it on how well our kids behave, how many books we've read, how many invitations we do or don't get, or how many Facebook likes we've collected. We know better, but we still fall for the lie that our worth is somehow tied into what we can accomplish, or earn, or achieve.
There can be something appealing about this lie in the short-term, particularly just after we've lost 20 pounds, or scored a game-winning goal. But in the long term it all fades; relying on our own strength is a dead-end.
Unearned
What a blessing it is to know, then, that our value doesn't come from our abilities. Ours is a derived worth that comes from the God in whose image we are made (Gen. 1:27, 5:1 9:6, Psalm 8:5-6). Our status also comes from God's command to love our neighbor as ourselves (Mark 12:31). But it doesn't come from what we can do. We're valuable because of how God made us, and because of what God commanded.
So it's all gift.
Understanding that frees us from the impossible burden of trying to earn it. When we know for a fact that nothing we can give could ever be good enough for God, that frees us from worrying whether or not it will be. It frees us to simply respond in thankfulness, giving freely of ourselves and our gifts without being self-conscience about how little it is we have to offer.
And understanding where our worth comes from should stop us from expecting others to earn their status. The newcomer to our church shouldn't have to smile first before we welcome them. The lonely girl shouldn't have to accept one of our first ten invitations before we offer her an eleventh. The awkward guy shouldn't have to play hockey to be a part of our group. And that kid in the wheelchair doesn't have to show he can do everything that the other boys can do before he's worth befriending.
They shouldn't have to earn it. They can't earn it. We can't earn it.
It's all a gift from God.