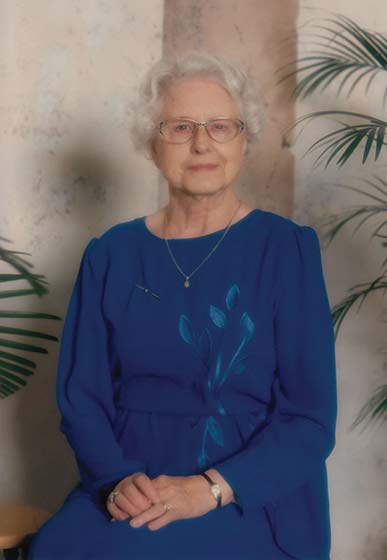 My grandma died at the age of 93, more than 25 years after her Henk died. And during those years she often wondered why God hadn't taken her too – all her children were grown up, so what did she have left to do?
She hadn't exactly forgotten about her grandchildren, but like many grandparents, she did underestimate how much she had to offer the younger generation. She didn't understand how much her grandchildren still needed to learn from her.
60's – Hello!
Grandma was already in her 60's when most of the grandchildren first got to know her, and the lessons began immediately. The very first lesson she taught us was that it was important to eat all the food on our plates. The second lesson? That whether we ate all the food on our plates or not, our grandma loved us. She modeled and taught us about unconditional love – the exact type of love God gives us. Parents practice this love too, but it isn't always as clear. Parents are, after all, the ones who have to punish, and prod, while grandparents can simply adore, spoil and hug.
70's – Learning never stops
There are other lessons, too, that are best learned from a grandparent. Grandma taught us that purity can be funny – that one can get laughs without being crude or rude. She was a very elegant lady but she wanted us to know her generation had the secret to good clean fun; they knew that the very best type of humor was silly humor. So even though she had the regal bearing of a queen, she never passed up a chance to model the large fuzzy slippers she got one Christmas. And when we picked her up at her apartment she always took a moment, with a sly grin, to quickly say goodbye to her collection of stuffed animals.
Even in her 70's she had an innocent child-like sense of humor. A favorite example is of the time when she was out with one daughter and a couple of grandsons. The foursome was out walking when they came upon a set of revolving doors. Her daughter, our dear mom, went first, followed by little James. But then it was my turn… the grin on my face let my mother know in advance what her urchin child had planned. But just as she was about to give me a stern warning, in stepped grandma. The two of us, urchin child and tiny, elegant, 70-something-year-old grandma, started going round and round and round again in that revolving door until we both got so dizzy and weak from laughing we tumbled out.
80's – She's seen it all before
By the time grandma hit her eighties, her grandchildren were just about all grownup. But she still had a lot to teach us. We were leaving our Christian schools, entering university and experiencing for the first time just how depraved the world could be. Our gentle, delicate grandma knew all about it – in her eighty years on this earth she had seen it all.
One story she often told to encourage us, was about the day the Germans invaded her native land of Holland. That day she had looked up to see so many German paratroopers floating down to earth they blotted out the sky. The sight convinced her that the end had come, that the world must be over – how could it ever get worse than this? But it wasn't the end, and though German power seemed invincible, God brought liberation. Her point was clear: don't despair – our God can overcome any evil.
90's – Last but not least
In her nineties grandma start showing signs of Alzheimer's, and began getting confused about what decade it was, and what country she was in. She soon lost the ability to speak English, and in her last months couldn't walk further than a few dozen feet without huffing. Her body was gone, and her mind was failing her too. On her better days, when her mind was clear enough that she could understand what was happening to her, she got very frustrated. Once again she wanted to know, why was she still here? What did the Lord still have left for her to do?
The truth was she wasn't able to do anything for anyone anymore. But she could still be helped. This wasn't an easy time for grandma and sometimes she vented her frustration on her children. But she loved to be helped by her grandchildren – anything we did for her would be met with a smile or a pat on the arm. She was once again teaching us about unconditional love – Christ-like love – this time, how to receive it. She responded to us, as we should respond to our giving, gracious God.
Conclusion 
Grandma lived to be 93, and while she sometimes thought that her job here was done long ago, her grandchildren are very grateful God gave us these many more years with her. Grandparents are such a blessing.