by John Hendrix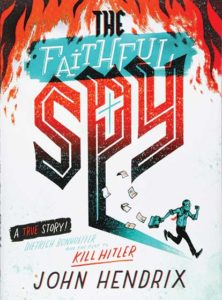 176 pages / 2018
 The world "pastor" is not often paired with words like "plot" or "kill." But when the Nazis took over Germany, and used nationalism and intimidation to silence its churches, and then set out to conquer the world, Pastor Dietrich Bonhoeffer had to do something. And he felt himself pulled to do what would once have been unthinkable to him: Bonhoeffer joined a conspiracy to kill his country's leader, Adolf Hitler.
At 176 pages, and text-dense, author John Hendrix has a lot of space to explore Bonhoeffer and his time.  He starts with his birth and family life, before showing how World War I impacted the Bonhoeffers – one of Dietrich's older brothers was killed – and how the runaway inflation that came shortly afterwards destroyed everyone's savings. In 1921 a German could exchange 75 marks for 1 US dollar, but by the end of 1923 to get that same US dollar he would have to bring a wheelbarrow, or maybe a dumptruck, to carry the 4 billion marks that'd now be needed. Money, jobs, and hope were scarce, and this set the scene for the rise of Hitler. Germans wanted a way out, and Hitler presented himself as a savior.
Meanwhile, Bonhoeffer was learning, via travels in Europe and America, that a love for one's country doesn't mean you have to support everything your government does. So when the Nazis, only a few months after they came into power, fired Jews from any government positions, Bonhoeffer was one of the few church leaders to speak out. He published a public paper called "The Church and the Jewish Question" in which he laid out an explicitly Christian justification for resisting the government. He described three ways the Church can and should respond to an evil government.
Question the State and its methods: a True church must reject government encroachment on its beliefs
Aid the victims of State actions: the Church has an unconditional obligation to the victims…
Strike back: it is not enough to just bandage the victims under the wheels, but to put a spoke in the wheel itself!
As you can tell, this "comic book" gets into some big and heady topics. What's more, "how to deal with a hostile State?" is a topic of growing relevance these days. That makes this an important book, but also one that should be discussed between parent and child. There is some serious theology here, and while the general thrust is right on – we owe our allegiance first and foremost to God, even if that means resisting the State – what exactly it looks to live that out, back then and today, is a topic too weighty for a teen to work out on their own.
This is a graphic novel worthy of both a teen and adult audience. The thought and research that's has gone into it is evident throughout. Even the coloration of the book is fascinating, with Bonhoeffer consistently shown either in teal or with a teal background, the Nazis always highlighted with the use of red, and when death makes an appearance there is a predominance of black.
I'd recommend The Faithful Spy for any teen who has begun to think on big issues, and anyone anyone interested working through what it means to live to God's glory in tumultuous times.