Many Canadians, Christians included, are unfamiliar with the painful history of Indigenous peoples in Canada. Chief Dan George, born in North Vancouver and former leader of the Tsleil-Waututh Nation, provides a summary of this history and its impact on Indigenous peoples, and he suggests a path to healing:
"My culture is like a wounded stag that has crawled away into the forest to bleed and die alone. The only thing that can truly help us is genuine love. You must truly love us, be patient with us and share with us. And we must love you with a genuine love that forgives and forgets … a love that forgives the terrible sufferings your culture brought ours when it swept over us like a wave crashing along a beach … with a love that forgets and lifts up its head and sees in your eyes an answering look of trust and understanding."1
Chief Dan George's words, written 50 years ago, remain relevant today and it is especially important that we, as followers of Jesus Christ, consider the extent to which we know the history he references and the extent to which we are demonstrating understanding, genuine love, and compassion to our Indigenous neighbors, as fellow image bearers of our God.
Pursuing the Truth
God calls us to pursue knowledge, truth, and understanding. The emphasis on knowing rightly in Scripture means pursuing biblical truth, and truth about the reality of the world as God created it, but it also includes pursuing historical truth.
So, what is the truth of the Indigenous experience in Canada? What are the sufferings that Chief Dan George references? A quick survey of Canadian history will suffice to provide some of the broad strokes.
Shortly after Confederation, the Canadian government looked to realize the potential of the West and to fully realize a country from "sea to sea." One of the challenges was Indigenous land title. Government officials entered into treaties with Indigenous peoples beginning in the 1870s when they realized that they could not afford to engage in "Indian wars" as were happening in the United States. At the time, the United States was spending $20 million on its Indian Wars and Canada's entire budget was $20 million.2 A simple economic calculation swayed the government toward pursuing treaties rather than fighting.
Interestingly, Indigenous peoples recognized that education was necessary to help their communities adjust to changing economic and social circumstances. As a result, they insisted that schools, teachers, and teachers' salaries be included in the treaties negotiated in the 1870s. The early treaties called for on-reserve schools, and from Treaty Seven (1877) onward, the treaties committed the government to pay for teachers.3 There was no mention of residential schools when these treaties were signed – rather the focus was on the establishment of schools, on the reserves, for the instruction of Indigenous children.
A misguided approach
The Davin Report signaled the beginning of residential schools. Nicholas Floyd Davin was appointed by the federal government to investigate the boarding school system in the United States. In 1879, he submitted his report. He concluded that Indigenous peoples should not have a voice regarding the character and management of their schools. Rather, he recommended that Indigenous children be removed from their families and communities and that the federal government partner with Canadian churches to provide Indigenous children an education off-reserve.4 Christian churches – forgetting that God gives children to parents, and not to the State or Church5 – agreed to this arrangement and supported the removal of children from their families and communities to eradicate their culture, language, and beliefs.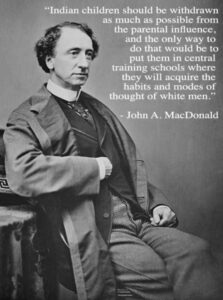 When these schools were established, their goal of dismantling Indigenous culture, language, spiritual beliefs, and practices quickly became evident. Residential schools were seen as preferable to on-reserve day schools because they separated children from their parents, who were certain to oppose such intentions. Residential schools were, therefore, not established to meet the government's treaty obligations to provide schools (which were supposed to be on reserves), but to further its long-term aim of ending the country's treaty obligations by assimilating its Indigenous population.
The prejudice and racism that formed the foundation of the residential school system can be seen clearly through the words of those responsible for putting this system in place. Nicholas Floyd Davin stated:
"… As far as the Indian is concerned, [l]ittle can be done with him. He can be taught to do a little farming, and stock-raising, and to dress in a more civilized manner, but that is all … Indian culture is a contradiction in terms. They are uncivilized. The aim of education is to destroy the Indian."
John A. Macdonald, Prime Minister during this chapter of Canadian history, similarly commented:
"When the school is on the reserve, the child lives with its parents, who are savages, and though he may learn to read and write, his habits and mode of thought are Indian. He is simply a savage who has learned to read and write."
Additionally, he said:
"It has been strongly impressed upon myself … that Indian children should be withdrawn as much as possible from the parental influence, and the only way to do that would be to put them in central training schools where they will acquire the habits and modes of thought of white men."
Duncan Campbell Scott, former Deputy Superintendent of Indian Affairs, revealed similar views when he opined:
"Indian children in the residential schools die at a much higher rate than in their villages. But this does not justify a change in the policy of this Department, which is geared towards a final solution to our Indian problem."
Throughout their history, residential schools were chronically underfunded, and the quality of education provided was exceedingly low (designed to ensure that it would only prepare students for menial work). The quality of the education provided has been described as:
"inappropriate education, often only up to lower grades, that focused mainly on prayer and manual labour in agriculture, light industry such as woodworking, and domestic work such as laundry work and sewing."6
Early calls for the schools' end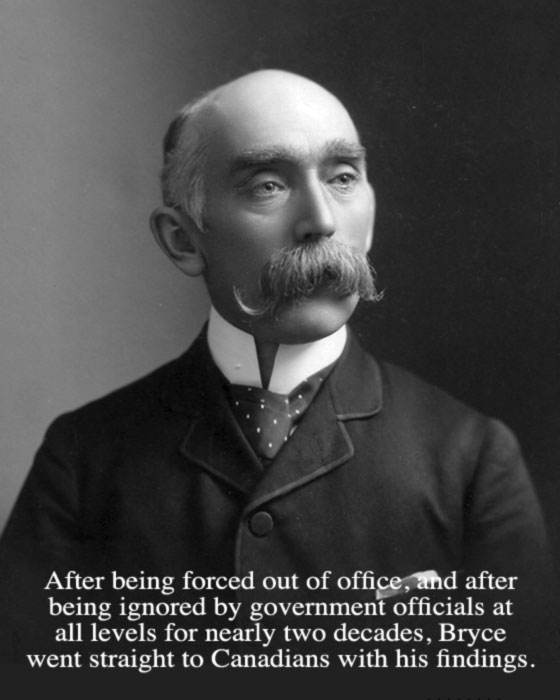 Already early in the 1900s, voices were calling for an end to the schools over death rates and poor health conditions. In 1908, federal Indian Affairs minister Frank Oliver concluded that the "attempt to elevate the Indian by separating the child from his parents and educating him as a white man has turned out to be a deplorable failure."7
Similarly, Dr. Peter Bryce, Medical Inspector to the Department of the Interior and Indian Affairs (and, incidentally, also a Presbyterian elder) was vocal about the serious failings of these schools after extensively touring them. Known as the "whistleblower of residential schools," Bryce wrote numerous reports and newspaper articles about the exceedingly high rates of disease and death found in these schools.
Duncan Campbell Scott acknowledged these grim realities – in a review of the Department of Indian Affairs' first forty-five years he wrote that "fifty percent of the children who passed through these schools did not live to benefit from the education they had received therein"8 – but he did nothing to change course. Instead, he forced Bryce out of office, and eliminated the position of medical inspector.9
In 1925, after being forced out of office, and after being ignored by government officials at all levels for nearly two decades, Bryce published The Story of a National Crime: An appeal to justice to the Indians of Canada. However, all his protestations, over several decades, fell on deaf ears because of a government, and a Canadian public, rife with prejudice.
During the 100 year history…
The number of residential schools rose and fell during its 100+ year history, but the Indian Residential School Settlement Agreement formally recognized the existence of 139 such schools spread across Canada. The Roman Catholic Church operated most of the schools, up to 60 percent at any one time. The Anglican Church operated 25 percent of them, the United Church operated about 15 percent, and the Presbyterian Church ran 2 or 3 percent.
Over 150,000 Indigenous children were forcibly removed from their families by the RCMP between the establishment of these schools in the 1870s and the closure of the last school in the mid-1990s. While in the schools, students frequently encountered emotional, physical, sexual (schools knowingly hired convicted "child molesters"), and spiritual abuse as well as barbaric punishments (duly recorded by federal bureaucrats and officials with the churches that ran the schools) such as being shackled to one another, placed in handcuffs and leg irons, beaten with sticks and chains, and sent to solitary confinement cells for days on end.10
The Missing Children Project (formed by the Truth and Reconciliation Commission to investigate student deaths at residential schools) recorded more than 4100 deaths, including more than 500 unidentified children (although the actual number is believed to be much higher). In some residential schools, 20 to 75 percent of students died. Pneumonia, influenza, beatings, injuries from being thrown, accidents, fire, drowning, infection, freezing deaths, a fall downstairs, lack of professional medical treatment, and poor overall health were among the many ways that students died.11
That is the truth of the Indigenous experience in Canada. Waves of suffering have swept over their communities – sadly, often at the hands of those who professed to follow Jesus Christ. The removal, by force, of Indigenous children from their homes to impose the Christian faith and eradicate their culture, language, and spiritual beliefs was a grievous evil masquerading as righteousness. The effects are still being felt today due to the resulting disintegration of families and communities. Successive generations of Indigenous children passed through these schools such that:
"The impacts began to cascade through generations, as former students – damaged by emotional neglect and often by abuse in the schools – themselves became parents. Family and individual dysfunction grew, until eventually, the legacy of the schools became joblessness, poverty, family violence, drug and alcohol abuse, family breakdown, sexual abuse, prostitution, homelessness, high rates of imprisonment, and early death."12
As Jonathan Van Maren notes, one can only imagine how Dutch-Canadian communities, for example, would react to the same intrusion on parental and religious rights.  He comments,
"[Through residential schools] children were forcibly removed by the state from their families for the express purpose of destroying their family bonds and eradicating their language and culture. I hail from the Dutch diaspora in Canada, and like many immigrant groups in our multicultural patchwork, our communities have remained largely culturally homogenous. Imagine if the Canadian government had decided, at some point, that Dutch-Canadian (or Sikh or Ukrainian or Jewish) culture needed to be destroyed for the good of the children in those communities, who needed to be better assimilated. Then, imagine if the government forcibly removed children as young as three years old from the parental home – state-sanctioned kidnapping. At school, they were deprived of their grandparents, parents, siblings, language, and culture – and told that their homes were bad for them. At the end of the experience, if the child survived disease, abuse, bullying, and loneliness, he or she would have been remade in the image of the state—and community bonds would have been severed and many relationships irrevocably destroyed. The children who died of disease were often buried on school grounds. That means many children were taken by the government – and their families simply never saw them again. Imagine, for just a moment, if that was your family. If you were removed from your family. If your children were removed from you. How might you feel about Canada if her government had, for generations, attempted to destroy everything precious to you? It is a question worth reflecting on."13
It is indeed worth reflecting on. And it is also worth reflecting on how you would feel about Christian churches if you'd known that they were an integral part of the establishment, and operation, of these schools. Additionally, it's worth reflecting on whether religious and parental rights exist for everyone. If we, as Christians, insist on our religious and parental rights should we not protect those same rights for others?
While some Indigenous people reported having positive experiences in these schools, the premise of these schools was seriously misguided and the evidence of the damaging effects of these schools is overwhelming. And it is important to note that this history is recent with many survivors of these schools still alive today.
Functioning as ambassadors of Jesus Christ
This begs the question: How should we respond as followers of Jesus Christ to these historical events and to the effects they have had on Indigenous people to the present day?
As mentioned earlier, we first need to be knowledgeable about the history of Indigenous people in Canada. As followers of Jesus Christ, we cannot be content with holding opinions based on a lack of awareness. One of the ways we can pursue the truth is by educating ourselves and by listening, with humility and compassion, to the stories and experiences of Indigenous people. We should invite them into our homes, our schools, and our churches. We should build bridges of knowledge, understanding, and love with our Indigenous neighbors.
In addition, we need to consider how we should function as ambassadors of Jesus Christ to a people who have experienced much injustice, prejudice, and racism. Augustine once commented that a Christian is a mind through which Christ thinks, a heart through which Christ loves, a voice through which Christ speaks, and a hand through which Christ helps. We do well to consider how we are exhibiting the mind, voice, heart, and hands of Jesus Christ to our Indigenous neighbors. Do they find us to be compassionate, full of grace, lovers of truth and justice or do they find in us a prideful and judgmental attitude and a lack of desire for justice and truth? As we read in Micah 6:8:
"He has told you, O man, what is good; and what does the LORD require of you but to do justice, and to love kindness, and to walk humbly with your God?"
God is clear about the premium He places on the dignity and worth of every human being (whom He made in His Image) and the priority He places on justice and compassion.
Finally, this chapter of history provides an opportunity to reflect on how the gospel message should be spread. In the case of residential schools, the gospel was spread through force, by contravening parental and religious rights, and was imposed upon Indigenous people. But we must remember that God's Word should never be imposed; rather, it should be proposed. As Chuck Colson once stated,
"[Christians are] seen as wanting to impose our views on people. Don't let them tell you that. We don't impose anything; we propose. We propose an invitation to the wedding feast, to come to a better way of living. A better way of life. It's a great proposal."14
Ambassadors of Jesus Christ need to ensure that their witness draws others in to know more about Him who loves truth, justice, mercy, gentleness, compassion, and kindness. Much brokenness remains in Indigenous communities and Christians need to be part of the healing by truly exemplifying the love of Jesus Christ.
This is one of several articles we've published about Canada's history with its Indigenous peoples, with the sum of the whole being even greater than the parts. That's why we'd encourage you to read the rest, available together in the March/April 2003 issue. Dr. Mark W. Slomp is a Fellow with the Colson Center for Christian Worldview. He is a Registered Psychologist and holds a senior leadership role in a Canadian post-secondary university. He is also the founder of "XP Counselling, Speaking & Writing" focused on the promotion of the flourishing life in Jesus Christ. He can be reached at [email protected] for inquiries about speaking, counseling (career and personal), and writing.

Endnotes
1) North Shore News. (2019). "From the archives: Chief Dan George teaches understanding." Retrieved from https://www.nsnews.com/nsn-50th/from-the-archives-chief-dan-george-teaches-understanding-3105824
2) The Truth and Reconciliation Commission of Canada (2012). "They came for the children," Winnipeg, Manitoba: The Truth and Reconciliation Commission of Canada, p.7.
3) Ibid, p.9.
4) Ibid, p.10.
5) Plantinga, Cornelius. (2010). "Sin: Not the way it should be." Retrieved from https://henrycenter.tiu.edu/wp-content/uploads/2014/01/Cornelius-Plantinga_Sin.pdf
6) Hanson, E., Gamez, D., & Manuel, A. (2020). "The residential school system," Indigenous Foundations. Retrieved from https://indigenousfoundations.arts.ubc.ca/the_residential_school_system/
7) The Truth and Reconciliation Commission, p.17.
8) Scott, D. C. (1913). "Indian affairs 1867-1912. In Canada and its Provinces" Vol.7, edited by A. Shortt and A. Doughty. Toronto: University of Edinburgh Press, p.615.
9) Titley, E. Brian. (1986). "A narrow vision: Duncan Campbell Scott and the administration of Indian Affairs in Canada," Vancouver: University of British Columbia Press, p.87.
10) Glavin, Terry. (2021). "Canadians have known about unmarked residential school graves for years. They just kept forgetting". Retrieved from https://nationalpost.com/opinion/terry-glavin-canadians-have-known-about-unmarked-residential-school-graves-for-years-they-just-kept-forgetting
11) Loyie, L. (2014). "Residential schools with the words and images of survivors," Indigenous Education Press, p.60.
12) Dion Stout & Kipling. (2003). "Aboriginal people, resilience, and the residential school legacy," Ottawa: The Aboriginal Healing Foundation, p. i.
13) Van Maren, Jonathan. 2021. "Residential schools and the devastation of state-perpetrated family breakup". Retrieved from ReformedPerspective.ca/residential-schools-and-the-devastation-of-state-perpetrated-family-breakup/
14) Colson, Charles. (2015). "My final word: Holding tight to the issues that matter most," Grand Rapids, Michigan: Zondervan, p.233.