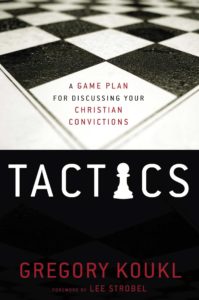 Apologist Greg Koukl has a tactic he calls the "Columbo approach" which involves asking pointed questions to get a person to expose the holes in their own arguments or assertions. This approach can also be put to a good secondary purpose: disarming insults. In his fantastic book Tactics (which we review here) he provides this example:
If you have already been labeled intolerant by someone, ask, "What do you mean by that?"….Though I already have a pretty good idea of what the person means when she says I'm intolerant, asking this question flushes out her definition of "intolerant" and sets the state – in my favor…
"Can you tell me what you mean by that? Why would you consider me an intolerant person?"
"Well, it's clear you think you're right and everyone who disagrees with you is wrong."
"I guess I do think my views are correct. It's always possible I could be mistaken, but in this case I don't think I am. But what about you? You seem to be disagreeing with me. Do you think you own views are right?"
"Yes, I think I'm right, too. But I'm not intolerant. You are."
"That the part that confuses me. Why is it when I think I'm right, I'm intolerant, but when you think you're right, you're just right? What am I missing?"
The same approach works for most any other insult too. Getting someone to define their insult will force them to be specific. If someone calls you homophobic you might reply:
"What do you mean by homophobic?"
"I mean you hate homosexuals."
"Why would you say I hate homosexuals?"
"Because you say that it's wrong for them to love who they love."
"Well, it's not me saying it, but God. And the reason I'm sharing what God has said is out of concern for homosexuals. I don't hate homosexuals; I share this because I'm trying to show love for them!"
Getting specific may not win you the argument, but it will help clear away the confusion and get you that much quicker to the heart of the dispute. Asking for an insult's definition also helps calm things down by inviting the other side to discuss, rather than denounce. And if they decline your invitation and just want to keep calling names, then you know better than to waste your time talking with them. An added bonus: if you have an audience, this approach makes you look reasonable, and if your opponent wants to keep shouting, it exposes them as the grade school intellects that they are.
So the next time someone online or in person calls you a "pinhead," "bigot," or "nazi," disarm them the way Greg Koukl does. Ask them: "What do you mean by that?"