If you can remember waaaay back to when you first learned to read, what probably sticks with you is that feeling of triumph. It takes a lot of work, a lot of sounding out of all those letters before a kid can turn them into words and sentences. No wonder then that when we first pull it off, kids everywhere can't wait to get home and regale mom and dad with tales of how "Pat and Matt found a cat."
For that excitement to last kids will have to be introduced, not simply to reading, but to books worth reading. That's a real challenge early on because long before kids can read the simplest of sentences they've already been introduced to complex stories. Whether it's Bible readings at the dinner table, audiobooks in the car, a picture book on the couch with Grandma, or The Wilderking Trilogy read by dad at night, non-readers are already refining their literary palate years before they enter school. That's why, after that initial triumph that comes with reading those first few dozen "Pat and Matt" books all on their own, it's not unusual for a first grader to get frustrated by just how boring these simplified stories are. That's where wordless, or near-wordless, books can be a help by serving as an encouraging supplement to their necessarily boring early readers.
And the very same features that make them a help for early readers make them a go-to for struggling readers too. If a child's reading skill level just isn't there yet, we can encourage him to keep at it by feeding him stories that are way more exciting, but which deliver their content in a manner that's more accessible.
And for the preschoolers who desperately want to be grown-up just like their older siblings, and do what they do, wordless books are a treat. They can read too, maybe with a little help from their dad at first, but then afterward they'll be able to read the story to Grandma all on their own!
But in addition to pre-readers, early readers, and struggling readers, there's one other pint-sized demographic that can really benefit from this genre. If you have an artistically inclined child, it can be eye-opening to them to see just how much can be said simply by the way a scene or a character is drawn. Some of these books include lushly detailed, full-color pages that a child can pour over for minutes at a time. Other pictures amount to just a few well-placed lines. What a fascinating contrast for a creative kid to explore!
But the best reason to read any book? Simply because it's great. Wordless books often operate like a joke, with the bulk of the book as the mysterious setup, and the last few pages, a punchline that makes the rest of it clear. That means, they'll be at their funniest when mom or dad is along for the adventure, to help puzzle things out. You might have to show your kids the ropes, teaching them how to follow the visual cues, but once you go through it with them the first time, they'll be equipped to return to it repeatedly and enjoy it all on their own… or even "read" it to a younger sibling.
Quiet and kind (19)
These might make for nice bedtime or naptime reads.
Ben's Dream
by Chris Van Allsburg
1982 / 30 pages
A boy has a geography test to study for, and falls asleep with his textbook on his lap. He then dreams of floating past the Great Wall of China, Mount Rushmore, the Statue of Liberty, the Leaning Tower of Pisa, and more. At the Sphinx, he even sees his friend, and when he wakes up, he discovers she dreamt of floating past the Sphinx too and seeing him there. Was it just a dream? While this is largely (20+ pages) wordless, it does begin with three pages of text, and then another three to end.
The Boys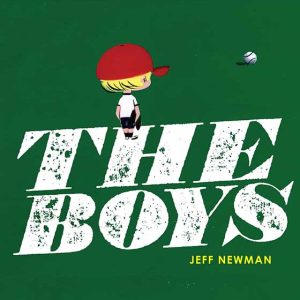 by Jeff Newman
2010 / 40 pages
Simple but brightly colored pictures make this a fun one to figure out – I had to flip back and forth through the pages a few times, so your kids will likely need you alongside to think things through. But you'll both enjoy this gentle story of a boy, newly moved to the neighborhood, and the elderly "boys" that he ends up befriending. He wanted to play baseball but couldn't get invited to play with the other kids. The elderly gents were more welcoming, so he started hanging with them…and humorously, starts acting like them, in dress and habits. These gents know a boy has to be a boy, so if he's going to follow their lead, then they are going to show him what it's like to play like a boy. It's sweet, with a happy ending for all… which for these gents means getting back to sitting on their bench and watching those other "boys" play ball.
Blanket
by Ruth Ohi
2022 / 32 pages
A little girl (or, rather, a cat) is having a bit of a gray day. She gets up, wraps herself in her blanket and just huddles underneath. Her friend dog shows up, ducks under the blanket, and he proceeds to quietly encourage her, using a flashlight to make shadow animals on the inside of the blanket, and building a blanket fort with her.
The Depth of the Lake and the Height of the Sky
by Kim Jihyun
2021 / 48 pages
A boy from the city heads off with his family to visit his grandparents in the country. There he discovers the wide woods and a beautiful lake. While some tales like this descend into fantasy at this point, the fish he finds under the water are a realistic, though wonderful sort. That makes this a nice quiet tale, but so quickly over that it'd be best to borrow rather than buy.
The Farmer and the Clown (3)
by Marla Frazee
2014 / 32 pages
When a clown baby falls off the circus train, a long-bearded farmer takes him in. He teaches the toddler a little about farming, and the clown teaches him about clowning. When the circus train returns in search of the baby, they have to go their separate ways. But in a twist on the last page, we see the farmer won't be lonely – a monkey has jumped off the train to visit. That sets up the sequels The Farmer and the Monkey (2020), and The Farmer and the Circus (2021) where the farmer visits the monkey and boy… and then finds the love of his life: a lady clown!
Float
by Daniel Miyares
2015 / 44 pages
A boy crafts a paper boat out of an old newspaper and sails it in the new puddles and streams created by the still happening rainstorm. When the boat gets swept through a storm drain, he manages to track it down to the local river… but at this point it's just a soggy sheet of paper. He returns, saddened, to his home. But dad knows just how to encourage him. After the boy gets dried off and given some hot tea, dad shows him how to make a paper airplane! (This inside front cover shows how to fold a paper boat, and the inside back cover shows how to make a good paper airplane.)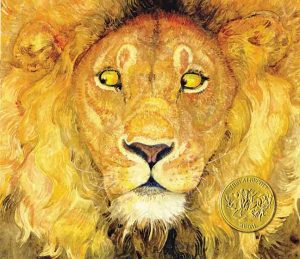 The Lion and the Mouse
by Jerry Pinkney
2009 / 40 pages
When a tiny mouse disturbs the naptime of the King of the Beasts, the King seems intent on having a quick snack. But instead, after some back and forth with the tiny petitioner, the lion lets the mouse go. Why? Readers already familiar with this Aesop's tale will remember that the mice have pledged to help the king if ever he is in trouble. But in Pinkney's almost entirely wordless version because there are only a few squeaks, one owl screech, and a lion's roar, what the mice have promised isn't as clear. But no worries, we can follow along well enough. Then when hunters trap the mightly lion in a net, it is the mouse that comes to the rescue, chewing through the rope to set the lion free. The moral of the story? Even the strongest among us will eventually need help too. 
Mr. Hulot at the Beach
by David Merveille
2014 / 32 pages
A man just wants to read his newspaper at the beach. But an errant beach ball, a lost shoe, and a digging dog all get in the way. Fortunately, Mr. Hulot is a laid-back sort and a good sport, treating his misfortunes as the minor matters that they are. That might be the best reason to get this one: to see a man meet frustrating circumstances calmly. 
Every little kindness
by Marta Bartolj
2021 / 72 pages
This sweet book starts off with a sad girl who has lost her dog. But as she sets out to cover the town with posters of her pup, she does a kindness to a street musician, giving him her apple. A passerby sees this good deed and then picks up someone else's litter to throw it away. He in turn is seen by a little boy, who does his own good deed, and so on and so forth. By book's end one of the good deeds turns out to be a man returning the girl's lost dog. The color scheme here is fun, with muted colors, but with the do-gooders always holding or wearing an item of red to attract the young reader's eye. A bonus: it's a special treat that this story is quite long!
Pip & Pup
by Eugene Yelchin
2018 / 32 pages
A newly hatched and curious chick pecks a sleeping pup, who doesn't appreciate the interruption and chases away the frightened chick. This doesn't seem like the best of beginnings for a friendship, but when a thunderstorm scares the pup – dogs hate thunder – the chick returns to cautiously comfort him…which is much appreciated. It's a simple sweet story.
Sidewalk Flowers
by JonArno Lawson and Sydney Smith
2015 / 30 pages
On a walk through the city, a girl gathers the wildflowers she finds growing here and there in the cracks in the concrete and then gives them out as small bouquets to the people she meets. The author makes a fun use of color, starting things off black and white, with only the girl's red coat sticking out. But the yellow of the first flower she spots also shows its vibrancy. And as she gives the flowers away, each page becomes more and more colorful. The point? I think it's just that being kind, even in small ways, brings a vibrancy to the world around and the gift giver too. One caution: the first bouquet she gives out is placed atop a dead bird in the park, which might make some small ones a little sad.
the surprise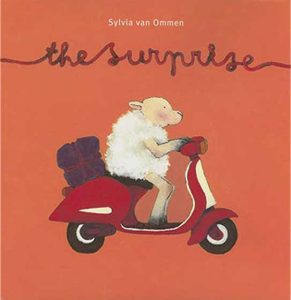 by Sylvia van Ommen
2003 / 24 pages
A thoughtful sheep figures out how to dye her own wool, then shave it off, have it turned into yarn, and then goes through all the work of knitting it into a surprise present for a good friend. Only downside to this charming book is how fast it's over.
Wallpaper
by Thao Lam
2018 / 32 pages
When a little girls moves into a new neighborhood, she spots the kids next door playing. But she can't quite screw up the courage to try joining them. Instead she discovers a a bird peeking out of turned up corner of her wallpaper and investigates what else is under there. Layer upon  layer is pulled up revealing world upon fun world. But in the end, she turns away from these fantasies, and heads next door to introduce herself.
Waltz of the Snowflakes
by Elly MacKay
2017 / 32 pages
A girl who doesn't want to get dressed up to see the ballet gets completely won over by a performance of The Nutcracker. She's a bit sullen at the start, but it might be because she's shy, as is made clear at the ballet when she sits next to a boy she seems to know, but who she still isn't eager to talk to. However, as she awakens to the performance, she can't help but share her enthusiasm with this friendly lad.
Wave
by Suzy Lee
2009 / 40 pages
A girl takes a bit to warm up to the ocean, but she gets there. A calm, short book, with the only downside being that it is a quick read because there isn't all that much to see on each page – just the girl, waves, and sand. See a video of it here. 
Where's Walrus? (2)
by Stephen Savage
2011 / 32 pages
When Walrus escapes from the zoo, his keeper looks for him everywhere. He's hard to find because in each two-page spread, Walrus is disguising himself by trying to look like those around him: dancers, firefighters, artists, and swimmers. The disguises will be easy to see through for the pre-school to Grade 1 audience this is intended for, but Walrus will still be fun to find. And while he does finally get caught, Walrus gets a happy ending. In the 2015 sequel, Where's Walrus? And Penguin?, a friend joins him in his escape, and he gets an even happier ending, finding the walrus of his dreams.
Art adventures (7)
There's a lot of creativity going on here, with different canvases, chalking up the pavement, or perhaps doodling on the nearest sheet of white paper.
Draw!
by Raúl Colón
2015 / 32 pages
A boy imagines himself going on an African safari to draw all the different animals, all of whom are happy to have their portraits taken…except for the rhino!
Draw the Line
by Kathryn Otoshi
2017 / 48 pages
Two chalk-wielding boys back into each other as they're drawing on the concrete. When their two lines become entangled it starts off as great fun, but a roughhouse tug-of-war leaves them both miffed at each other, and as they both pull hard on their joint line, it ruptures into a deep chasm between them. It takes a bit of time for hot heads to cool, but the two learn that by working together, they can erase the chasm and be together once again. This could be a good one for parents to read with kids and discuss how our tempers can make small things bigger, and how God calls us to self-control.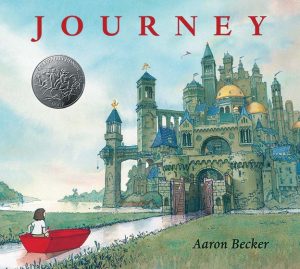 Journey (3)
by Aaron Becker
2013 / 40 pages
If your children loved Crockett Johnson's Harold and the Purple Crayon you'll want to check this one out. While Johnson wrote her own sequels, Aaron Becker's Journey might be the most worthy successor. There are some notable differences: Harold's world is a blank page, ready to be drawn on, while Journey has lavish full-color spreads; Harold is narrated, while Journey is a completely wordless book. But in both books, a child equipped with a large crayon and an even larger imagination sets out on an adventure of their own crafting. In Journey, a girl's dad, mom, and sister are all too busy to play with her, but when she finds a large red crayon on her bedroom floor she discovers she can make her own fun. She uses the crayon to draw a door on her wall, which she can then open and walk through into a whole other world of wonder. A quickly drawn red boat allows her to float down a forest stream to a castle that has moats running all throughout it, and friendly guards who wave her through. Like Harold, she too, in a moment of quick thinking, conjures up a balloon to save herself from a big fall. The adventure continues into the clouds, where she comes upon a strange king, his stranger airship, and an imprisoned beautiful purple bird that looks almost as if someone – someone with a purple crayon – had drawn it! Of course, she has to free the bird, and of course it isn't easy, leaving her requiring some rescuing herself. In the sequel, Quest (2014), red crayon girl, and the purple crayon boy she meets at the end of the previous book meet an orange crayon king right before he is dragged away by soldiers. They set out to rescue him, using their own crayons and the orange crayon the king left behind. But to do that, they need to find three more crayons and, as the title indicates, have to go on a quest, and they'll have draw the tools and the animal friends they'll need along the way. The conclusion to this wordless trilogy is Return (2016), in which the girl's dad discovers the red door in his daughter's bedroom and enters this other world in search of her. While the girl rescues them both with a quickly drawn submarine (these crayons work even underwater!), it's dad who devises and draws (Wait, he has a crayon too? Has he been here before?) the trap that catches the evil king. These are all great fun, and deserve a slow "read" and then "reread" as children will be sure to notice all sorts of details on a second run-through. 
Rocket Boy
by Damon Lehrer
2017 / 30 pages
A little boy of four or five makes an impressive drawing of a rocket, which then comes off the page and flies away. He draws a car to go follow it, then meets a little girl who wants to draw too. The story ends with him returning home, and we get to see that little boy waking up in his bed, and we get a glimpse of his real artistic level as he sets out to make a stickman rendering of the little girl he met in his dreams. A sweet story, that might require a little explanation from an adult.
The Typewriter (2)
by Bill Thomson
2016 / 40 pages
Three kids find a typewriter in a box on a merry-go-round and discover that whatever they type on it appears. That's good when it is "ice cream" but not so good when it is "giant crab." After their adventure, the kids leave the typewriter behind for others to enjoy. Chalk is a very similar book, except this time the kids find a bag of chalk at the playground that they use to draw creations that come to life. Things get exciting when a boy draws a T-Rex! What's remarkable about Thomson's art is that it is nearly photorealistic! A third book following this theme, Fossil, has a boy discover fossils of creatures, all of which then appear, and the last of which, a pterodactyl, flies off with his dog. It's fun but begins by saying fossils show us creatures "that lived 10,000 or more years ago," a timescale that falls just outside of the biblical reality.
Busy times (12)
There's a little bit of action to some of these tales, which might inspire some gallivanting about the house.
Cars and Things That Go (7)
by Stefan Lohr
2018 / 14 pages
This rugged foot-tall book reminded me of the "Where's Waldo?" series in that each spread is jam packed full of busy people and the longer you look, the more there is to find. This isn't strictly wordless as the first two-page spread does have text to highlight 17 different groups we're to spot in each of the 6 double-page spreads that follow. Each group has a story of sorts: James owns a fast car, and "drives way too fast" and ends up in a fender bender a few pages in, and then is towed, and Noah drives a semi-trailer delivering footballs, but to where? This is part of the "My Big Wimmelbook" series, so I was excited to check out the other 10 or so. Six others are every bit as fun:
A Day at the Zoo
Animals Around the World
At the Construction Site
Dinosaurs
Fire Trucks!
On the Farm
However, there is a same-sex couple featured in three others: All Aboard the Train, A Day at School, and My Busy Day. Another, Christmas Village, is much more Santa than Savior, and a fifth, Good Night, shows someone showering covered only by strategically placed bubbles. All can be given a miss.
The Boy and the Airplane (2)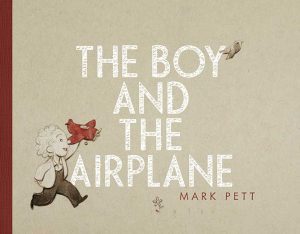 by Mark Pett
2013 / 40 pages
A boy gets a toy airplane as a present and an errant throw results in the plane getting stuck on the top of a roof. We then get to see him try everything from a ladder (too short) to a lasso, to a pogo stick, to try and recover his plane. When nothing works the boy settles on a long-term strategy that, while it will require patience, is sure of success: he plants a seed and waits for it to grow into a mighty tree that will be tall enough for him to climb and recover his plane. I am not going to spoil it here by telling you the end, but it is sweet and completely satisfying. The sequel, The Girl and the Bicycle (2014), is every bit as good and ties up ends you didn't even know were loose from the first book. 
Fish
by Liam Francis Walsh
2016 / 32 pages
This is a weird but very fun one. A boy and his dog pass by a jogger on their way to a day of fishing. But the first thing the boy catches is the letter "F" followed by an "I" and then an "S" but when they catch a "Q" they throw it back. So what letter are they still after? An "H" of course! But it's not quite that simple, as a squadron of "B"s buzz over them, and a giant "C" threatens to eat them!
Once Upon a Banana
by Jennifer Armstrong
2013 / 48 pages
When I first brought this home, I gave it a read to all three of my girls. After I was done our youngest, all of three, was off on her own "reading" the book to herself. It's been a family favorite ever since. The story is one big chase scene, with monkey owner chasing monkey, and then grocer chasing monkey owner, and then some dogs joining the chase, and a skateboarding judge, and a mom, and her baby in its stroller. Oh, and there's a big garbage truck in the mix too. It's crazy and frantic with loads to look at on every page. 
The Hero of Little Street
by Gregory Rogers
2012 / 32 pages
This is a favorite because it has a Dutch flavor, and so do I. The story begins with our hero – a little boy with a Charlie Brown-esque look about him – managing to lose a trio of bullies by popping into a museum. And since he's there anyway, the boy decides to take a look. After he contemplates some modern art pictures and sculptures he comes across a room full of masterpieces, including Jan van Eyck's "Portrait of Giovanni Arnolfini and his Wife." While passing by the piece our hero catches the eye of Giovanni's little dog, and down the pup comes, right out of the painting!  The two of them then dance and jump and chase one another through the museum, until they come across a sheet of music lying on the ground. Where did it come from? Ah, wait! The two of them notice that it must have been dropped by that lady at the piano – that lady in Jan Vermeer's painting "Girl at Piano." So, in they jump, right into the picture, and return the music to the grateful girl. This leads to some more dancing, accompanied by the girl at her piano, before our hero and his dog head off further and deeper into this painting, opening a door and entering Little Street, Delft in seventeenth-century Holland! To say this is an inventive book doesn't suffice! An art-loving parent could use this to introduce their children to some of the masters, and anyone of a Dutch heritage could use it to show what the Netherlands looked like three centuries ago. Young children will love it for the sheer rollicking adventure. It ends with our hero back in modern-day, but now equipped by his time-traveling artistic adventure with just the tool he needs to help him with those bullies.
Animals (13)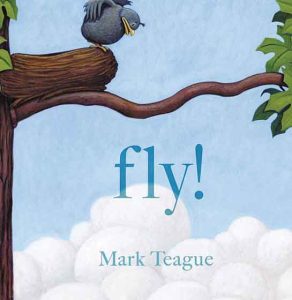 Sweet stories for kids who love animals.
A Ball for Daisy (2)
by Chris Raschka
2011 / 32 pages
Daisy is a cute little pup who loves her big red ball and plays with it everywhere. Things take a tragic turn when another dog, trying to get in on the fun, pops the ball! But don't worry, a happy ending is coming – after a few pages of Daisy being sad, the owner of the dog who popped the ball brings over a brand new one, and this time it is blue. A 2013 sequel, Daisy Gets Lost, has a half dozen more words than the wordless original but has the same quiet tension: Daisy chases her blue ball into the woods, then chases the squirrel she discovers, and gets lost for a dozen or so pages before being rescued and hugged by the little girl who owns her.
Dog on a Digger
by Kate Prendergast
2016 / 32 pages
Heavy machinery, paired up with Man's Best Friend – how could any red-blooded boy resist? This begins with Dog #1 waking his master because he's eager to head to work, sitting side by side in their excavator. For lunch the two head to a friendly food truck lass who has her own pup. It's when this Dog #2 wanders off and gets himself into a heap of trouble that brave and ingenious deeds need to be done, with a little help from some heavy machinery. This is a great one and it comes on extra heavy paper that school librarians will appreciate. Prendergast's earlier Dog on a Train (2015) is also fun, but the drawing is just a little messier, and the story a little simpler, so, unusual as it may be, the sequel is actually better than the original.
Fly!
by Mark Teague
2019 / 32 pages
When a baby bird falls out of the nest, its mom suggests it fly back. He has some creative, alternative suggestions, told with pictured thought bubbles, on how he can get back up.
Flora and the Flamingo (3)
by Molly Idle
2013 / 44 pages
Flora dances an elegant and energetic duet with a flamingo. My favorite of the "Flora's feathered friends" series is the 2014 sequel, Flora and the Penguin, which sees her switch up dance partners, and Flora and the Peacocks (2016), which has her dancing with two others for even more fun. The only downside to these wordless wonders is that they include flaps and foldouts that might need reinforcement to hold up to school library use. But if you're buying it for a child or grandchild who likes to dance, these will be inspirational. (Don't confuse these with the two other "Flora books" – featuring an ostrich in one, and baby chicks in the other – which are board books intended for babies.)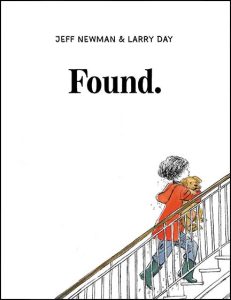 Found.
by Jeff Newman and Larry Day
2018 / 48 pages
I've not before seen so much poignancy packed into wordless pages. On a rainy day, a little girl spots a lost soggy little puppy in the street below her apartment window. She races down to retrieve him and when she brings him home, she has all sorts of dog supplies at the ready. How comes she's so prepared? An observant reader will notice a "Missing" poster for a dog named Prudence posted on the bulletin board in her bedroom. And that name comes up again when she feeds the pup his chow in a bowl labeled "Prudence" – this little girl has suffered a loss, but is now finding some solace via this pup-in-need. But when she spots another "Missing" poster, this time for the little pup, it takes her just a bit to figure out the right thing to do. She'll suffer another loss, but she'll do for this boy what she wished someone would have done for her: return an owner's lost dog. That's going to have little readers a little weepy (shucks, it got me a little misty) but never fear, there is a happy ending. On the way home the girl spots a dog in the Humane Shelter window that looks in need of a friend. This is a remarkable book, even in the small details, like how it maximizes the use of every page (even the inside back and front covers). Such a delight!
Owly & Wormy: Friends all aflutter! (2)
by Andy Runton
2011 / 40 pages
While Owly stars in his own graphic novels (which I review below), he also teams up with his friend Wormy to tell a couple of shorter picture book tales. In this first adventure the two buddies plant flowers in hopes of attracting butterflies, but end up attracting caterpillars instead…and they are eating the flowers' leaves! Owl and Wormy are initially disappointed but befriend the caterpillars, only to have them abruptly disappear. Quite the mystery to kidlets, but parents, knowing what caterpillars turn into, will be able to anticipate the happy ending. In the 2012 follow-up Owly & Wormy: Bright lights and starry nights!, a stargazing expedition goes awry when Owly loses his telescope. But some scary-seeming, but actually friendly bats, help Owly find what once was lost and then show him how to use it.
Penguin Sets Sail
by Jessica Linn Evans
2020 / 32 pages
Penguin's penguin friends just seem to like eating fish; he wants adventure! So he sets sail and then meets new friends who love adventures too…and returns home afterward to share them with old friends. The simple story makes this one for parents and preschoolers to enjoy together, while some Grade 1 children will enjoy it too.
Time Flies
by Eric Rohmann
1994 / 32 pages
A bird flies into a museum, and flutters around the ancient dinosaur skeletons, which, for reasons unexplained, come alive. Or has the bird simply been transported back in time? It's unclear, but what's very clear is how cool these dinosaur pictures are. And because there are no words, there's no evolutionary proselytizing – hurray!
Whose Footprints Are These?
by Gerda Muller
2022 / 36 pages
I've yet to use the word delightful, so I'll do so here: this is a delightful story about a boy and his dog, with the twist that w don't ever see them until the last page. What we see instead are their footprints, beginning with the boy's naked footprints trailing from his bed, to wear they become sock prints, and take us the breakfast table. Then it is out the door, now with a set of dog prints right alongside. Very fun!
Favorite authors (21)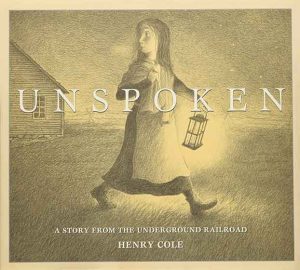 A few authors have specialized in wordless books.
Henry Cole (3)
When his pet cat Spot goes out the third-story window and into the big broad city, a boy searches for him, posting "Lost" posters as he goes. This is a lot like a "Where's Waldo?" book, but in Spot, the Cat (2016, 32 pages) we're trying to find the cat and his boy. And it has a happy ending. In a 2019 followup, Spot & Dot, the boy helps a girl find her lost dog, but accidentally lets his cat out. So, this time we get to search for two pets.
When a young girl discovers a runaway slave hiding in her family's barn, she has to make a decision about what to do. Will she help by keeping quiet, or will she tell the Confederate soldiers that are riding about? There's lots of subtle detail in Unspoken: a story from the Underground Railroad (2012, 40 pages), including a couple of appearances in the sky of the Big Dipper and its North Star that slaves used to find their way to the Free North and Canada. This isn't a complicated story, but because it is all "unspoken" it's a good one for children to read along with their parents. You can hear the author "read" it here.
 Mitsumasa Anno (2)
Better known as simply Anno, he has written a number of wordless books, but at this point the only one readily available in North America is Anno's China (2016, 60 pages) in which we take a trip inland on the country's Yellow River. Time is a little bit fluid, as we travel without comment from scenes in that are probably during the 1920s, to a two-page spread showing the uncovering of the Terracotta Army statues, which happened at some point in the 1970s. While there is no text on the picture pages, Anno concludes with a dozen text pages explaining what's happening in each of the scenes he's shared. These explanations can be done without – younger children will just follow along the river journey without worrying about every detail – but are also a welcome addition for older readers who want to understand more. Harder to find is Anno's Britain (1982, 48 pages), a homage all things British. A man on horseback travels not only through the countryside, but through hundreds of years of the island's history.
Barbara Lehman (7)
In Museum Trip (2006, 40 pages) a little boy on a class trip to the museum stops to tie his shoe and loses track of the others. He then discovers a small door in the wall that leads to a room with 6 small mazes on display. Next thing, we see a little version of him running through each maze, one by one. Has he actually shrunk, or is this him daydreaming and just imagining he's running through them? Either way, readers in Grade 1 and preschool will enjoy working through each of these simple mazes. As the boy makes his way to the middle of the last maze we get a glimpse of him having a gold medal hung around his neck. Right afterward, he's big again, and manages to track down his class. So was his maze adventure just a daydream? Well, on the final panel, as the class leaves the museum, we see the boy discover he does have a gold medal around his neck…and we see the museum director has one around his neck too!
Kids who enjoy the mystery of this tale will enjoy the author's Red (2004, 32 pages) and Red Again (2017) books which are more mysterious still. They should be bought as a set, with the ending of the one serving as an introduction to the next, and vice versa (or as my one daughter put it "They're a circle!").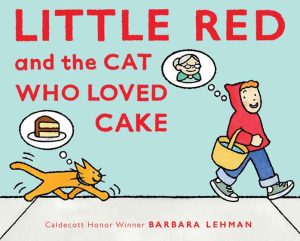 Sticking with this mysterious theme is the secret box (2011, 48 pages) in which generation after generation of children going to the same boarding school discover the same box, with a treasure map that allows them to meet up with the children who have discovered the map before. Some wordless books are too mysterious, such that it's hard to know what on earth is going on. This almost crosses the line, but Lehman's friendly, detailed drawings ensure this is a fun one. 
Less mysterious, but lots of fun, is the author's Trainstop (2008, 32 pages) where a girl goes on a train ride and encounters little people in need of a big friend. Another favorite is Rainstorm (2007, 32 pages) about a boy wandering through his big house all alone before finding a key that unlocks a truck. The trunk opens into a very long tunnel under his house which leads to… well, you'll have to get the book to find out!
Absolutely charming is Lehman's most recent, a fractured fairytale called Little Red and the Cat Who Loved Cake (2021, 64 pages). In this case, Little Red is a boy, and he and his dad, Big Red, run a bakery. For a surprise, they want to give grandma one of their cakes, but their cat would really like a piece. So off Little Red goes, asking for directions from all sorts of other fairytale characters like Jack and Jill, Miss Muffet, and Peter Piper. Meanwhile, the cat sneaks ahead and tries to disguise itself as grandma, but is found out…and offered a slice of cake. Very fun! 
David Wiesner (5)
Flotsam (2006, 40 pages) shows us what happens when a boy discovers an old-style underwater camera washed up on the beach and then brings the film in to be developed. There he discovers pictures, seemingly taken by underwater creatures themselves. The world they live in when we aren't looking is something to behold: little mermaids and mermen, robotic fish, giant turtles carrying shell cities on their backs, and even what looks like aliens taking rides on guppies. Each picture is another discovery. The very last snapshot is of a girl holding up a picture. And in that picture is a boy holding a picture of a girl who is, in turn, holding a picture of a girl. A peek through a magnifying glass shows this goes deeper still, and further back in time. The boy's microscope reveals more still. This is inventive and fun, with the only caution being that the young target audience may have to be informed that though the photos look quite realistic, this is fantasy, not fact.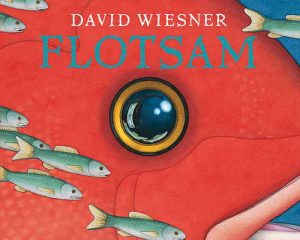 A little boy falls asleep and we get to come along to his dream in Free Fall (1988, 32 pages). As dreams often do, one scene streams into the next as the boy goes from meeting a dragon to growing giant-sized, to flying home on a leaf. It makes sense only in the ways that dreams do. But the smart-eyed reader will be able to spot on the last page, when the boy wakes up, all the objects in the room that inspired the different parts of his dream. This is best read slowly.
When a long flyball is hit into the outfield, a boy declares, "I've Got It!" (2018, 32 pages) which are the only words in the story. But does he really have it? One dropped ball is followed by another, and it's almost like there are obstacles (getting bigger and bigger) just reaching out to trip him up. His repeated drops have his teammates moving in closer to catch it for him since he can't. But then, in one last stretching leap, our boy in red jumps past the obstacles and beats his teammates to the ball for a wonderful game-winning catch. This is a very fun story, but I could see some kids needing a little help to understand what's going on.
In Sector 7 (1999, 48 pages) a boy on a field trip to the Empire State Building meets a rambunctious cloud (he discovers that clouds are people!) who takes him back to "Sector 7" high up in the sky where the clouds get their orders about what shape of cloud they should be. But the clouds seem a bit bored with these shapes and ask the boy to draw them up some alternatives. What fun to see clouds mimicking the sea creatures he draws! Eventually, the cloud returns the boy, but his visit to Sector 7 might have some lasting impact, as the clouds quite like being fish-shaped.
The only words we read in Wiesner's Tuesday (1991, 32 pages) tell us the time, and that it is indeed a Tuesday. For reasons that are left entirely mysterious, at around 8 pm, a swarm of frogs suddenly starts flying (or is it their lily pads that are doing the levitating?). They flock into town, chase some birds for fun, watch a little telly, and then, just as they are heading back, dawn breaks, and the sun's rays seem to sap their flying powers. That leaves the whole lot of them hopping back to their pond. This is silly nonsense and kids are sure to love it.
Mercer Mayer (4)
Mayer wrote a cute series of 6 small books that continue a story from one to the next. In a boy, a dog and a frog (1967, 32 pages) a little boy and his dog discover a frog, then briefly lose it in frog, where are you? (1969). Frog stars in frog on his own (1973) though his friends do show up in time to help him escape from a cat's clutches. The frog gets jealous when a new frog shows up in one frog too many (1975). There are two more in the series, but the "friend" in a boy, a dog, a frog, and a friend is a turtle that at first seems set on drowning the dog and then seems to get drowned by the dog, before reviving and everyone becoming friends. Not so fun. And in frog goes to dinner, the frog makes a surprise appearance at the family's restaurant outing causing a ruckus, which is fine, but the book's conclusion with child and pets laughing about the trouble they caused is off-putting.
One is enough (4)
Sequels don't always work. So while these are all quite good, there's a reason, in each case, not to track down the next in the series. 
Good Dog, Carl
by Alexandra Day
1985 / 40 pages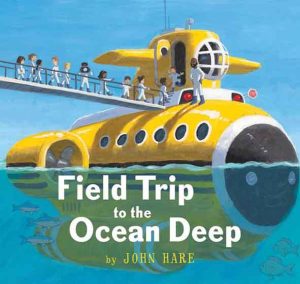 This is not technically wordless, as, in addition to the title, there are 9 other words. But it's on this list because the bulk of the book is the dog Carl silently babysitting his charge. The story is a bit bizarre, with mom leaving her baby in a rottweiler's charge, But aside from letting baby have a trip down the laundry chute, and a short swim in the aquarium, Carl does turn out to be a decent babysitter. Shucks, he even manages to give the baby a bath! There are many, many sequels, but they all lack the originality of the first.
Field Trip to the Ocean Deep
by John Hare
2020 / 40 pages
A child on a class field trip to the ocean floor gets separated from the group when he goes off to see a sunken pirate ship. While the class's submarine searches for him, he gets to meet ocean floor animals, share his photos with them, and meet what might be a plesiosaurus who poses for him. A fun, quirky, bright, wordless adventure. 
There is a sequel, Field Trip to the Moon, which swaps out gray moonlings for the sea creatures, and a girl with crayons for the original's boy with a camera. The gray aliens love the crayons, leaving the girl with only the gray crayon in her pack. But that's okay – she can still draw them! Aliens are an outgrowth of evolutionary theory that says life happening by accident is so easily done that "they" must be out there, so I like the first better than the sequel. That said, the second is more a celebration of crayons than aliens. A third, Field Trip to Volcano Island, doesn't live up to the two that preceded it.
The Adventures of Polo
by Régis Faller
2002 / 80 pages
A little dog living on a small island begins his adventure by tightrope walking on a line attached to his beach. It takes him across the water, then up into the sky, and finally sliding for a soft landing onto a fluffy white cloud. The opening pages give you a good idea of what's to come with the dog Polo traveling via cloud, boat, air bubble, airplane, tree elevator, balloons, submarine, iceberg, and finally a rocketship mushroom. Along the way, he meets all kinds of friends including some happy face moonlings. It's a stress-free, busy adventure that children, particularly those in Grade 2 and under, will love. There is a sequel, Polo: The Runaway Book, but the free-form adventure borders on chaotic randomness so in this case, one is fun, and two might be too many.  
Pancakes for Breakfast
by Tomie dePaola
1978 / 32 pages
A woman sets out to make pancakes only to discover she is short of eggs. While that is easily remedied – just a quick trip to the henhouse – it's quite the delay when she finds out she is also short of butter. Finally, she discovers she is short of syrup! And when she heads out to get that, she returns only to discover her pets have gotten into everything. But don't worry, there is a happy ending! Charming cartoonish pictures make this a book kids will love to read repeatedly. DePaola has another wordless book, but The Hunter and the Animals strikes me as an anti-hunting book so I don't recommend it.
Noah's Ark (2)
Most Bible storybooks are problematic in that they so often mangle the biblical text. What I appreciate about both accounts here is that, because they are wordless, they actually require that you go to the Bible to read the original account. So it is not meant to replace Bible reading, but is instead meant to spur further thinking on God's Word. Both can also serve as a corrective to the common misrepresentation of the Ark being so tiny that the giraffes had to stick their necks out the windows.
Noah's Ark
by Peter Spier
1977 / 48 pages
This is a beautifully illustrated, nearly wordless account, with only three of the 48 pages containing text: two are biblical quotations and the other is given to an English translation of a 400-year-old poem about the Flood by Dutchman Jacobus Revius. The rest is filled with seemingly simple, but incredibly detailed pictures of Noah and his family as they build the Ark, bring in the animal pairs, and feed and care for them inside. Some of the detail is whimsical  – a mouse is shown trying to push an elephant's foot off of its fellow mouse's tail – but we also see the floodwaters overtaking the animals that were left behind. This is no cutesy, sanitized account! I will add that a friend still thought the pictures a tad too whimsical – that they were making a joke out of things. I disagree, and the only problem I had is one picture where it appears as if Noah (rather than, as the Bible says, God) is closing the Ark doors. But we can choose to assume God is on the other side sealing them shut.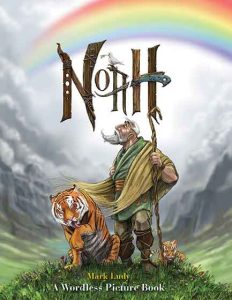 Noah
by Mark Ludy
60 pages / 2014
Mark Ludy's wordless account of Noah's life will fascinate young and old. There's so much to see on every page, and the wordless nature of it invites parent and child to discuss all that's going on.
Noah's wife is shown here as a lighter colored black, while Noah himself is maybe Grecian, Roman, or perhaps Sicilian. What both most certainly are not – and what they most probably were not – is a British or Scandinavian sort of white. That might bring questions for the many a child and adult who, having grown up with picture Bibles that have a white Adam and Eve, and a white Jesus too, have presumed Noah was white as well. But it is more likely that Adam, Eve, and maybe many of the generations that followed had some sort of middle brown skin, as that genetic coding can contain within it the possibility of both darker and lighter skin in the generations that follow. Another corrective: while evolutionary theory portrays Man as being much simpler back in history, the Bible details some big advances being made from one generation to the next (Genesis 4:20-22). They were no primitive dummies so it is helpful to see Noah shown as living in a fairly advanced level of industry and technology. They aren't in a rocket age, but they aren't living in caves either. Finally, we also get a good idea of the sheer magnitude of the Ark, correcting the silly bathtub toy picture some might have stuck in their heads.
This is not a book that we should ever let overshadow the biblical account, but when we put it in its proper place – like that of a commentary that helps us reflect on what Genesis 6-9 is actually saying – then it can be a wonderful aid. I will offer a couple of critiques: while there's a dinosaur and some mammoths to be seen working on the Ark's construction, neither can be found in it. Also, while animals two by two can be seen making their way to the Ark, there don't seem to be any groups of 7 (Genesis 7:2). Of course, we don't see every animal arrive, so maybe we just missed those, and they'll be found in any expanded future edition of the book.
Comics/graphic novels (14)
The biggest fault with wordless books is they are so quickly done. But, thankfully, some of these graphic novels are huge. And the longer length allows a couple of these to tackle their topics with some depth.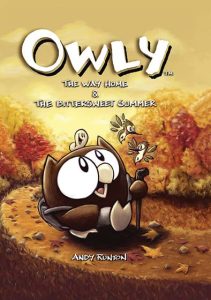 Owly: The Way Home & The Bittersweet Summer (5)
by Andy Runton
2004 / 160 pages
This is two stories in one, and at about 80 pages each, they have room for some real fun. In the first, we get introduced to Owly, who, as you may have guessed, is an owl. The forest creatures are afraid of him because, well, he's an owl, and they know that typically owls eat creatures like them. But not Owly. He's a kinder, gentler owl, and all he wants to do is feed his fellow birds seeds. Sadly, no one trusts him, and Owly is all alone… until the night of the big storm! Then Owly finds a worm, half-drowned, and nurses it back to health. Worm, realizing he hadn't been eaten, trusts and befriends Owly, which is the start of something beautiful. It's never really explained what Owly does eat, but we can be certain that it isn't cute little worms! In the second story, Owly and Worm meet a couple of hummingbirds and have a great time until the little speedsters have to head south for the winter. But don't worry, they'll be back come Spring!
It'd be more accurate to call these "talkless" rather than "wordless" because, even as the dialogue between Owly and his worm friend is limited to symbols and punctuation marks – a question mark when one of them is puzzled and an exclamation mark when they are excited – there's the occasional shop sign or even a whole encyclopedia page entry on hummingbirds that does require the reader to be able to actually read. If you're considering getting this for your school library, you'll be interested to know there are two editions of this story, the first in black and white with this symbol-based dialogue, and the second, now titled simply Owly: The Way Home (2020) that is in full-color and adds in a minimal bit of verbiage between the characters. While I really like the original near-wordless version, it was sometimes a bit hard to decipher what Owly and his pal were saying to each other, so the second editions are probably the best way to go. Everything in this series seems to be gentle and kind including Just a Little Blue (1st edition 2005 /2nd edition 2020, 130 pages), Flying Lessons (2005/2021, 144 pages), A Time to Be Brave (2007/2022, 132 pages), and Tiny Tales (2008, 172 pages).
South
by Patrick McDonnell
2008 / 42 pages
South is by the creator of the comic strip Mutts, Patrick McDonnell. He imports one of the strip's characters into this comic-like book, Mooch the cat. Now cats might not seem all that sympathetic to birds, but when Mooch comes upon a poor cute little bird who, we see, has been left behind by his flock when they headed south, Mooch lends a paw. Mooch really is a stand-up sort of cat, so he takes the bird under his wing (so to say) and the two of them set out to reunite this lost little one with his family. Since cats can't fly, the journey takes place on foot. Soon enough bird is united with his flock, and it comes time for Mooch and the bird to say their goodbyes. It was at this point that my four-year-old daughter was a bit overcome – goodbyes are always hard! But I reassured her that Mooch and bird would see each other again when Winter turned to Spring.
Kunoichi Bunny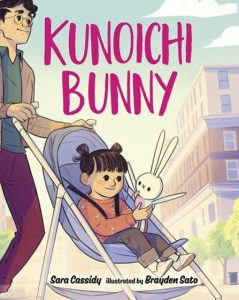 by Sara Cassidy and Brayden Sato
2022 / 32 pages
When dad takes his little girl Saya out in her stroller, she brings her "ninja-bunny" Kunoichi along, and it is a very good thing she does. The sharp-eyed Saya spots two cats fighting, and puts an end to their dispute with a well aimed fling of her bunny. After dad retrieves Kunoichi, they board a bus, where Saya saves the day again. A distracted mom lets go of her stroller only to have it pitch towards the bus stairs. Saya flings Kunoichi in the way, so the stroller comes to a safe stop. As they continue on their stroll, Saya and Kunoichi rescue a baby duck and a little boy, and brighten the day of a sad grandmotherly lady. This busy day ends with Kunoichi getting a much needed wash and dry, so she can join Saya in her nice clean bed. This is a sweet story that kids will enjoy reading multiple times.
The Flamingo
by Guojing
2020 / 142 pages
A little Chinese girl from the big city goes to visit her Lao Lao – her grandmother – who lives in the country, near the beach. She asks about a pink feather Lao Lao keeps in a cup, and hears a story about how, when her grandmother was little like her, she found an egg on the beach, which turned out to be a baby crane, which she then raised until it grew big enough to fly with the others. There's some sadness, as the crane flies away, but it returns each year again. The book concludes with the girl drawing a comic adventure for her Lao Lao in which the three of them – little girl, grandmother, and a now giant crane – fly off on adventures together. While this isn't strictly wordless, there are quite a few more pages than words (roughly 100). And it's a sweet, slow and beautiful story, more appealing to girls than boys.
It Goes Without Saying: Peanuts at its Silent Best
by Charles Schultz
2005 / 160 pages
Over 50 years Charles Schults sprinkled Peanuts with a liberal dose of "pantomime" strips. This has been a fun one for my kids to dip into, enjoying pages at a time, but it isn't really the sort of book you'd read front to back. As clever as these wordless strips are, 160 pages is too much of a good thing at one go. If your kids like this, they might also enjoy Garfield Left Speechless. It doesn't have the same charm – Garfield is sometimes mean-spirited in a way that Snoopy never is – but it has some of the same slapstick creativity.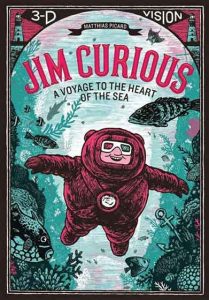 Jim Curious: A Voyage to the Heart of the Sea (2)
by Matthias Picard
2014 / 52 pages
This is very, very fun. Our hero, Jim Curious, emerges from his house equipped in a deep-sea diving suit, and as he slides into the sea the pictures transform – now everything is 3D! This is a large-format book, more than a foot tall, and the author makes full use of the giant pages to give us so much to see and explore. The story is comprised of Jim Curious exploring, and us just marveling at all there is to see. He passes by a sunken pirate ship, World War II fighter, and grocery cart, then floats right up to a giant whale, and, finally, discovers the ruins of an underwater city. Here the adventure takes a surreal twist as Jim finds a door in the bottom of the sea. As he opens it, where does it lead but back to his own house – somehow this is his own front door! But this time, when he walks through and emerges once again from his little house, things have gone all topsy turvy. The air is now where the sea had previously been, and sea is where the air had been – whales and fish and octopi are swimming past the windows of his house! It is a funny ending to this gorgeous visual feast.
The only downside to the book is that it does require 3D glasses (two pairs are provided) and also has one double foldout section, where the pages fold out from the middle. Jim Curious is clearly intended for young readers but the glasses and the double foldout are just not the sort of thing young children will do well with: the foldouts are going to get torn or crumpled and the glasses will be broken or lost. That means that, despite the book being wordless, it still needs to be read with mom or dad present. There is a sequel, just as surreal, and also 3D, which kids will also enjoy: Jim Curious and the Jungle Journey (2021).
The Arrival
by Shaun Tan
2007 / 128 pages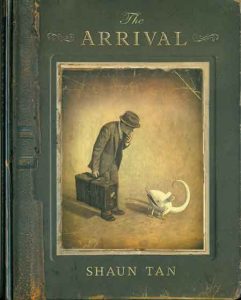 I am an immigrant of sorts, having moved across the border to the US, and while it was easy enough to adapt it did give me a small bit of insight into what my parents and grandparents must have experienced when they moved from the Netherlands to Canada decades ago. While I didn't have to learn a new language, my children are going to learn an entirely different history. They say "zee," not "zed." And almost everyone I know seems to have a gun in their home. Small differences. My parents had to deal with much bigger ones, and for their parents it was stranger still. It was hard to ask for help because they didn't know the language. They needed help because things were done differently here. Fortunately, they weren't the first – others from the "old country" had come before, so there was some help to be had.
This may be an overly long introduction to a book that has no words. To cut to the chase, Shaun Tan's graphic novel may be the very best possible way to share the immigrant experience with the second and third generations. It tells the story of a father who leaves his country, his wife, and his daughter, to head overseas to find a better place for them all. It is a very strange world that he finds. One of the first things we notice is that even the birds look different. In fact, the reader will notice that these birds don't look like any birds anyone has ever seen. It only gets stranger in the pages that follow: the man encounters a mystifying immigration process, and documents that are written in a language that doesn't look like any that the reader will know. The buildings, the food, the transportation – there is a uniqueness to it all. This new country looks like no real country on earth. So what is going on here?
The first time I read this graphic novel I didn't understand what was happening and stopped reading about halfway through. This time around a helpful niece alerted me to the fact that this was about the immigrant experience, so what the artist was doing, by making everything just slightly peculiar, was creating a world where the reader would feel the same sort of discomfort and confusion that a new immigrant would feel upon arrival. That little insight was a big help, and turned this from a mystifying, even frustrating story, to an absolutely brilliant one. I will admit to being a bit slow on the uptake here, as the title, The Arrival, should have provided me the only clue I'd have needed. But in my defense, Shaun Tan's creation is utterly original so I have not ever read anything like it.
We follow the father as he sets out to find a job, finds an apartment, tries to get the coffee machine (if that's what it was) to work, and tries to figure out where to find food and what sort of food he likes. Along the way he meets several helpful people, including people who had immigrated years before, and were happy to help someone newly arrived. So the book is, on the one hand, about the immigrant experience, and on the other is a story about the impact we can have in helping strangers. The young father would have been lost but for the kindness of strangers.
This is a large book, both in the number of pages, and in the size of the pages – 128 pages and about a foot tall – with scores of details to discover on every page. So even though it is wordless, this is a good long read. I would recommend this to immigrant grandparents as a gift they could give to the grandchildren, and one they might want to "read" with them. I would also recommend it to anyone who loves art – this is a beautiful book.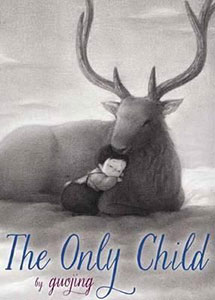 The Only Child
by Guojing
2015 / 112 pages
This will be enjoyed by both younger and older children, but in two very different ways. For the pre-schooler this is strictly a flight of fantasy, about a boy who goes off in search of his parents, and finds an elk guardian instead who takes him up amongst the clouds. For the older reader, this is the story of China's one-child policy, and how it left parents, robbed of any siblings to act as their own child's aunts or uncles. That would sometimes mean they'd have childcare problems. If grandma wasn't available, there were no other relatives to turn to, so a toddler might be left on their ownsome at home, as both parents went off to work. This is the story of one such child, and yes, it does take a fantastic turn when the elk shows up. But for the older reader, the author's purpose – to capture some of the lost and lonely feelings many Chinese children felt – will be clear and compelling.
Snow White
by Matt Phelan
2016 / 216 pages
This is Snow White inventively reimagined as a 1920s Depression-era American tale. The "king" is a stock trader who has managed to survive the stock market crash. The stepmother is still a queen, but this time of the Ziegfeld Follies, a popular Broadway show. The mirror is now a stock ticker, and the seven dwarfs are seven street-smart kids. Prince Charming? Well, I shouldn't give too much away! This is near wordless, going entirely so for a dozen pages at a time, but interspersed with some sparse dialogue. That makes this a very quick read. Fairytales are typically for children, but this is too somber to attract little ones. Done in black and white, it has a dark, noir style…all but for the last few pages with their happily-ever-after full-color conclusion. So this is something adults could even enjoy, but tweens are the target audience – this has been a very popular one among the 12 and unders in our house.
Harder to find (12)
While these don't seem to be in print right now your local library may have a copy because they were once quite deservedly popular.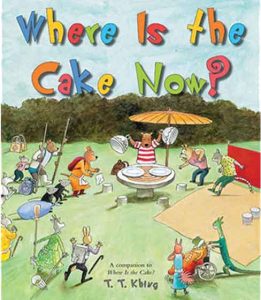 Where is the Cake? (2)
by Thé Tjong-Khing
2007 / 32 pages
Thé Tjong-Khing was born in Indonesia, studied in the Netherlands, and is now one of the Netherlands' best-known illustrators and authors. His books have been translated into several languages, and Where is the Cake? must have been the easiest as there was only the title to translate. The main story involves a chase after two possums who have taken Mr. and Mrs. Dog's cake. The action takes place on large pages (even a bit larger than the pages of a magazine) so there is plenty of room for detail, and for a host of different animals. There are more than 30 characters on each page, and almost as many storylines! I read this with my two-year-old daughter and we had great fun trying to keep track of what everyone was up to. It lends itself to a lot of interaction – I was constantly talking to her about what must have happened "in-between" the pages and congratulating her as she found Mr. and Mrs. Dog once again. She loved it, and her dad did too because it was a book I could read again and again (as parents are often required to do) and keep finding new things. A sequel, Where Is the Cake Now?, continues the story and is also very good (if not quite the match of the original). This one is hard to come by in English, but because it is wordless, can be had in other "translations" including Dutch.
Ice (5)
by Arthur Geisert
2011 / 24 pages
Of all the wordless books I've run across Arthur Geisert's Ice is one of the most entertaining. It is the story of a clan of pigs, living together on an island and enduring a hot, hot summer. The island's water reservoir is just about empty, so the pigs get their airship ready. Then they sail off, traveling 'round the world to the North Pole where they snag and drag an iceberg back to their home. Ice saws and pickaxes are used to carve up the iceberg and deposit it in their reservoir. Ice for everyone! My two-year-old and I lingered over each two-page spread, noting the many things that the pigs were up to. The next day I had a fun time hearing her version of the story as she "read" it aloud. The only downside to the book is its small size – it is over too quickly. We were grateful to discover there is a sequel, The Giant Seed (2012), in which the piggy clan finds a giant – several stories tall! – dandelion seed, complete with the fluff at the top. They plant it, and, it turns out, they've done so just in time. It grows a dandelion with its own fluffy heads and then, when the island volcano threatens to blow, the pigs can all sail away, one pig to each dandelion fluff. Geisert has at least a couple other wordless pig books. In Oops (2006), a pig boy spills his milk at breakfast, and, as one thing leads to another, that spill eventually leads to the utter destruction of his family's precariously perched house. That would seem a sad ending, but the last page has the family relieved that while the house is gone, the family is okay – it highlights that family is more important than things. But do be careful drinking your milk! More wordless piggie fun can be found in Hogwash (2008) where pig parents let their piglets have a muddy day of fun before the moms and dads use the most marvelous of machines to clean up their kidlets en masse. Then, in Lights Out (2005), a little pig is told by his parents to turn off his lights at precisely eight, but the problem is, he can't fall asleep with the lights off. So he devises a mechanism – a Rube Goldberg machine of sorts – that turns off the lights, but the whole process of pulleys and pendulums and bouncing balls and more – takes a good long while to eventually douse the lights… by which time he has fallen asleep. There are 36 words in this one, but all on the first page.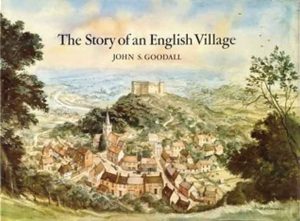 The Story of an English Village (4)
by John S. Goodall
John Goodall's books are unique, unlike any other wordless stories I've seen. Most wordless or near-wordless books are intended for the pre-reading set. But Goodall's books seem to be aimed at an older age group. He has a series of "The Story of…" titles that tackle "an English Village," "the Seashore," "a Farm," and "a Castle," and in each, the lack of words leaves viewers lingering over each picture. So this isn't wordless to make it accessible to the very young; it is wordless to bring the focus to the pictures, and the impressions left by them.
For example, in The Story of an English Village, Goodall starts us with a picture of a 13th-century castle under construction on a large hill, and then in the following two-page spread, he shows us this same setting in one hundred year leaps, until we arrive near our modern day. These are pictures to linger over, then flip back to, comparing the next century with the last. 
In this book and many others, Goodall makes creative use of a single half-page stuck between each two-page spread. This is a bit hard to describe, and apparently was unique to Goodall – he may have invented this technique – so let me try to make things a little clearer. Imagine a book with a picture spanning both pages – a two-page spread – and right in the middle of these two pages is a single half page. This page is full height, but only half the width of the book's other pages, so when this half-page is turned from the right side to the left, it gives us a new perspective on the goings on in the middle, while leaving the outer edges unchanged. If you didn't follow that, let's just say it is pretty cool and you should track down one of his books to check it out. Goodall has many other wordless books, and most seem worth checking out, with the exception of his "Naughty Nancy" series about an obnoxious little girl mouse, who is more nasty than naughty.
Holland
by Charlotte Dematons
2013 / 54 pages
This is a treat for any with ties to the Netherlands, even if a generation or two removed. Each two-page spread highlights one location, but sometimes different time periods. For example, in the opening picture, we see a three-masted schooner fighting off a British galleon while a giant modern-day container ship sails by. In another spread of today's Amsterdam, we see Van Gogh painting in his studio. Pages are big – this is a tall book – and there is so much to see. This is a very fun way to tour the country, its culture, and its history. 
Last and least (9)
These are only okay, but if your children are flying through all the others, and your library has them, then they might be worth a borrow too.
Aquarium
by Cynthia Alonso
2018 / 36 pages
A girl loves fish, and when one jumps onto the dock, she takes it home with her and tries to find a good-sized home for it. That involves filling most every container in the house with water, including the swimming pool. When the fish jumps from the swimming pool into the small puddle beside it, the girl decides it needs something bigger and returns it to the lake. The last page shows her joining it, and more fish friends.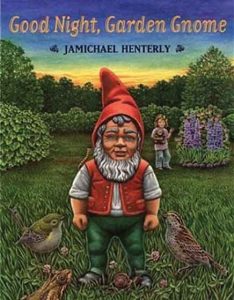 Good Night, Garden Gnome
by Jamichael Henterly
2001 / 32 pages
A child's outdoor tea party features her toys and a garden gnome too. When it's time for bed, the toys are brought back inside, and the gnome is left behind, where we discover that when no one is looking, he comes alive and does some garden tending. He braves the family dog to retrieve a lost toy and brings it to the girl's window sill. Well drawn and charming, but very short and simple.
Flood
by Alvaro F. Villa
2013 / 32 pages
A beautiful little two-story home by the river is loved by its family, threatened by a storm, protected by sandbags, and then abandoned when the water gets too high. We see the water sweep in, and the family return to the devastation… and begin to rebuild. It ends with the house fully restored. 
Hank Finds an Egg
by Rebecca Dudley
2013 / 40 pages
This is almost a stop-motion presentation, with a stuffed bear, in a clay-crafted forest setting, discovering an egg out of its nest. He tries to return it to the nest high above, and after a couple of failures, succeeds with some tiny help. It's a nice story with a feel-good ending.
red hat
by Lita Judge
2013 / 32 pages
When a little girl washes her red knit cap and hangs it out to dry, it becomes a play toy for the animals. They have great fun chasing it, but return it completely unravelled. The girl isn't bothered though, and not only sets out to re-knit it, but knits red caps for the animals too.
the whale
by Ethan and Vita Murrow
2015 / 32 pages
While no one talks in this story, some reading is required at the beginning and end, when newspaper accounts describe, first, how a pair of children 50 years ago claimed they'd spotted a gigantic spotted whale, and how two more children, five decades later, finally confirm this legendary beast's existence. It's exciting, but the required reading at the front and back does detract some from the wordless charm.
Wolf in the Snow
by Matthew Cordell
2017 / 48 pages
A boy trudging through the snow, making his way home from school, comes across a lost wolf cub which he befriends and then helps find its pack back. The effort exhausts him but when he collapses in the snow the grateful wolf pack then helps his parents find him. A fun story, well drawn, and it would have rated higher except that the wolves are drawn so realistically a little kid could read this and think it is passing on accurate information on the friendliness of wolves.
Zoom (2)
by Istvan Banyai
1995 / 64 pages
It's easier to explain what this book is about by describing it backwards. At the end of the book we see Earth from millions of miles away – just a white dot on a black canvass. But, a page earlier, we've zoomed in, and can see oceans and clouds. Next, we see things from the perspective of a pilot miles up, then as he flies lower, we see people as ants, and on and on the zooming goes. There is no narrative, but it is intriguing. A sequel, Re-zoom, is equally so.