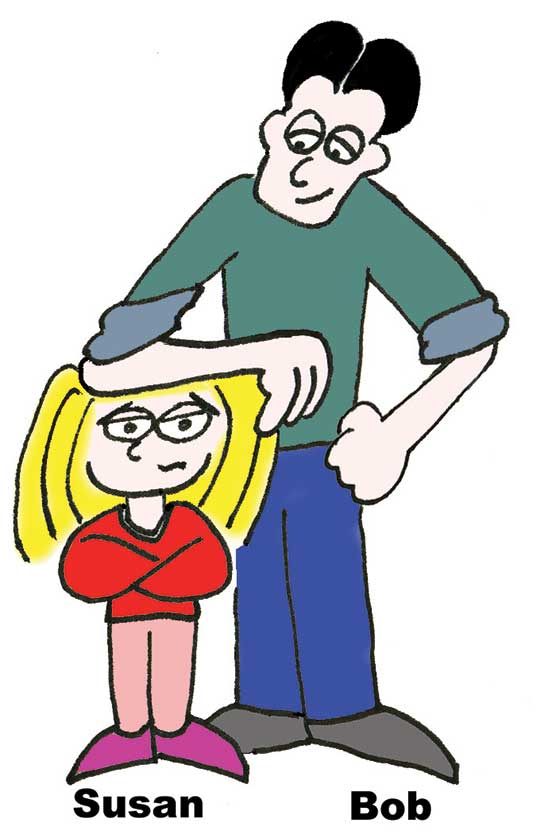 What follows is the text of a brochure that was delivered to more than 20,000 houses in Edmonton, Alberta during an election campaign about 15 years ago. It got a lot of people talking… and quite a number of them screaming. We'd assumed no one could possibly take the title seriously, but we were wrong, and many people did. But, strangely, when we explained that, rather than being an attack on women, this was actually a defense of the unborn, the screaming only got louder.
****
This brochure is not about why all men are superior to all women – such a broad generalization is unscientific (as there are always the rare exceptions) and could even be viewed as sexist. No, in this brochure we are going to deal specifically with why Bob is superior to Susan. And in the process we will touch on why most men are superior to most women.
Now, there are four differences that make Bob superior to Susan.
First, Bob lives in Edmonton and Susan lives in Calgary. This makes Susan inferior for reasons that are so obvious they really don't need explanation.
Second, Bob, as a mature adult, is more developed than the prepubescent Susan. Since she is less developed she is clearly less human.
Third, Bob is a healthy individual but Susan relies on a variety of medical devices to stay alive. She would die without her regular treatments and therefore does not rate as fully human.
Finally, Bob is much bigger than the diminutive Susan. Since there is less of Susan obviously she is less human – subhuman even. And, of course, size is why most men are superior to most women since men are (aside from the rare exceptions) bigger than women.
Four differences in all, and in each instance they make a compelling scientific case for Bob's superiority… and also for male superiority in general. Right?
You don't agree?
Good, because neither do we. And yet people point to these same four differences to argue that the unborn are somehow inferior and less human than those of us are already born.
Location – the unborn do live in a different location than us. But so do Calgarians. Does the fact they live in a different location make them inferior, less human, and less worthy of protection? Of course not.
Level of Development – the unborn are less developed than us but that again is no reason to think they are any less human. If it is, then the less developed Susan is also less of a person than the mature Bob.
Viability – the argument is often made that the unborn aren't human because they are dependent on their mothers – they aren't viable on their own. But newborns are pretty dependent on their mothers as well. And Susan is also not viable on her own. Are we now allowed to kill anyone dependent on pacemakers, dialysis machines, insulin shots or the like? Obviously, viability doesn't make someone more or less human.
Size – the unborn are much smaller than us. Does that make them less human? If it does then the smaller Susan must also be less human than the bigger Bob.
In Canada we've justified the killing of over 100,000 unborn children each year by pretending that their location, level of development, dependency, and size somehow make them less than human. But we know better than that. You know better than that.
We're standing up for the unborn. Won't you?
—–
A brilliant filmmaker used this article and brochure as the leap-off point for a short video. Check out Breanne Jansen's creation below.