A controversial bill to redefine triangles was presented in the British Parliament this past month. Debate was opened by the Culture Secretary, Valerie Brimble, who began by setting out the case for expanding what she sees as an oppressively restrictive definition.
"Times change," she began, "old customs and habits which may have served society well in the past need to be constantly reviewed. It is my contention that the traditional view of triangles, as having three straight sides, joining at three corners and forming three internal angles which aggregate to 180 degrees must urgently be reviewed. There is no reason why this configuration need remain, and a modern society ought not to be hidebound by antiquated customs."
Unusually for a Commons debate, she then whipped out a visual aid from under the dispatch box in order to demonstrate her proposals. Figure 1, she told a packed House, was an example of how triangles have been traditionally defined.
FIG 1.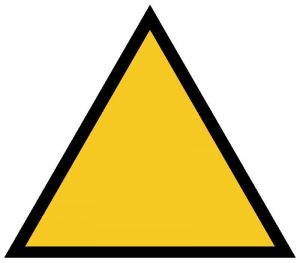 She then went on to explain that this traditional definition of triangles could no longer be tolerated in a modern, diverse and inclusive society. "If we are to be a compassionate people, then we must include shapes that we've previously pushed to the margins."
She then sought to reassure some of her more traditionalist colleagues that what the government was proposing was merely a change to allow just one of the sides of the triangle to be redefined, to allow for the introduction of a wiggly line. Figure 2 was then presented to her fellow MPs, which depicted a "triangle" with this wiggly short side.
FIG. 2
As she sat down after her opening remarks, Mrs. Brimble faced a barrage of criticism from opponents of the bill. It was pointed out to her that once you redefine triangles to include one wiggly line, it was only a matter of time until other self-interest groups demanded their right to add a second or even a third bendy line.
Mrs. Brimble responded by reassuring the House that the government had no plans to allow any further redefinitions. "We are only, I repeat, only, legislating to allow either one of the two shorter lines to be redefined," she said. "We are not, I repeat, we are not legislating for the redefinition of the hypotenuse."
However, this failed to satisfy her opponents who one by one got up to denounce the redefinition. One of the most vocal said this: "Can my Right Honourable friend tell the house this: once she has redefined the triangle to include a wiggly line, what reason can she give to those who then want to redefine it to include four straight lines, or multiple bendy lines, or even as many lines, bendy or otherwise, that they choose?" Not to be outdone by Mrs. Brimble, he then whipped out his own visual aid and showed the House what could well happen to the triangle if this legislation passes.
FIG. 3

"Oh come off it," scoffed a clearly exasperated Mrs. Brimble. "Don't be ridiculous. They don't look anything like triangles. Even a fool can see that."