Gordon Korman famously wrote his first book, This Can't Be Happening at Macdonald Hall!, when he was twelve years old. By the time I was twelve, he'd written a dozen or so more – which was fortunate for me, because I was eagerly reading and re-reading them all.
Why did I love his novels? They were funny; they were quirky. There was also an essential good-naturedness to them that appealed to me. Although the characters got into plenty of trouble, at heart they were usually kids with integrity, showing loyalty, generosity, and kindness.
As time went on, Korman continued to write prolifically and successfully. He still wrote some of the humorous novels for kids and teens that had made him famous, but he branched into other genres as well, writing, for example, several sports series and adventure trilogies. By now I had more or less outgrown his books . . . but I still had a soft spot for this favorite author, and occasionally checked out his new releases. I found many of them less memorable than his earlier "classics"; and some of them seemed edgier, with less likeable (though more realistic) characters. I was troubled by one teen novel called Pop (2000) – a book Korman was particularly proud of – because of the eventual suicide of the aging, dementia-stricken former football star, which is portrayed as a sympathetic, even noble act. Although I nostalgically looked forward to sharing my old favorite Korman novels with my own young kids, I wasn't so sure about his newer ones.
Then, within the last six or seven years, a few new Gordon Korman books caught my eye – books like Slacker (2016), Restart (2017), The Unteachables (2019), and more. Nephews and nieces were raving about them, and soon I was hooked too. They felt like a new era of Korman novels – like the novels I would've expected this talented author to grow up to write.
Some of Korman's recent books are more or less pure silliness, but clean and positive, with creative storylines, fun characters, and some laugh-out-loud lines. Others are surprisingly serious, dealing with topics like the realities of war and the Holocaust, as well as domestic abuse (some of these books are definitely not for younger readers).
Single parents and broken families are presented matter-of-factly, though not glamorized; many of Korman's characters are struggling with life changes such as their parents' divorce. In general, the characters feel a bit "older" than some of the kids in our communities, as the seventh- and eighth-graders are often quite caught up in social media and sometimes in girlfriend/boyfriend relationships.
Unfortunately Korman does occasionally (though rarely) use God's name in vain. In both Restart and Linked, for example – award-winning and otherwise commendable books – there is a flippant use or two. To me, Restart marked the real beginning of Korman at his thoughtful best, as he deals with interesting questions about good and evil, human nature, character, and choices; and Linked addresses deep questions about the purpose of life, religion, and faith, as the main character searches for what's real and meaningful. So I regret that I can't wholeheartedly recommend these two.
Here, though, are a few others I can.
Slacker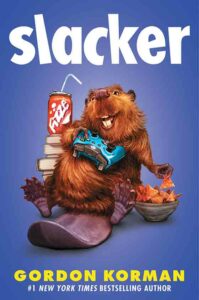 2016 / 240 pages
Cameron Boxer is all about video gaming. When his parents get concerned that he's missing out on real life, he starts a fake school group, the Positive Action Group, to appease the adults in his life. Unexpectedly, the "PAG" takes off, dragging the unenthusiastic gamer along – and, of course, surprising him by showing how much more satisfying a purposeful, other-centered life can be.
One of the strengths of this (very funny) book is how Korman gets into the heads of his characters, and especially of the underachieving adolescent Boxer, whose life choices (i.e., gaming above all) make perfect sense to him, and who is honestly miffed when real-life concerns "disturb his lifestyle." By the end, thankfully, Boxer is able to reflect that PAG "started as a hoax, but . . . ended up the realest thing about me."
Operation Do-over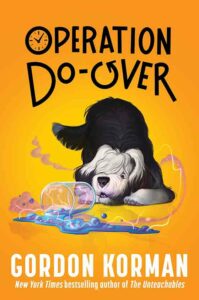 2022 / 320 pages
Twelve-year-old Mason made one big mistake – he betrayed his lifelong best friend over a girl they both liked. Five years later, through a mysterious time warp, he finds himself back in time, to just before the fateful incident occurred – with a unique chance for a "do-over." He takes the chance, with the benefit of hindsight and some extra maturity, to change several things in his life this time around: try out for a team, stand up to a bully, treat a classmate better, and even keep his beloved dog from a premature death. (Interestingly, he realizes he's not able to prevent his parents' divorce, though he tries.)
As in Restart, Korman leaves his readers with some hopeful and encouraging ideas: our "fate" isn't predetermined, and we can make choices that change our trajectory and lead to a more positive future.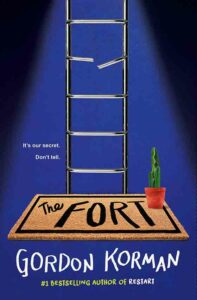 The Fort
2022 / 256 pages
This novel, Korman's milestone 100th book, is a serious (and a moving) one, and although the characters are eighth-graders, the topics are pretty weighty for middle-school readers. A group of friends discover a Cold-War-era bunker in the woods, and it becomes their secret hide-out. All of them are dealing with difficult issues – OCD, family breakdown, the challenge of fitting in, family members with drug addictions – and one of them, unknown to everyone else, has a violent stepfather at home. For him, the fort becomes his literal escape, and the novel largely revolves around his story.
Korman writes the different chapters, powerfully, from the points of view of the different characters. Despite the serious subject matter, we see friends showing loyalty and self-sacrifice, and are again left with the idea that positive change is possible.
Conclusion
Although Korman has said he's "not a message kind of guy," he is interested in the power of stories to help readers explore ideas and see things from different perspectives. And even if he's not pushing a particular agenda, books do inevitably communicate something of the worldview of a writer. In the case of Korman's books, there are a lot of hopeful takeaways for young readers: people can change, and we can make choices to change our futures for the better. Understanding and empathy can triumph over bullying and racism. Our lives can and should be about something bigger than ourselves, and grappling with what that means is a worthwhile pursuit.
Positive messages, and true . . . but so incomplete.
Now my oldest son is nearly twelve. (And yes, he's been enjoying many of my old favorite Gordon Korman books.) As he and his siblings and peers grow up and confront the big questions of life, I'm grateful that we have more complete answers, and real hope, to offer – far beyond anything they'll find in a Korman novel. At the same time, books like Korman's have their place – as thought-provoking reads, or sometimes just as well-written stories that bring joy and make us laugh.
And I know that I, and my kids, are looking forward to seeing where Gordon Korman takes us in the books to come.