…or, the story of a boy, a repairman, and the Truth
****
In the title I promised you a story. Actually that was mainly to draw you in. I figured stories sell more magazines. But it's not entirely untrue. I want to start with a couple of stories. They happen to be autobiographical.
The first story starts at about grade 3, around the age of 8. You may think that my qualification for making a "plea to read" is my current calling as pastor, or my (excessive) years of education before this. But that's not really it. That's not really why I agreed to share this article about reading. Instead, the story begins, once upon a time, when I was 8. That was the year I discovered reading, or at least my passion for reading. In the years that followed it became my number one activity. I was almost always reading, probably at an unhealthy level.
You want to know why I say that? Well, my parents would often ignore my lengthy birthday or Sinter Klaas lists and buy me things I didn't ask for and, truth be told, I didn't necessarily want. I asked for the next book in a series; they bought me a hockey stick. I asked for the first book in a new series; they bought me a Lego set.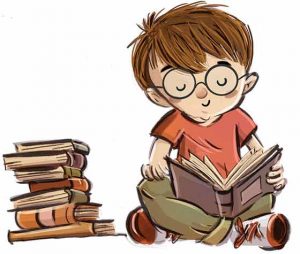 Actually, we used to have a cartoon on our fridge. I think it was from Punch Comics. One of my siblings stumbled across it, cut it out, and posted it there. It's a sketch of a family gathered around a television set in the living room. Two ladies on the couch are talking to each other and looking rather concerned about the boy in the foreground who's curled up in a chair reading a book, oblivious to the rest of the family. The caption at the bottom reads, "We're rather worried about William." I kid you not. That was the name. Google it if you don't believe me. It doesn't quite work because we never had a TV in the house, but you get the picture, I think.
So that's where this story begins. My plea to read is in part a plea for you to join me in the best hobby there is.
A dog-eared copy of Reformed Dogmatics
But that's not a terribly convincing appeal. That comes in the next story (I hope). We have to jump forward about twenty years to what was one of my more embarrassing moments in recent years, which for some reason I'm sharing publicly with you all.
You have to try to imagine the scene with me. I was in first year at the seminary at the time. And you have to know that first year seminary is that stage where you feel like you know everything. You have an opinion on everything. And you want to fight about everything. Things change after four years. Thankfully… and by the grace of God.
Well, we were back home in Richmond Hill for the weekend. We got invited to my wife Diane's Opa and Oma Kampen's for dinner (don't tell them I told you this story) and we were sitting around waiting for dinner to be ready and chatting and what not.
Now, before I continue, I have to give a quick character sketch. Opa Kampen is retired now, but he was an appliance repairman all of his years in Canada. I'm not sure when his education stopped, but he definitely didn't have anything like the years of education that I had at that point.
So, anyway, we're talking together about one thing or another, and suddenly the conversation shifts. I don't remember why anymore, but rather unexpectedly Opa asked me whether I favoured Infralapsarianism or Supralapsarianism. Remember, I was the first year seminary student and he was the appliance repairman.
I don't remember why it came up, but I definitely remember my reaction. Vividly. I started sweating. I had heard those words before, but I had almost no idea at that point what they meant, let alone which one I leaned towards. I thought, here we go, Opa's about to expose me as a complete fraud. My education has meant nothing! I was tempted to slip out quickly to the bathroom so that I could Google it, but there was no time. I actually don't even know what happened in the end, but that moment of panic has stuck with me.
So why am I sharing this story? Well, to me it illustrates a change over the years in terms of our investment into reading and educating ourselves in Reformed doctrine. Gone are the days when your appliance repairman read through Bavinck's Reformed Dogmatics, in Dutch or in English. Gone are the days when you can expect men nominated as elders or deacons to have invested significant time into studying Reformed doctrine over and above their catechism instruction as young people.
Now, before you get up in arms, I'm not saying there are none of these. I'm just saying that with the younger generations this breed is not as common. And I'm indicting myself with this too. I was a deacon before coming to seminary. Well, if that's the case with those being put up for church leadership, then how about the other people in the pew?
Before I continue, I should add a disclaimer. My comments here are completely unscientific. My doctoral supervisor would never forgive me for my poor research. I haven't crunched any numbers or done any surveys. I'm basing this on my experiences as an office-bearer, both before and after I went through seminary. If you have a more positive outlook, I'd love for you to convince me. But right now, this is my article, so you'll have to bear with me.
So why should we care? Why should I make this plea for us to read more widely and more deeply today, in the 21st century? Let me devote the next half of this article to exploring an answer to that question.
Theologians should read (and we're all theologians)
Well, first of all, everyone is a theologian. (If you're on Twitter, you might want to tweet that, although I certainly can't take credit for coining the phrase, so don't quote me). Everyone is a theologian. Even the atheist is a theologian. That's because theology is, essentially, thoughts or words about God. And the atheist has thoughts about God. Now, his thought happens to be that God doesn't exist – and he happens to be wrong – but that still makes him a theologian.

So, if we're all theologians then the important question is what kind of theologians are we going to be? You see, the problem with the atheist isn't that he's a theologian, it's that his theology is coming from the wrong source. If we don't study theology from the right sources – if we don't allow our thoughts and words about God to be shaped by the right sources – then our theology is going to be shaped by the wrong sources. If we don't consciously do theology – that is, if we don't consciously train our minds in the knowledge of God – we're going to end up basing our theology either on our own experiences and our own feelings or on whatever else we happen to be taking in.
Because we are reading. Maybe some of us – and I'm talking especially about my generation and younger – are reading more than ever. I'm thinking of social media. Don't tell me you're not a reader if you're on Facebook or Twitter. Maybe those who only use Instagram, which focuses on pictures, can have a legitimate claim not to be readers, but the other social media users can't. [1]
But the problem with only reading online, and not engaging in books, is that by its very nature the online world tends towards the superficial. Let's think specifically of theology – of the study of God. If your thoughts are shaped by your reading of little quotes that someone decided to share, taken out of context, written by who knows who, or if all you read are the musings of someone who is just "feeling philosophical" (as the Facebook status often says) then you can't expect anything but superficial knowledge.
That, I think, is the biggest danger with losing our interest in reading deeply and studying deeply the doctrines of God found in his Word. We end up with an overall superficiality in terms of our theology, what we know about God. Worse, we can rely more on our subjective experiences than the objective truth we find in God's Word.
Feelings aren't reliable…but there is a book that can be trusted
Let me explain that. What is subjective is based on our own experiences, our feelings, our emotions. We can't really call it truth – although as postmoderns we might want to – because we aren't reliable sources of truth. Our sinful, fallen nature means that we can't be trusted to process things correctly, understand things properly. We can't be trusted to theologize helpfully on our own. General revelation can only go so far (Rom. 1:19-23). We need objective truth. We need something to build our lives on that is absolutely rock solid, unshakeable. We find that foundation in the Word of God alone. Because it's a revelation from outside of us, from outside of this fallen world. It's special revelation from the unshakeable source of truth, God himself.
That's why we're called to pore over Scripture, to internalize it, to let it light our path, to let it shape our thoughts, to let it cut deeply into our hearts. And we have to trust that the Spirit works transformation through the Word. We have to believe that. And then live like we believe it.
But we also don't read Scriptures alone. We read them with the church of all times and places. That's why we guide and inform our reading with creeds and confessions. That's also why we supplement our reading of Scripture with studying good theology, with reading solid literature. Because it all helps ground us further in the objective truth of God's Word.
When we're deeply grounded in the truth of God's Word, then we are better able to process our subjective feelings and emotions. The psalms in Scripture provide us with great examples of what that looks like. But let me explain what I mean by what I think is the most powerful and poignant illustration of this, where the believer directs his experience of reality by the truth that he knows from God's revelation.
It lies at the very center of the most tragic book in the Bible, Lamentations, traditionally understood to be written by Jeremiah. The prophet is lamenting over the destruction of the city of Jerusalem. His world, the world of God's own people, has completely fallen apart. He finds himself sitting in the ashes and ruins of the holy city. Many of the people of God have died in the Babylonian invasion. Many others have been deported to far away Babylon.
The whole poem is centred around the question: how could God allow this to happen to his chosen people? The prophet's present experience is of pain, disillusionment, disappointment. Almost the entire book is a long cry of deepest despair. But then, at the very heart of the poem, in the middle of "the wormwood and the gall" (3:19), we get this incredible confession of faith,
"The steadfast love of the LORD never ceases; his mercies never come to an end; they are new every morning. Great is your faithfulness" (3:22-23).
One Bible teacher suggests that we imagine ourselves sitting in the ashes of the World Trade Center in New York City after 9/11 and speaking these words to ourselves.
That's what I mean by looking at our experiences and filtering our emotions through our objective knowledge of God… our theology. The prophet, sitting among the ashes, knows this truth because God has spoken it, and so he applies this truth to his troubled soul and to his experiences, which appear to contradict it.
Like the prophet, it's our knowledge of the objective truths of God's Word that gives us the wherewithal to process our experiences and feelings. Not vice versa. Then our theology lets us speak truth to our souls when our experience doesn't seem to line up with our knowledge.
That's part of why we read. That's part of why we pursue a deeper and deeper knowledge of God, above all through his Word, but also through reading deeply and widely with the church.
How can we encourage reading?
I want to explore the answer to one last question before I let you go: what should we do? I don't have space to pay much attention to this, but let me make a start by saying what we shouldn't do: we shouldn't do nothing. We shouldn't finish reading this article, muse about it for a few moments, and then just move on, mildly annoyed at the fact that this wasn't a story like it was advertised to be, but otherwise untouched. We shouldn't do nothing.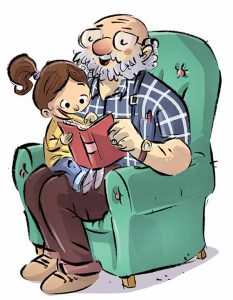 So what should we do? Well, let me issue a plea to all of you reading this to do something. What that something is will depend on who you are and what you do.
Are you a parent or grandparent? Stimulate the love for reading good books in your kids and grandkids. Do that by modeling it for them and by giving them the right resources for it. And if you can't stimulate a love for it, then at least impress on them their responsibility to keep educating themselves in the doctrines of the Word of God.
Are you an elder or deacon or pastor? First of all, create a culture of "professional development" within your church council and consistory. Secondly, stimulate that same love and that same sense of responsibility for reading in the sheep under your care.
Are you a member of the body of Christ? Develop your own desire to grow in the doctrines of the Word of God, in sinking the objective truths of Scripture into your hearts and minds. And then make it your mission to share that love with your fellow members.
Start with the people closest to you, your friends within the church. Buy them books – good books, mind you – and then talk about them. Start with easier (but not easy) reads and then make your way into heavier ones. Stretch yourself and stretch them too.
Plan book review nights where you get together with your friends and you all share thoughts and insights from the books you happen to be reading at present. It doesn't have to be formal or complicated. Just talk. And when you're done your book (and it's a good one), pass it along to someone else. Don't let it collect dust on your shelf.
In all this, though, never forget that studying theology ought to be an act of worship. We can't let our reading become an end in itself. We can't become obsessed with theology for the sake of theology. We do theology because we exist to glorify God and because we were created to know Him. So as you read and discuss, do it with a conscious posture of worship. Let your increase of knowledge lead to an increase of worship. Soli Deo Gloria!
Endnotes
[1] For this point, see Aimee Byrd's No Little Women: Equipping All Women in the Household of God, page 202.
Dr. William den Hollander is Professor of the New Testament at the Canadian Reformed Theological Seminary. This article was originally delivered as a speech at the December 8, 2017 Reformed Perspective fundraising dinner at the Aldergrove Canadian Reformed Church.