This following is an excerpt from Rob Slane's new book, A Christian & an Unbeliever Discuss: Life, the Universe & Everything. We're joining a conversation, already in progress, between an committed atheist, Alex, and the Christian who is trying to talk him down.
"Look," said Alex, "everyone knows that the Bible was cobbled together in some shadowy council 300-odd years after Jesus was supposed to have died."
"Hold on a minute, Alex," I replied. "Are you suggesting that the Bible is the product of some kind of conspiracy?"
"If that's what you want to call it," he replied.
"So let me get this straight," I said. "A moment or two ago, you were calling the Bible a hotchpotch of writings by men who never knew each other, which kind of suggests that the literature involved was diverse, to say the least. But now you are telling me, unless I'm very much mistaken, that when the canon of Scripture was agreed upon, it was done so by people whose aims were to brainwash people. Is that about right?"
"In a nutshell," he retorted.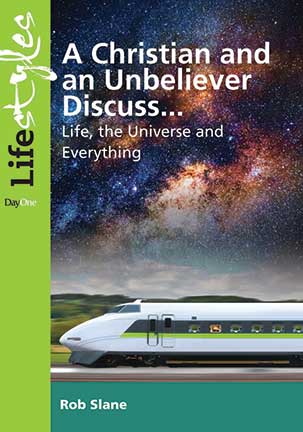 "But you must see that it can't be both."
"I do not see that," he replied. "Why should I see that?"
"Well, on the one hand, you're charging the Bible with the heinous crime of being written by a group of very different people over a very long period of time, but now you're charging it with being effectively "published" by another group of men who were somehow able to take this bunch of totally different literature written in very different styles and cobble it together in order to control the masses by asserting that it is divine in origin."
Once again, Alex looked distinctly unimpressed, so I put it to him that he should try the same experiment with other forms and periods of literature to see if it could be done. Choose a period of history, say the Greeks and the Romans. Take a large dollop of Plato and Aristotle, add some Homer and Virgil, stir in Julius Caesar's Gallic Wars, mix it together with some Seneca and Cicero and finally season with the letters of Pliny. When you've mixed it all together into one book, go out and sell it to men as a revelation from God, replete with complete unity of purpose and message.
Or if the ancients don't appeal, try a more modern recipe. Take the "prophetical" writings of Orwell and Huxley, chuck in some songs by maybe Bob Dylan and John Lennon, put it in the blender with a bit of Dylan Thomas, stir in a speech or two by Dr. Martin Luther King Jr. and then add a pinch of something bitter, like a bit of Solzhenitsyn. Again, try to sell it as a book with a single theme written under divine inspiration. You can't do it, because there is no unity there. But somehow the Bible does exactly this: it takes the writings of a hotchpotch of different men, living over a 1,500-year period and writing in a range of literary genres and styles, and still manages to come up with a book which has a unity of theme throughout.
"Tell me, Alex, the writers of the Scripture and the men who met to agree the canon – who were they attempting to brainwash?"
"Anyone gullible enough to swallow it," he replied.
"Okay, so can you tell me what was in it for those you are talking about? I mean, when Moses wrote the Pentateuch or when Solomon wrote the Proverbs, were they thinking to themselves, 'Ha! This'll force those gullible fools several millennia down the line into subservience'? If so, why? What was in it for them? And what about those who met to agree on the canon? Have you ever read the book of Ruth? What on earth is a book about a woman returning from abroad with her mother-in-law and eventually getting married doing in a book compiled together by fourth-century propagandists? And what did they think they were playing at when they included the Song of Solomon, a book condemned by many Jews and later the Victorian moralists as impure and dirty? If there's brainwashing there, I'm not entirely sure how it is done, why it is done and what exactly its goal is. But then again, I suppose if I've been properly brainwashed by it, I wouldn't know, would I? So perhaps you can tell me."
"The purpose is to make us all good little citizens who do exactly what we're told without ever questioning anything. Just like Marx said – the opium of the masses."
When he said this I'm afraid I just couldn't stop myself from bursting out laughing. Somewhat taken aback, Alex asked what exactly it was that was causing me so much mirth. So I replied that here I was, living in a world that is currently adopting practically every doctrine of Marxism without even knowing it, where the State is virtually worshipped by millions, and here he was using Marx's charge of brainwashing and oppression against Christianity.
He asked me what on earth I meant, so I gave him just a few examples: Whom do we look to for the education of our children? The State. Whom do we look to for healing when we are sick? The State. Whom do we look to for provision in our old age? The State. Whom do we look to for "advice" on what is and what isn't healthy? The State. Who comes up with miles and miles of regulations to make sure we are safe and happy? The State. Who deliberately destroys the family and then takes it upon itself to become a surrogate father to the millions of fatherless children it creates? All this and more, in direct accordance with the ideology espoused by the man who claimed that Christianity was a tool used by those in power for brainwashing and oppressing the people.
A Christian & an Unbeliever Discuss: Life, the Universe & Everything, is available at Amazon.ca here and Amazon.com here. This excerpt is reprinted here with permission.