Documentary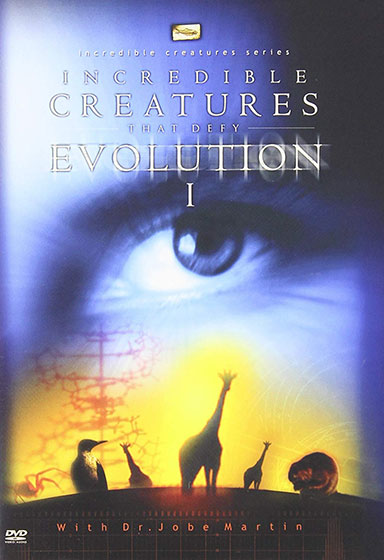 47 min / 2006
Rating: 7/10
As narrator Dr. Jobe Martin explains, he was once an evolutionist and only became a creationist after getting challenged by one of his students. While he was a professor at a dental college, he gave a lecture on the evolution of the tooth – he taught his class that fish scales eventually migrated into the mouth and became teeth – but two students didn't agree, and they encouraged him to investigate creation science. He'd never heard of creation science but was willing to take a look. And the closer he looked, the more he realized that much of the evolution he believed in was based on not on fact but assumptions.
His study led him to investigate animals and other creatures, and in this short documentary he shares some of the most incredible features of some pretty incredible creatures that forced him to acknowledge that there was a Master Designer behind all this. For example, did you know:
…the bombardier beetle repels attackers by shooting a fiery liquid out of its rear end?
…the giraffe's heart pumps blood powerfully enough to blow out its own brain? The giraffe heart has to be strong to get blood all the way up to its head but what happens to all that power when, instead of pumping against gravity, the giraffe dips its head to take a drink? Then the same strong stream of oxygenated blood will now be traveling with enough pressure to create some serious brain trauma….except for the amazing shut-off valves in a giraffe's neck that kick in when it lowers its head!
…the woodpecker has a barbed gluey tongue that sticks to bugs but doesn't stick to its own beak? And, just as amazing, it has a skull that is designed to do the work of a jackhammer without giving the poor fellow a headache.
Dr. Martin shows us why we should be amazed by many other creatures including: the beaver, the Australian incubator bird, the platypus, the chicken egg, the chuckwalla lizard, the gecko, and us humans.
My preschool daughters were amazed, and while this is a video primarily intended for children, my wife and I were also engaged. We were floored by just how creative God is. It is good family viewing, with enough pictures and film footage to keep the attention of the very young, and for parents, there's a narrative that highlights God's sense of fun and His genius.
It's important to note this is just a children's video, and not intended as something you'd hand your harden-nosed evolutionist friend. Incredible Creatures isn't meant to offer an overly detailed or complete argument against evolution, and adult critics would likely seize on that lack of depth to dismiss it entirely.
So get it for your own family or your Christian school. And if you know someone dead-set on evolution, then consider Evolution's Achilles' Heels and its more mature, thorough anti-evolutionary argument.
There other two films in this films in this Incredible Creatures that Defy Evolution series are all good, but this first one is the very best of the bunch. You can buy it many places online, and for a four-minute peek, check out the trailer below.