I recently realized I believe in/affirm theistic evolution.  Depending on your perspective, have I sold out or have I finally come to my senses?  Neither.  Let me explain.
It has long perturbed me that those who affirm or allow for Darwinian macroevolution to be compatible with a biblical worldview will sometimes call themselves "creationists" or will claim to believe in/affirm biblical creation.  They do this knowing that biblical creation is usually understood to refer to a view that holds to God having created in six ordinary days on a timescale of some thousands (rather than millions or billions) of years ago.  By claiming to believe in creation they lay concerns to rest, whereas all they have really done is disguise their true position.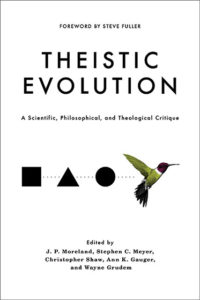 Stephen C. Meyer has helped me to see I could do the same thing with theistic evolution.  Meyer wrote the "Scientific and Philosophical Introduction" to Theistic Evolution: A Scientific, Philosophical, and Theological Critique, a massive volume published in 2017 by Crossway.  He notes that theistic evolution can mean different things to different people, as can "evolution" without the modifier "theistic."  For example, it can refer to common or universal common descent or to the creative power of the natural selection/random variation (or mutation) mechanism.  But evolution can also just simply mean "change over time."  And if one believes that God causes "change over time," then that can be understood as a form of theistic evolution.  With that, Meyer contends, no biblical theist could object (p.40).  He concludes, "Understanding theistic evolution this way seems unobjectionable, perhaps even trivial" (p.41).   So, in the sense of believing or affirming that there is change over time directed by God, I am a theistic evolutionist — and I suspect you are too!
But what's the problem with this?  Let's say I were to (miraculously) get myself invited to a BioLogos conference as a speaker who affirms theistic evolution.  It appears I'm on board with the BioLogos agenda.  The conference organizers are a little doubtful, but I insist that I affirm theistic evolution and they take me at my word and welcome me in their midst.  Then I give a talk where I evidence that I'm actually a six-day creationist who believes Darwinian macroevolution to be a fraud.  "But you said you hold to theistic evolution!"  "Oh, but you didn't ask me what I meant by that.  I believe that God causes change over time — that's how I'm a theistic evolutionist."  Would anyone blame the conference organizers for thinking me to be lacking in some basic honesty?
Integrity is really the heart of the matter.  If I say, "I read a book and I realized I'm a theistic evolutionist," most people will hear that and conclude that I still believe in God, but I also affirm Darwinian evolution.  And that is not an unreasonable conclusion.  Furthermore, what would be my purpose for making such a claim?  Would it be to tell something designed to mislead so as to advance my cause?  Does the end justify the means?
If you affirm Darwinian macroevolution as the best explanation for how life developed on earth and you believe God superintended it, then man up and say so.  Honestly say, "I am a theistic evolutionist."   As for me, believing that God created everything in six ordinary days on the order of some thousands of years ago, I will say directly, "I am a biblical creationist" or "six-day creationist," or "young earth creationist."  But let's all be honest with one another.
Biblical creationists also have to stop being naive.  Just because someone says they believe in biblical creation doesn't mean they actually believe the biblical account as given in Genesis.  They can fill out those terms with their own meaning.  So we have to learn to ask good questions to ferret out impostors.  Questions like:
Do you believe God created everything in six ordinary days some thousands of years ago?
Was the individual designated as Adam in Genesis ever a baby creature nestled at his mother's breast?
Was the individual designated in Genesis as Eve a toddler at some point in her life?
Do you believe it biblically permissible to say that, as creatures, the figures designated in Genesis as Adam and Eve at any point had biological forebears (like parents/grandparents)?
What does it mean that God created man from the dust of the earth?
These are the types of questions churches need to be asking at ecclesiastical examinations for prospective ministers.  These are the types of questions Christians schools need to be asking prospective teachers at interviews.  True, even with these sorts of questions, there are no guarantees of integrity, but at least we will have done our due diligence.
Dr. Bredenhof blogs at yinkahdinay.wordpress.com and CreationWithoutCompromise.com where this first appeared.