by John Patrick Green
88 pages / 2016
Hippopotamister isn't strictly a comic or a picture book – it is as much the one as the other – but regardless, it sure is fun. Hippo and Red Panda live in the City Zoo, which is falling down around them. Not only are the gates and habitats falling apart, the lion's mane "wasn't very regal" and "the walrus's smile wasn't very bright."
So Red Panda decides to leave the zoo and get a job among the humans. And every now and again he comes back to the zoo to tell Hippo that "Life outside the zoo is great!"
An observant child is going to notice that while Red Panda is always enthused, he's also always holding a different job whenever he reports back. It turns out, as we learn when Hippo finally decides to join him on the outside, that Red Panda is great at lining up new jobs, but not so great at holding on to them. So every day it's a new job and a new hat, and a new and funny way for Red Panda to mess up and get himself and Hippo fired once again.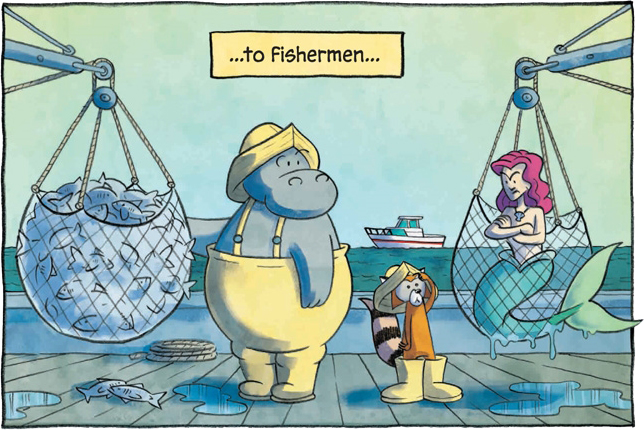 Hippo, though, turns out to be quite skilled at all sorts of jobs, and after trying on all sorts of hats, realizes that he might be just what his failing zoo is looking for. Maybe he can run it!
The story concludes happily, bringing Red Panda back home, too, with a job that suits his own unique talents.
CAUTION
The only possible caution I can think of is that at one point Red Panda, instead of catching fish, ends up with a mermaid that may or may not be topless – we can't tell because she has her arms strategically and tightly crossed (see the picture). This is the only picture that is even mildly risqué.
CONCLUSION
Hippopotamister is a sweet funny story that any child in the early grades will enjoy, and it might be just the thing for a reluctant reader.
RELATED REVIEWS: more picture book/comic book crossovers