Documentary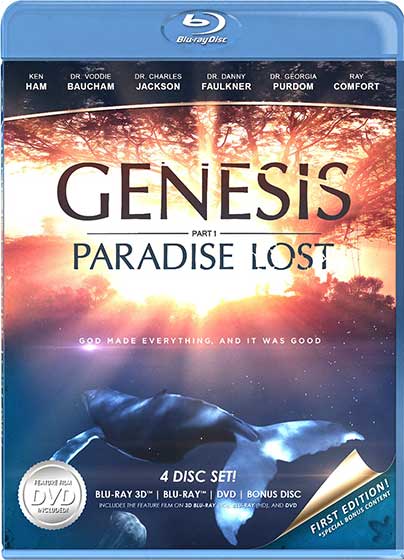 109 minutes / 2018
RATING: 8/10
There have been some very good Genesis-related resources coming out in the last few years and this is another. The intent with this one is to provide a visually stunning introduction to creation science. It's going over the basics, but along with the expected talking heads laying out Creationism 101, there are impressive computer animations of the goings on for every day in the Creation Week. There's even a 3D version of the film that, on a big-screen TV, makes this quite the immersive experience!
So who should see this? The target audience is Christians and interested unbelievers who want to learn what creationists believe about the opening chapters of Scripture. There is a lot packed in here – perhaps too much because the sheer volume of material only allows the producers to cover topics in big and broad ways. They simply don't have the time to offer any sort of nuanced evolutionary counters to their own points.
A CAUTION
Now, that's fine; it just means this isn't a film to give to the hardened critic. It also means there is one danger Christians have to watch for: anyone new to creationism, after seeing the film, might be left with the impression that there are no compelling arguments, and no evidence of any kind, for evolution. That would be a dangerous sort of naïveté.
While that's an important caution, this is a fantastic film. There is so much to love here, starting with the narrator Voddie Baucham – if you've ever heard this Reformed pastor and professor speak you'll know he's just perfect for this role. Fun guests include Ken Ham and Ray Comfort. The professors include some familiar names like Dr. Georgia Purdom, Dr. David Menton, and Dr. John Baumgardner.
The topics covered include:
an answer to the distant starlight problem
fossils on the top of mountains
carbon-dating
intricate complexity
reasons to believe the universe is young
the Law of Biogenesis
finding soft tissue in dinosaur bones (said to be millions of years old)
the pepper moth fallacy
the many human "missing links"
how if natural selection can explain the survival of the fittest, it doesn't explain the arrival of the fittest
and much, much more!
CONCLUSION
One of the film's strengths is the sheer width and breadth that it covers. However, there is just so much information! I was already familiar with most of what was presented and I still found it on the overwhelming side. But, as faults go, that's a wonderful one to have – it only means this is an excellent candidate for repeated viewings, and that this is a video to buy, not just rent.
The other strength is all the computer animations. If they aren't perfectly life-like, they are perfectly gorgeous. The Creation Week has been rendered with respect: God is never depicted, and naked Adam and Eve are only shown at extreme distance, or only in parts (their feet, or hands, or faces). Of course depicting the Creation Week visually is going to involve a lot of imaginative interpretation to fill in all the missing details; these folks have done so with tact and care.
So, again, who should see this? I think the many talking heads means that Genesis: Paradise Lost isn't for children – it would probably have to be older teens and up. But for anyone who's interested in learning about our origins, and about how we should understand the opening chapters of the Bible, this is going to be a treat!
A version of this review first appeared on ReelConservative.com.