Among pro-lifers the topic of graphic pictures can cause some heated debates. Should we make use of pictures of aborted children to expose the public to what happens in an abortion? It's an important question, but a key to answering it comes in realizing this is about practicalities, rather than principles.
DOES THE BIBLE FORBID, OR REQUIRE THEM?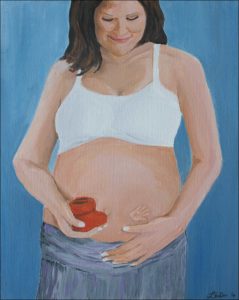 If it were about principles then we should be able to make a clear biblically-based case either for or against the use of these gory, brutal, bloody pictures. But it doesn't seem a case can be made either for forbidding or for requiring their use.
If God forbids the use of gore in visual presentations, then what of Jesus, who was beaten and bloodied and raised up on a cross in front of the crowds? God didn't hide the horror that was being done to his Son. And think also of the countless public sacrifices done for hundreds of years before, all pointing to this moment. No, God doesn't forbid bloody messages.
But does God require them? Again we can say no – the Jews were, for a time, required to make sacrifices, but we aren't. There is no command now to pass on Truth with gore.
Now, if graphic message are allowed but not required then whether we use these pictures should comes down to evaluating their effectiveness. This isn't a matter of wrong or right, but rather, do they work? Do graphic pictures shock people into realizing that the unborn are precious human beings? Or do they so disgust people that they turn away and refuse to even to consider the humanity of the unborn?
GRAPHIC AND EFFECTIVE
I think the answer is both. Jonathon Van Maren recently wrote about how, more than 100 years ago, graphic pictures shocked Europe into ending the brutal treatment of the Congolese people at the hands of Belgium's slave-trading King Leopold II.  The US civil rights movement was spurred on, in part, by the use of graphic pictures that showed the savagery being committed against blacks in the South.
I've seen graphic pictures have an impact today too, when I made use of graphic pictures with student groups and then saw students who were apathetic about the unborn get stirred up. And I've seen graphic pictures spark campus-wide discussions at universities and colleges.
But some people do walk away. Just a glance, and off they go headed in the opposite direction, and there's no chance to talk. Graphic pictures have their place, but there also seem to be limits to their usefulness.
So if graphic pictures have mixed results, what of other approaches?
NON-GRAPHIC AND EFFECTIVE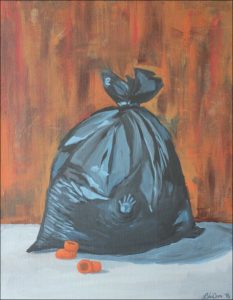 Two years ago ARPA Canada created an impressive display on Parliament Hill using of 100,000 small pink or blue flags. Each representing one child killed via abortion in Canada each year. There was no gore, but it was effective.
And what of the two pictures accompanying this article, painted by Lisa Van Dam? They clearly illustrate the humanity of the unborn, and the inhumanity of abortion. Doesn't it almost hurt to look at them? Imagine them, paired together on a billboard – that's a clear message, an unforgettable message, and no blood to be seen.
Dr. William Lile has another approach. In 1999 he bought an abortion clinic to put it out of business, and ended up with all of its instruments and machines too. He decided that he would give people tours of the facility to show them what had been happening there. As LifeSiteNews.com's Pete Baklinski reports:
"He used the tools, including the suction machine, to show how first and second trimester abortions were performed. He also showed how a partial-birth abortion was performed in the last trimester using a doll as a model.
"The doctor holds that demonstrating the reality of abortion while using the actual tools of the trade on models allows people to see the horror without being traumatized by seeing blood or body parts.
"'What I've found is that the more graphic the demonstration the more the audience will have their hands over their ears and their eyes closed. And, you can't educate anybody when their ears are covered up and their eyes are closed,' he said."
Dr. Lile doesn't want to make use of graphic pictures, and yet his own method seems impactful. But like graphic pictures, it has limitations the biggest of which is reach: he can only sway those willing to come visit his clinic.
CONCLUSION
So what is the best approach? That's going to continue to be a matter of debate. But as we have this discussion it's important to remember that whatever our thoughts as to the use of graphic pictures – yeah or nay – we shouldn't condemn the other side. They aren't doing something wrong; they simply disagree as to which approach is more effective. When we understand this as a debate about effectiveness – rather than wrong vs. right – then we can be more objective as we evaluate all the various approaches. Then we can more easily work together to find out how in this situation or that, this approach or that will work best to highlight the humanity of the unborn.
Both paintings are by Lisa Van Dam.
Related resource