On the same day that the world's attention was fixed on the coronation of Charles III, Canada's federal government took the opportunity to show off its new design for our Canadian Royal Crown. As the "Canadian Crown" twitter account noted:
"The design replaces religious symbols (crosses & fleur-de-lis) with maple leaves & a snowflake"
This crown isn't a physical crown worn by an official or put on display. Rather, it is an emblem or design, featured at the top of Canada's Coat of Arms, as well as police and military badges, among other places.
Symbols matter, especially when they are meant to represent our leadership and nation. This change came from the top. Our Governor General's website explains that it was "approved in April 2023 by His Majesty The King on the advice of the Prime Minister of Canada."
The fleur-de-lis symbolizes a king's divinely-approved authority to rule. "For there is no authority except from God" (Romans 13). Likewise, the cross symbolizes the kingship of Jesus Christ, Lord over all creation. Together, they bear witness to the fact that humanity is not sovereign. God alone is. And He alone gives authority to office-bearers, including our civil governments.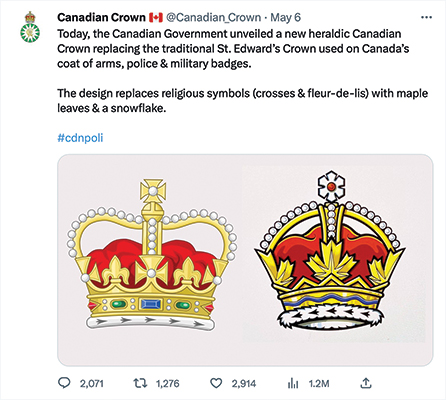 It is no surprise that Justin Trudeau has no use for these public reminders of our Sovereign Lord Jesus Christ. But in divorcing the civil government's authority from God, where does it get its authority from? The new symbols point to nature. How do the snow, leaves, and water give any authority to our government? They are pretty to view, and useful for living, but have no transcendent authority themselves. As snowflakes melt and leaves decay, we can expect the same for any government that finds its authority in itself. It is also ironic that, in an effort to undermine Christ as king, our government has to look to Christ's creation for new symbols.
Instead of anger or ridicule, decisions like this ought to move us to sadness. Justin Trudeau and most of Canada's leaders think that decisions like this are a move towards an enlightened and "progressive" future, characterized by secularism instead of "religion." Yet they are blind to the reality that they are no less religious than their forefathers. In many respects, they show even more zeal for their religion of humanism and paganism than many of our forefathers showed for our Lord.
Some years ago, I witnessed the leaders of Canada's political parties, including Justin Trudeau, each piously reading a selection from Scripture at the National Prayer Breakfast. This included a reading from Psalm 2, reminding them Who is King and Who they will one day have to give account to:
Why do the nations rage and the peoples plot in vain? The kings of the earth set themselves, and the rulers take counsel together, against the LORD and against his Anointed, saying, "Let us burst their bonds apart and cast away their cords from us."
He who sits in the heavens laughs; the Lord holds them in derision. Then he will speak to them in his wrath, and terrify them in his fury, saying, "As for me, I have set my King on Zion, my holy hill…. Now therefore, O kings, be wise; be warned, O rulers of the earth. Serve the LORD with fear…."