"The gossip's words are like choice food that goes down to one's innermost being." – Prov. 18:8
*****
There is an old adage which says, "Believe nothing of what you hear and only half of what you see." Another saying rightly puts forth the idea that the phrase "They say" is often a great liar. The Bible advises us to live quietly and to mind our own affairs and the Bible also underlines that "Where there is no talebearer, strife ceases" (Prov. 26:20).
When you dislike someone, however, it is quite easy to believe gossip about that person; and when you have a disagreement with an acquaintance, how tempting it is to listen to a wagging tongue to discredit that acquaintance?
Before she was queen
We all know many factual historical news items about Queen Victoria, the long-reigning English monarch (1837-1901). When she was born on May 24, 1819 at Kensington Palace, Victoria was only one of several heirs to the throne of England. But after the death of her father, her grandfather and an uncle, she became the sole heir to that throne. She was eleven years old at the time.
Victoria's childhood was secluded. Much of it was spent isolated from other children her age. Her mother, the Duchess of Kent and a Fraulein Lehzen, the governess, were virtually the only people with whom she had contact. She played with 132 dolls and a pet spaniel dog, but these did not make up for the devastating loneliness she sometimes felt.
The Kensington system
Sir John Conroy had been equerry – a personal assistant – to the Duke of Kent, Victoria's father. After his death, Conroy offered his services to the Duchess as comptroller of her household. These services were accepted and the Duchess and Sir John Conroy grew very close. Together they set up a system called the "Kensington System" which regulated and oversaw every aspect of the crown princess' life. The idea of this system was to make the young girl so utterly dependent on both her mother and Sir John Conroy, that she would be totally unable to do without the pair of them once she became queen.
The little girl had rarely been out of her mother's sight. She slept in the same bedroom, and possessed virtually no privacy. Conroy was not especially kind to the child, bullying her with disparaging words when he could, and she disliked him exceedingly. As well, she detested the power the man appeared to have over her mother, not to speak of the fact that he often inferred that she was ill-equipped to become queen.
In May of 1837 the princess celebrated her eighteenth birthday. The celebration brought with it a coveted amount of independence, for it gave Victoria her own income. Less than four weeks after this milestone birthday, King William IV, her uncle, died. Not even five feet tall, Princess Alexandrina Victoria was immediately proclaimed Queen. Sermons were preached throughout England simultaneously mourning the death of William IV and celebrating the accession of the new queen.
The young queen immediately made appointments to form her own household. She very deliberately excluded Sir John Conroy. As a matter of fact, she referred to him as "a monster and demon incarnate whose name I forbear to mention." There was a move to Buckingham Palace and one of the first things the young monarch did was to secure her own bedroom. Her mother henceforth would not share her sleeping quarters any longer.
Lady Flora Hastings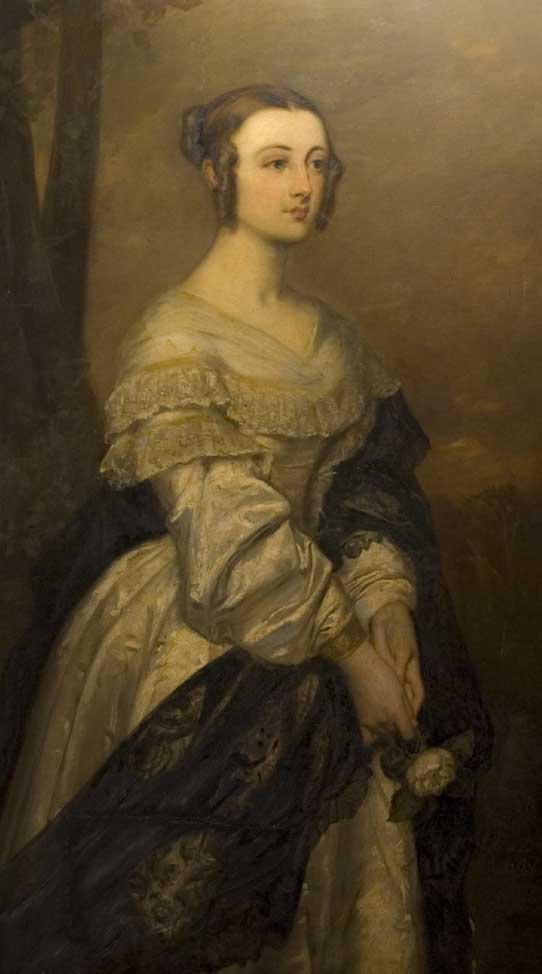 Three years before this, a Lady Flora Hastings, the unmarried daughter of the first Marquis of Hastings, had been appointed lady-in-waiting to Victoria's mother, the Duchess of Kent. However, Lady Hastings inadvertently became part of the Kensington System. In addition to the duties of lady-in-waiting to the Duchess, she had been told to serve as companion for the young princess. Both the Duchess of Kent and Sir John Conroy believed this would deter confidences between the princess and her beloved governess, Fraulein Lehzen. Victoria sensed this and believing Lady Flora to be a spy doing Sir John Conroy's bidding, Victoria distrusted and disliked her. Given the whole history of the girl's repression and isolation, this can readily be understood.
Lady Flora Hastings was a beautiful woman. She had an oval face, big eyes, an aristocratic nose, thick dark hair and a flawless complexion. She was also a Christian and a firm believer in her Lord and Savior. In 1839, after Victoria's accession to the throne, she made a trip to Scotland to visit her family. Afterwards she returned in a carriage with Sir John Conroy without the presence of a chaperone. A few weeks later, Lady Flora openly complained about a pain in her abdomen. As well, she developed a noticeable swelling in her stomach as she continued to have this pain. She wrote later:
"…having been suffering from bilious illness since the beginning of December, I consulted Sir James Clark, her royal highness' physician, and placed myself under his treatment…"
The noticeable swelling of the stomach caused tongues to wag. Gossip was rife. And Queen Victoria, that very new and young monarch, participated in many a demeaning conversation about Lady Flora Hastings. This woman, it was whispered, is unmarried, a prude, and probably pregnant. Unkind mouths went on that, very likely, the father was Sir John Conroy. The Queen's extreme dislike for Sir John Conroy and his cronies, probably added fuel to the fire.
A shunned Lady Hastings later wrote:
"On the 16th of February, Sir James Clark came to me, and asked me whether I were privately married, giving, as his reason, that my figure had excited the remarks of the 'ladies of the Palace.' On my emphatic denial he became excited, urged me to confess as the only thing to save me…. it occurred to him at the first that no one could look at me and doubt it, and remarks even more coarse. I observed to him that the swelling from which I had been suffering was very much reduced and offered him the proof of my dresses. He replied, 'Well, I don't think so. You seem to me to grow larger every day and so the ladies think.' He proceeded to say that it was the only supposition which could explain my appearance and state of health 'or else you must have some very bad illness.' I said that was possible. I had thought badly of my own state of health, but that his supposition was untrue and quite groundless. He ended by assuring me 'that nothing but a medical examination could satisfy the ladies of the Palace, so deeply were their suspicions rooted…. and the rumor has reached the ear of her Majesty. I said, feeling perfectly innocent, I should not shrink from any examination, however rigorous, but that I considered it a most indelicate and disagreeable procedure, and that I would not be hurried into it.
It seems strange and hurtful that such wicked gossip should come to Lady Flora Hastings, not by the mouth of a female, but by a man. It would have been proper for a woman to convey these malicious rumors and for a woman to comfort her. The gossip about Lady Flora persisted after Sir James Clark's visit and the Queen continued to believe that she was pregnant.
Both saddened and shamed, Lady Flora wrote:
"It having been notified to me that it was her Majesty's pleasure that I should not appear (at court) until my character was cleared by the means suggested, and having obtained the permission of her Royal Highness to submit to it, as the most instantaneous mode of refuting the calumny, I sent….for Sir Charles Mansfield Clarke and for Sir James Clark, and the examination took place in the presence of my accuser, Lady Portman, and my own maid. In the evening Lady Portman came to me to express her regret for having been the most violent against me. She acknowledged that she had several times spoken a great deal to the Queen on the subject, especially when she found it was the Queen's own idea. She said she was very sorry but she would have done the same respecting any one of whom she had the same suspicion. I said my surprise is, that knowing my family as she did, she could have entertained those suspicions."
Even when it came to light that the doctors could find no evidence of pregnancy giving her a certificate to verify this, the ill rumor persisted. At some point, Lady Hastings, who was also a poet, penned these words:
In every place, in every hour,
Whate'er my wayward lot may be;
In joy or grief, in sun or shower,
Father and Lord! I turn to Thee.
Thee, when the incense-breathing flowers
Pour forth the worship of the spring,
With the glad tenants of the bowers
My trembling accents strive to sing.
Alike in joy and in distress,
Oh! Let me trace Thy hand divine;
Righteous in chast'ning, prompt to bless,
Still, Father! may Thy will be mine.
Scarred still
Although Lady Flora was re-included in all the festive and formal arrangements of the court after this most painful incident, it did not take away the shame and misery to which the young woman had been subjected. Her good name had been sullied. A few months later, she was unable to participate any longer in court functions. The illness which affected her kept her in bed.
The queen, to her credit, did visit the bedchamber once before Lady Flora died. A post-mortem revealed that she had suffered from a cancerous tumor on the liver. It is recorded that no word of reproach or enmity escaped from her lips and that she died peacefully.
When Queen Victoria was informed of Lady Flora's death, she wept and ordered that every mark of respect suitable for such a melancholy occasion be observed.
Words can be swallowed, but once spoken, they can never be erased. The slander against Lady Flora Hastings is, consequently, a blot on Queen Victoria's reign, a blot she, no doubt, often regretted. Proverbs 10:18 clearly says that whoever spreads slander is a fool. Lady Hasting's sad story serves as a sharp reminder that we must be careful with our words.
Christine Farenhorst is the author of many books, including a short story collection/devotional available at Joshua Press here. She has a new novel – historical fiction – coming out Spring 2017 called "Katharina, Katharina" (1497-1562) covering the childhood and youth of Katharina Schutz Zell, the wife of the earliest Strasbourg priest turned Reformer, Matthis Zell. Picture credit: Queen Victoria, painted by Franz Xaver Winterhalter, 1859; Lady Flora, unknown.