A Field Guide for Clear Thinkers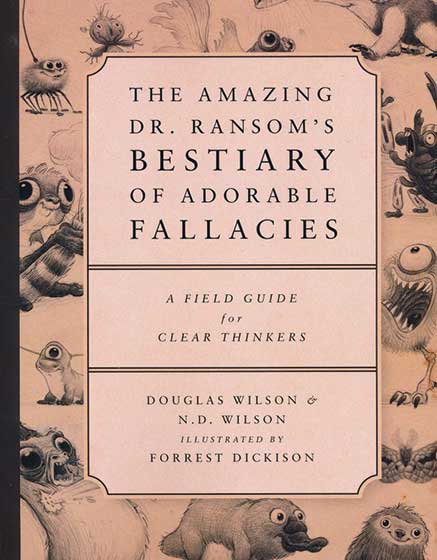 by Douglas Wilson & N.D. Wilson
illustrated by Forrest Dickison
320 pages / 2015
These are the adventures of a globetrotting fallacy hunter, the amazing Dr. Ransom. And by following him along on his hunts, we, too, will learn how to track down (and on occasion, kill) fallacies in our own interactions with them and the people who love them.
That's exactly the problem with fallacies – they're so loveable. Dr. Ransom" (who claims to have been born in 1837 and have stayed healthy through the use of spider milk lotion) tells us how easily people allow fallacies into their lives and minds. He deals with 50 fallacies in all, breaking them down into the following four categories: 1) fallacies of distraction, 2) of ambiguity, and 3) of form; and 4) millenial fallacies.
Each of the fifty chapters then:
defines the fallacy and its dangers (showing it as a cuddly but vicious animal);
shows the fallacy, in Forrest Dickison's illustrations, in repose and on the attack;
explains how we, like Ransom, can defeat it;
gives the fallacy its other (sometimes better known) names; and
provides both discussion questions and exercises in recognizing examples of both fallacious and logical arguments.
The book also includes answers for all the questions in the back, as well as a schedule for teaching, reviewing and testing students' knowledge of logical fallacies, which helps make it ideal as a textbook for an English or philosophy course. But what makes the book fun is that both Ransom's adventures in confronting fallacies and the examples given are presented with satirical wit. I have never enjoyed reading about and puzzling out fallcies more.
Which brings me to the two cautions:
On occasion the Wilsons, arguably, step over the line of discretion and good taste in the description of Dr. Ransom's confrontation with fallacious fools (always a peril in satire).
The recognition exercises's answers in the back have no explanation. It helps if you share the Wilsons' Christian worldview and principled conservativism (as I generally do), but even then, I did not always agree with their answers. If I were to use this in my classroom, I would have to discuss every answer with the class as a whole (not in itself a bad thing).
Despite these considerations, I, as a teacher, would love to use this as a textbook for my courses. If you agree that this book could help you defeat the fallacies that stalk us along all our mental trails, you can find it here in the US, and here in Canada.