by Jay Adams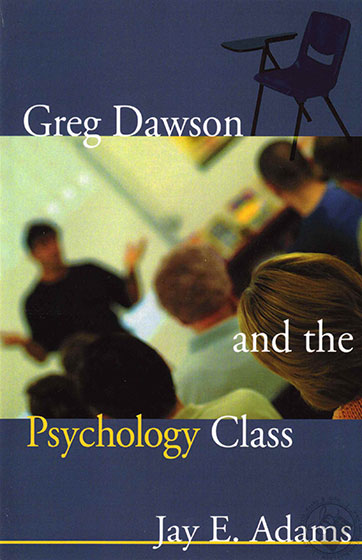 2008 / 149 pages
This is a novel, but it'd be more accurate to call it a textbook masquerading as a novel – the goal here is education, not entertainment.
Jay Adams' fictional protagonist Greg Dawson is a preacher who lives near a Christian college. Some of the students want to know the difference between the psychological counseling theories they are being taught and the biblical counseling Greg Dawson uses.
Via a series of informal conversations with Pastor Dawson, the students learn that the psychology they're being taught at their Christian college is built on secular counseling theories. They are asked to consider just how many different secular counseling theories there are. These theories claim to be built on insights into what Man is really like, and yet the different theories disagree with one another, and sometimes wildly. So how are we to evaluate them? Dawson points students to the Bible, asking them to examine how many of the theories line up with a biblical understanding of our inner nature. So long as these secular theories understand Man outside of our relationship with God how can they understand what Mankind is really like? Dawson asks them to also consider that most of these theories don't acknowledge our sinful nature, or understand our purpose here on earth.
As the back of the book details, some of the other issues explored include:
the difference between apologizing and forgiveness
the place of evangelism and faith in Biblical counseling
Is all truth God's truth?
some specific issues such as depression, mental illness, and marriage
Adams is only one of many experts to consult when it comes to biblical counseling. Others include Ed Welch, Heath Lambert, Wayne Mack, Paul David Tripp and David Powilson. But this book is an ideal introduction to the subject – the novel format makes for an easy, yet highly educational, read.
And if you like this one, you'll be interested to know Jay Adams has written two other "Greg Dawson" novels: The Case of the Hopeless Marriage and Together for Good: Counseling and the Providence of God.