God's work in one Reformed community to set prisoners free from their bondage to sexual sin
*****
The fire crackled in a massive stone fireplace behind us as we talked and sipped coffee. The handcrafted log home that surrounded us was almost finished, after seven years of construction. It was sitting at about 4,000 feet elevation, built on the side of Hudson Bay Mountain, in northwest British Columbia. I was meeting with the home's builder, Bill DeVries, to learn about how God has brought hope to many men and women in the Bulkley Valley whose lives have been impacted by pornography and other forms of sexual bondage.
While DeVries was building this stunning home for his clients, God has been working through him and others in this community to rebuild lives. Unlike the mansion on the mountainside, this work is being used by God to result in something much more valuable – transformed hearts, revitalized families, and captives set free.
When it comes to the hold that Satan has on many in the world through pornography, this story is an exception, not the norm. But just as a spark has been fanned into a flame in one community, the hope is that it sets a fire across this land. For "nothing is impossible with God" (Luke 1:37).
Stepping up with trepidation
Reflecting on what started it all, DeVries was upfront with his own story. "I saw the lingering effects of porn use when I was young. The effect is still here. Seeing the impact it had on my own family, I wanted to find a way to break this."
He can see now how the LORD had been preparing himself and a number of other men in the local church community to bring leadership to this problem already back in the winter of 2017. A friend had shared with DeVries how he took part in a DVD program called the Conquer Series at a local church and was interested in sharing it with others, including the Reformed church community. God stirred the hearts of DeVries and a few other men to step out of their comfort zone and bring this program to the local churches, in particular the Canadian Reformed and United Reformed churches.
DeVries explained how the program goes to the root of the issue, while always doing so in the context of grace through Christ. "It helps men to understand how a sin problem becomes a brain problem, and why it is so difficult to break free. It leads us to apply Scripture to get away from our shame identity, helping us to see grace, and our identity in Christ. It takes men into a daily, deep immersion in the Word." The title lends itself from Romans 8:37: "In Christ we are more than conquerors."
"I went into it with a lot of trepidation," DeVries recalled. He knew that dealing with pornography was not something to be done lightly and could impact marriages and lives in a big way.
"We put out a bulletin notice. It was straightforward, describing how 60-70 percent of men struggle with pornography." Through the work of the Holy Spirit, the ads struck a chord.
180 men lead the charge
The first session was held in March of 2018, and 47 men courageously answered the call and showed up. DeVries and the other organizers were ready, with ten men prepared to lead small groups. They shared their own stories of their struggle with sexual sin, setting an example for vulnerability and creating a spirit of trust.
The Conquer Series is much more than a 10-part DVD series. "It's demanding. You get a half hour of work every day, and then three phone calls to different guys in their group every week." But not only did those men carry on through the program, it has been run again in the Bulkley Valley many times since then, and to a variety of groups including teens and women.
Shortly after the first time it was run, a group of 11 dads introduced the series to their sons in Grade 11 and 12. "The guys that led, led by being open about their own struggles. That opened the door for others to do the same." It takes courage to be vulnerable with other men. It takes even more courage to talk about this with their sons. But DeVries shared that he had already come to a place of surrender. "I had nothing left for me to defend so it wasn't that hard for me to speak into it."
The impact was immediate and others noticed. That September, another 49 men signed up to do the series. Since 2018 it has been run at least four times, though the group has become smaller each time since so many had already gone through it. In total it has reached about 180 men in the area, a couple dozen of whom have done it twice.
It didn't take long for local women and youth to follow the men's lead. The organization behind the Conquer Series has also produced a number of other programs that have been run locally.
Experiencing victory
With so many men, women, and children having gone through these programs, the impact on the entire community has been both quiet and profound.
Pastor James Slaa was the minister of the Smithers Canadian Reformed Church while the Conquer Series was run locally. Not only did he intentionally incorporate the issue in his preaching, he also took part in the series himself, something that requires an extra degree of vulnerability for a pastor. The fruit was evident quickly. "The exercise of immediately being able to confess our sins to others is something that rarely happened before, and Conquer Series provided that place for the men to come clean in just a matter of days" he shared. "Occurring on Saturday nights, there was something very special to be able to gather together for church the next day and partake fully in the gospel message of salvation and worship our great and loving God and Father."
Pastor Slaa could see the impact it was having on the entire church community. "I was also humbled and moved to tears at times to hear the testimonies of others and of their wives, seeing how God was working mightily" he shared. "In my last years in Smithers I was overwhelmed by God's work among us. The war against evil was on, and God was winning handily and soundly." [You can find his full testimony in the accompanying article.]
I also reached out to a young father who was one of the first to go through the program. He asked to remain confidential but shared with me that "The Lord used it in an instrumental way to change the direction of my family and my career." He has been exposed to other means to deal with the issue since, but none as effective. "It is the Lord who does the work, but good tools help" he added. "This is a good tool."
Devries understands the connection between tackling pornography and our spiritual health generally. "The impact has been really big. One of the biggest things is teaching us to be intentional. If you are intentional, you are in a way better position to not lose faith. Guys are testifying to how it has changed how they walk with the LORD and with their family."
He proceeded to share a couple of examples.
"One of the guys asked what have I been up to. I told him about taking part in Conquers and my story. He looked at me and was just about bawling. 'You struggle with that? I do too. This gives me hope.' And then I saw him walk into serious victory in the battle."
"A young guy, from Grade 11 or 12, did the Conquer Series and then when it was done he came to me and said 'Thanks man. This has given me hope when I thought I would never escape.' He has gone on and been leading other groups since."
"A guy five years older than me did it and testified 'It is the first time in my life that I have hope that I can gain the victory from this.'"
DeVries shared that an indirect result is that there is more communication between husbands and wives. "If people are hiding something, the sexual relationship is affected, which affects a lot of life."
"There is more openness among women and they are more vulnerable with each other. That is something with my parent's generation that was far more difficult. Most women have two or three people that they can be open with. That is probably a spin-off from the men taking the lead." This also made DeVries think of the text found in Judges 5:2:
"When the princes in Israel take the lead, when the people willingly offer themselves – praise the LORD!"
DeVries believes that the program may even have indirectly resulted in the steady, deliberate, and firm leadership of the local churches through Covid. "People were charitable with each other. Relationships were maintained in a very difficult time. There was a willingness to listen and be vulnerable with others."
Amidst all of the reports of success, it was also evident that there is one demographic that DeVries remains particularly concerned about – older men. "There is a generation that seems to have given up." He later explained, "it is a bit harder to break through to the older ones who think they have a lot more to lose if they come clean on this stuff."
One challenge with leading change, especially with problems that run deep, is maintaining a good trajectory and not falling back into old routines and sin. I asked if those who have gone through the program have been able to continue to walk in freedom. DeVries affirmed that has been the case, but that it requires intentionality. That is why many who have gone through it went on to lead other groups. They have also maintained accountability phone calls. 
Humility needed
I also asked DeVries whether there is anything unique about the Reformed community that there was such interest in these programs. "From what I understand now, it is that we don't know how to deal with trauma. If we look through our past seventy years, we see World War Two, a church split, immigration, settling into a new community, a new language, and a lot of hardship. A lot of trauma happened." At the same time, families weren't well prepared to deal with the brokenness. "Dad is busy just getting food on the table. Everyone is kind of living in a suppression. Amidst that, there is physical and sexual abuse. Moms and Grandmas are giving everything except themselves. I have noticed this as an elder through the years. A lot of people couldn't open up during a home visit, especially the older generation."
Although the Conquer Series has blessed more than two million people worldwide, it isn't known by most Reformed communities. But the impact it has had in the Bulkley Valley has caused others to hear of it and ask for more information. DeVries has fielded interest from Reformed Christians in Winnipeg, Edmonton, and the Fraser Valley. Some have testified to how there is a lot of resistance to doing something similar in the local Reformed churches in their area.
I reached out to one Reformed Christian in a different part of Canada, who has devoted much effort in the past decade to seeing his church community address the same issue and asked to remain anonymous because of the negative experience he has had. Unlike DeVries, he was exasperated and deeply disappointed, especially by the church leadership. His assessment was blunt. "There are way too many people involved [in pornography] and they don't want to deal with it."
"The problem is so big," he shared, "that I don't know a young man who isn't involved."
But when he tried to bring leadership to the issue by bringing in speakers and resources, he was frustrated by the response from his church community. "[They] find everything that they don't like" he shared. "80 percent of the time was spent on what we disagreed with."
Yet he continues to speak about the issue one-on-one because "I have seen the joy that transpires when people are set free."
It starts with starting
There is indeed a longstanding suspicion from many in the Reformed community towards utilizing resources that don't originate from within. There's often good reason for these concerns, as we're warned that many who profess to be Christian are actually wolves in sheep's clothing (Matt. 7:15). So practicing discernment (1 John 4:1), and exercising caution is admirable. But paralysis is not. When faced with a pressing issue like pornography we can't be so worried about making a misstep that we don't take any steps at all. This would be akin to the servant in the Parable of the Talents (Matthew 25:14-30) who fearfully hid his talent, rather than risk misinvesting it.
When asked what advice he has for others who may want to consider running the program, DeVries was quick to offer "Keep it simple and just do it." Don't make it too big. Don't force people. Just start it and let the yeast do its work."
DeVries credits the success of the program to the fact that it jives with God's Word, including the call to each of us in James 5:16 to "confess your sins to each other and pray for each other so that you may be healed…."
Mark Penninga is the Executive Director of Reformed Perspective.
You are invited to meet with Bill DeVries in October, via a new online forum, RP Conversations. Sign up, and find out more information here.
Pastor James Slaa on the Conquer Series
*****
"I remember the time when Conquer Series began. I heard that a group of men were getting together at an undisclosed location to deal with the matter of pornography. That was good news to me! I didn't get too involved at that time, other than talk with organizers and get a broad understanding of the program.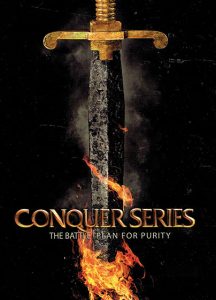 "The next year organizers wanted to run the program again, due to its success, and I was encouraged by one brother to attend, if only to provide support and encouragement. Having heard so many good things about it by now, I did. The program was running on Saturday evenings, from 7:00 to 10:00, which can be an important time for a pastor. It's time to go over the sermons for the next day. Also, traditionally it was the evening to catch some Hockey Night in Canada. And finally, it's a time to spend with family after a busy week. So, it took some sacrifice to commit. But since other men were committing to take the 10-week program every Saturday night, which was for them also usually a family night, and a time to relax, I felt I had no real excuse. Imagine my surprise when seeing over 60 men having registered!
"I had some amazing first impressions. I remember the excitement in the air, which I eventually understood was really a large group of men who were expressing real hope. I also remember my initial reaction to the media presentation, which was professional and high quality. I recall the commitment of the program to be Biblical and Christian. I fondly remember how eventually nobody cared about keeping secret the undisclosed location and what was going on – there was such an excitement and joy over the next weeks that not only the men spoke openly about attending, but many wives were noting the substantial transformations of their husbands, and could not contain their exuberance! Besides, when people drive by a parking lot full of cars on a Saturday night, they naturally want to know what's going on.
"Personally, I received a lot of feedback from the attendees. They also commented on how much it meant to them that I too was attending and participating. I started to include material in the sermons and even preached on key Bible verses. This was very well received. Many strong bonds were forged amongst the men; I too built strong and lasting relationships on account of my attendance. We were a band of brothers, fighting the great evil and enemy of our time.
"But I also knew that participating in the Conquer Series meant I too would be confronted by Scripture concerning my own life, thoughts, and actions. Conquer Series doesn't merely address the sin and addiction of pornography but goes deeper into how the mind works and the brain functions. I greatly benefitted in weeding out a lot of junk in my own life. I grew in personal Bible devotions. I sought accountability in my life and on my devices. I remember how sitting in my small group for the first time that I was resisting opening up, but that over time, witnessing my fellow brothers confessing their sins, and seeing the Holy Spirit working, I too eventually opened up and expressed my own struggles, anger, frustrations, and stresses in my life. There was real joy and liberation in doing that and finding forgiveness in Jesus Christ.
"At week six the idea is that there is full disclosure to your small group, and for me to know that was coming in my small group seemed inconceivable, but it is amazing how by the time you get to that week, you are led by the Holy Spirit and prepared to be open and honest, confessing your sins to one another, seeking prayers from each other, and experiencing freedom and liberation from the power of sin, and knowing assuredly the forgiveness of sins. Knowing as well that there will be falls and relapses, still, the exercise of immediately being able to confess our sins to others is something that rarely happened before, and Conquer Series provided that place for the men to come clean in just a matter of days. Occurring on Saturday nights, there was something very special to be able to gather together for church the next day and partake fully in the gospel message of salvation and worship our great and loving God and Father.
"I was also humbled and moved to tears at times to hear the testimonies of others and of their wives, seeing how God was working mightily. In my last years in Smithers I was overwhelmed by God's work among us. The war against evil was on, and God was winning handily and soundly.
"I knew there were some concerns about whether this program is Biblically sound. Personally, I found nothing significant that was an attack on the Reformed faith and thus of the evil one. Satan was being slammed down, and that was evidence enough to me that this is a Biblical and Christian program that advanced truth and freedom. I look back with fondness on that special time with my brothers in the Lord and how through God's grace and power we experienced real victory, a taste of what is to come!"