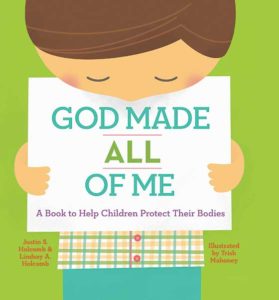 God Made All of Me: A book to help children protect their bodies
by Justin S. and Lindsey A. Holcomb
32 pages / 2015
God Made All of Me is a picture book written for young children to teach them about their bodies, and Who made them, and how to protect their bodies from sexual abuse.
It's a parent/caregiver book as well – right at the front, before the children's section begins, there is a page that is directed to parents/caregivers where the authors state their goals and reasons for writing this book. The book also ends with a couple pages for parents/caregivers with 9 ways to protect their children from sexual abuse.
The bulk of the book happens between these notes for parents. It is a story of a family with young children, and it starts off with quoting Genesis 1:31 "God saw everything He had made. And it was very good." This quote is the springboard for the conversation that happens between the children and the parents in the book in regards to the children's bodies. The book also quotes from Ps. 139 and Ps. 28. Using this dialogue between the children and parents, the book goes through different scenarios the children may find themselves in and gives ways for the children to respond in such circumstances, all with the premise that God made their bodies special and so no one is allowed to touch them.
I highly recommend this book for young children aged 8 and under. It deals with a topic that, as parents, we don't always know how to talk to our children about, yet it is so, so important that we do. In fact, I find this book so valuable that I now include it as a recommendation every time I train people in how to prevent child sexual abuse. What a blessing then that God has used these authors to write this book to help us out. I love that the whole book is based on God, His creation of us, and His Word. I also think it very wise of the authors to have it written the way they do: a dialogue between parents and their children, including different situations children may find themselves in. Although I found some of it a bit repetitive, my children did not. But then again, what child doesn't like a book repeated?! If you have young children, I encourage you to get this book. You will not regret it.
Michelle Helder has done presentations in Southern Ontario (and one in Lynden, WA) on what parents can do to best prevent sexual abuse. In a 3-hour workshop, she facilitates and leads discussions, using the Stewards of Children video and an interactive workbook. If you are interested in contacting her to do this very valuable workshop with your group, contact the editor for her email information.