If you want to foster a love for reading in your children, it's never too early to start reading to them. Even newborns will tune in when a parent cracks open a book – a baby doesn't need to understand the story to appreciate mom or dad's calming voice. And if they get to hold the book in their chubby little hands, all the better!
The ingredients for a good board book are pretty simple. The most important is probably that it have no sharp corners and be printed with lead-free paper because this is going to be as much a food item as anything else. Eat books, we are told, and babies do!
Next, it should be a book parents won't mind paging through again and again. It's on this point that repetitious "classics" like Goodnight Moon and Chicka Chicka Boom Boom have been disqualified. Loved by children though they may be, I know I'm not the only dad to begrudge even one more reading (strangely, I've yet to meet a mom who has the same strong feelings).
On a more serious note, board books have become the latest front for our cultural war, with Anti-Racist Baby, Woke Baby, A is for Activist and Feminist Baby in the mix on your local bookstore's board book section. On the other side of the political spectrum, conservative commentator Matt Walsh decided that he'd also entered the board book marketplace. His Johnny is a Walrus is about: a kid who "identifies" as a walrus, the mother who takes him way too seriously, and the doctor who suggests a surgery that turns "feet into fins." Walrus is a satiric take on transgender nonsense, and, in what might be a demonstration of our Sovereign God's sense of humor, it actually ended up on the top of Amazon.com's LGBTQ bestseller list. Really! But whether it be left or rightwing, the point is, politics have invaded even the board book section, so be sure to read before you buy. And, fortunately, with board books that'll only take you a minute.
Now let's return to children's fare. The 7 suggestions below are arranged by age, with the first ones best for the very young, and the later ones with material that older sorts can enjoy.
Peak-a-boo!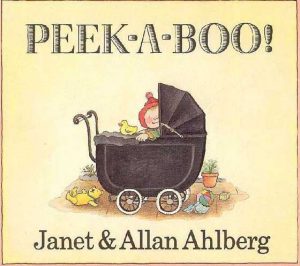 by Janet and Allan Ahlberg
1997 / 32 pages
The setting is England, and it appears to be right around World War II (judging from the daddy's uniform). The "plot" is very simple – the story starts with a baby in his crib, waking up in the morning and looking around to see what he can see. We follow him through the day, always seeing through his eyes, until his day ends and he heads to bed.
It's the book's construction that fascinated my daughter. On the first two-page spread the baby is in her crib on the left-hand side, and the right page is all white, but with a large round hole cut through it so that we (and the baby) can "peek" to see what is on the next page. Once we are done peeking, we can turn the page, and look at a full page of activity – illustrator Janet Ahlberg fills her pictures with layers of detail. There is so much to see Daddy doesn't even mind paging through it again and again and again! Readers get to play peek-a-boo five times, peering through each hole to see what comes next.
The Very Hungry Caterpillar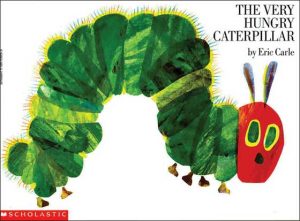 by Eric Carle
1969 / 22 pages
It's over 50 years old and as popular as ever. The plot is summed up by the book's title: it is about a very hungry caterpillar who eats and eats and eats for a week, and then builds a cocoon and turns into a beautiful butterfly. There are two different aspects of this book that made it one of my daughter's favorites:
First, the inside pages are very easy for little hands to turn because they vary in width. On Monday the caterpillar eats through one apple, and the page with the apple is only a fifth as wide as the rest of the book; on Tuesday he eats through two pears, and that page is two fifths as wide, and so it continues with three plums (three fifths as wide), four strawberries, and finally five oranges.
Second, the page covering what the caterpillar eats on Saturday is a two-page spread of colorful cake, ice cream, cheese, sausage pie, watermelon, and more, and it looks good enough to eat. Our little ones liked to turn to this page first, and flipped back to it again and again and again.
But Not The Hippopotamus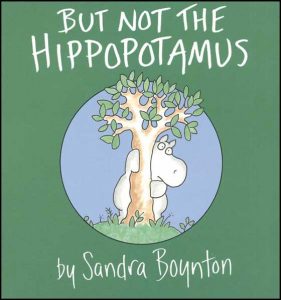 by Sandra Boynton
1984 / 14 pages
Hippo doesn't seem to be included in much of what her friends are up to. For example, we learn on the very first page of this board book, that "A hog and a frog cavort in the bog… but not the Hippopotamus." On the next page, it's more of the same: "A cat and two rats are trying on hats… but not the Hippopotamus." Poor Hippo! She is always being left out.
After a few more pages of forlorn Hippo looking wistfully at what others are up to, (and the repeating refrain, "…but not the Hippopotamus") the rest notice how neglectful they've been, and invite Hippo to "come join the lot of us!"
Now as we all know invitations are nice, but sometimes people turn them down, even when they really want to go. So we are in suspense as shy Hippo ponders what to do: "She just doesn't know – Should she stay? Should she go?" So it is with joy that we turn the page to see her exclaim: "BUT YES THE HIPPOPOTAMUS!"
That is not, however, the end of the book. One line follows: "…but not the armadillo." This small creature is staring sadly after Hippo as she joins the group. It is a great end to a remarkable little book. Yes, it is full of fun rhymes, a great rhythm, and has friendly engaging pictures too, but it is this final line that really sets it apart. Here we see that not only should we include others in our groups, but even when we do step outside ourselves, and make that invitation, doing it once, to one person is only a start. There are still others who are being forgotten and could use a friend.
And if your son or daughter is in Hippo's position, a different sort of lesson can be taught, to show them that they have to seize opportunities when they come. Poor Hippo would still have been lonely if she had said no.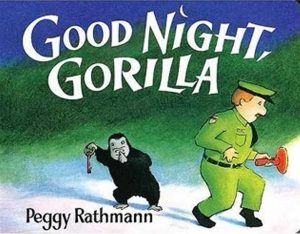 Good Night Gorilla
by Peggy Rathmann
1994 / 36 pages
When a zookeeper does one last walk-thru before heading for bed himself, he says "good night" to each animal, starting with the gorilla. But as he visits each animal in turn, there is a little gorilla and his mouse friend, trailing behind, and unlocking all the cages.
Eventually, a whole train of critters follows the keeper to his house and right into his bedroom. It's only when his wife says "good night " to him in the dark, and gets a chorus of "good night"s from all around the room, that the gorilla's entourage is discovered. But it seems the weary zookeeper has dropped right off to sleep, so it's up to his wife to lead all the animals back to the zoo.
Well, not all the animals. As she makes her way back home we see that she has some quiet company – the gorilla, and his little mouse friend, won't be left behind!
You Are Special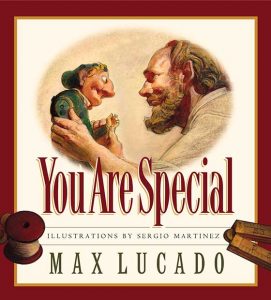 by Max Lucado
2000 / 28 pages
Punchinello is a wooden "Wemmick" living in a town of other wooden people. These Wemmicks have made a habit of placing stickers on one another, gold stars for good, gray dots for bad. The pretty ones and talented ones always got stars…" but not poor Punchinello.
When he tries to jump or run like the others, he trips. And then the others give him dots. "Then when he would try to explain why he fell, he would say something silly, and the Wemmicks would give him more dots." It gets so bad that he doesn't feel like going outside, and he starts to believe what the other Wemmicks are saying about him, that he deserves these gray dots.
Things turn around when Punchinello meets a Wemmick, Lucia, who doesn't have any stars or dots. They just don't stick to her. Punchinello wants to know how he can be like that. Lucia tells him to go visit Eli the woodcarver who tells Punchinello that he matters because Eli, his maker, thinks he matters. And the dots and stars won't stick if Punchinello remembers that. Parents will understand that Eli is to Punchinello as God is to us, but some children may need some help understanding this metaphor.
This is a great book that older kids can benefit from, perhaps while reading it to their younger siblings. School can be such a battleground, even at a Christian school, with so many children trying to get ahead by putting others down. Parents will appreciate the impact this book's message could have for their children if they really understand that it doesn't matter what others say about us, because we are God's own children, made in His own Image.
The one danger here is that the lesson could be readily misunderstood by a child as countering what others think by elevating the child, rather than countering what others think by elevating the thoughts of God. That's a bit of a fine point, but one that parents can help their children understand.
This is available as a board book or a slightly bigger picture book, and it is worth getting the one, and then the other as your child ages.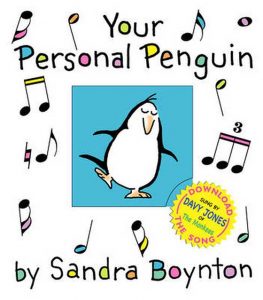 Your Personal Penguin
by Sandra Boynton
2006 / 21 pages
This is my favorite board book of all, but that might be colored a bit by the fact my wife gave it as a gift when we were dating. But what cemented it as a favorite for our kids is the free sing-a-long song you can download for it. Davy Jones of The Monkees does a fantastic job with this little ditty. The tune is memorable, which meant that even I could do a pretty decent rendition singing it to our kids. It's about a penguin who loves a hippo and has a proposal:
I want to be your personal penguin
I want to walk right by your side
I want to be your personal penguin
I want to travel with you far and wide…
Sanda Boynton has many other great board books including The Going to Bed Book, Fifteen Animals, and Barnyard Dance and while I haven't run across any that aren't great, I did just notice that she's started listing her personal pronouns as "she/her" which is better than going with "he/zer" but still shows she's bought into this "more than two genders" nonsense. So, again, read before you buy.
You can check out the Your Personal Penguin song (and other Boynton hits) here.
Goodnight Mr. Darcy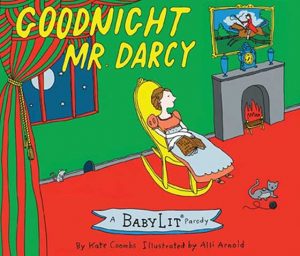 by Kate Coombs
2015 / 20 pages
This is a gimmick, but so brilliantly done it deserves a spot on this list. As you may have already deduced from the title, this is a mash-up of the board book classic Goodnight Moon and a classic of another sort, Jane Austen's Pride and Prejudice. 
As stated earlier,  I am not a fan of Margaret Wise Brown's 1947 Goodnight Moon. I could handle it once or twice, but the simple repetitions started driving me a little batty even going on thrice. So when I saw this, in the same coloring, and a similar rhythm, but much more clever, I thought it might be the perfect substitute. And it was!
Here's a little taste:
In the great ballroom
There was a country dance
And a well-played tune
And Elisabeth Bennet –
This really is intended for adults, but the rhythm and rhyme will grab your children's interest too. This is not the only board book version of Pride and Prejudice, but as the others lack the same charm, be sure if you have the right author.