It's not surprising people aren't that interested in history. The evolutionary perspective that's dominated the West for decades now, undermines the significance of knowing our past.
How so? Well, if life started out simple and became more complex over time, then what exists now is superior to anything that came before, and what's older is outdated and inferior. Now is much more important than anything recorded in the history textbooks, and thus there's little reason to learn about our past.
A person's worldview affects how he or she views history. This is a point made by Stephen Mansfield in his book, More Than Dates and Dead People: Recovering a Christian View of History. Those with an evolutionary worldview will have little incentive to study history aside from trivial interests.
Christianity, however, views history much differently. We know God controls everything, so historical events are not random and meaningless since they all have a purpose in God's plan. As Mansfield puts it, "God has a destination for history that gives everything else in history its meaning."
Your history shapes you

One way history affects our lives involves how we see and understand ourselves. Your own family's past will influence your personal identity and if your ancestors were notorious criminals, that'll impact you differently than if they were war heroes or great philanthropists. Mansfield writes,
"…the way you see your past has a lot to do with the way you see yourself now. And the way you see yourself, good or bad, determines the way you live. This is why we say that history has the power to impact a sense of destiny. Your view of your past will shape your view of your future, and this is not only true of individuals, but even of nations – in fact, of any group of people."
Everyone's parents are part of a particular nation and culture. Thus, everyone has a specific heritage from the time of their birth. Often this heritage will contribute much to their sense of identity, and to their sense of meaning and purpose.
History shapes our time
Studying history also provides perspective that helps people to better understand their own era. This can be an experience similar to traveling to a different country: seeing how other people live causes us to become aware of how our own society differs from others. It makes us conscious of things we haven't thought about before, simply because they were so familiar. Learning history can provide us with a similar experience, because we see how differently people lived in the past, even within our own country.
In many respects, life is easier now than in the past. The higher standard of living today is due to the hard work of our forebears. However, we can't truly appreciate what those people have done for us unless we actually know what they've done. The accomplishments of previous generations profoundly affect our lives today. Without victories in particular conflicts, for example, we would be living in completely different circumstances. Consider how things would be different if the Allies had lost the Second World War. As Mansfield explains:
"every generation is living in the wake of the generation that precedes it…. We all live in the world that our ancestors have left us."
Religious history shows the why behind what happened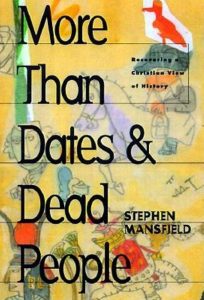 History shows what people have done in the past but a key question is, why did they do what they did?
Generally speaking, people are motivated by what they believe. Therefore, to understand history it's necessary to know what a community believed that would lead them to do what they did. In other words, much of history is motivated by people's religion. To explain this properly, Mansfield relies on a robust definition of religion as "ultimate concern." As he explains more fully:
"A man's ultimate concern is what dominates his thoughts and passions, what he regards with unconditional seriousness, and what he is willing to suffer or die for. This is his religion, his god, his faith – regardless of what he says he believes."
Many think of religion in a narrower sense of believing in a particular god and attending some house of worship. They would say that they don't have a religion and that society should be non-religious. In their view, people can practice religion as part of their private lives but should keep it out of the public sphere. However, when religion is understood as "ultimate concern," it is clear that every society is religious because everyone has fundamental beliefs about the meaning of life that motivates their actions.
In recent decades, North American society has turned away from Christianity. But the secular or progressive ideals that have replaced Christianity are just as "religious," even though secularism isn't a traditional religion where people attend an assembly of co-believers to worship a particular deity. As Mansfield summarizes this point:
"When we look at the lives of people in history, we have to realize that each person's life has been shaped in large part by faith. Whatever people believed – their ultimate concern – was their religion, even if they claimed to be completely opposed to religion."
This point is important with regard to understanding history because, Mansfield writes:
"Faith is what powers the human side of history. Find out what people believe and you'll know who they are.
History shows how God blesses countries that obey
One notable example of the influence of religion on history is how Protestantism led to the greatest degree of individual liberty among nations. While Christianity introduced the idea of a transcendent authority (God) above the state, the Reformation refined the concept of political liberty even further. This was particularly the case in Calvinistic countries.
In 17th century Britain, individual liberty became a key emphasis of political theory. As the British Empire expanded across the globe, these ideas were carried with emigrants who settled new lands that became the United States, Canada, Australia, and New Zealand. These countries, along with some of the Protestant nations of continental Europe, have offered their citizens the greatest degree of freedom in history.
Capitalism – the economic side of individual freedom – generated tremendous prosperity in these countries as well. Thus, both liberty and relatively high standards of living were the direct fruits of Protestantism.
Legislative history reflects the heart of a nation
Although there is a popular slogan that "you can't legislate morality," the opposite is actually true: all law is the enacting of morality into legislation. Murder is illegal because it is considered to be immoral; theft is illegal because it is considered to be immoral, and so on.
Therefore, examining a community's laws will reveal what that community values most strongly. Mansfield puts it this way:
"Laws, all laws, are statements of value, of belief, of higher principles. This is why we might define law as 'religion codified' or religion set into a series of statements about right and wrong."
With this in mind, it is possible to see when a particular society's religious beliefs are changing. Any substantial change in laws reveals a substantial change in their religion
Just such a legal and religious change was noticeable in North America during the 1960s. For example, Mansfield notes that:
"the United States Supreme Court, in the 1962 Engel v. Vitale case, told 39,000,000 American school children that the twenty-two word prayer with which they started their day was a violation of the Constitution."
This was one of the most controversial Supreme Court decisions in American history, and it indicated that the country was moving in a sharply secular direction. A few years later, the Roe v. Wade decision of 1973 legalizing abortion throughout the U.S. contributed further to this change.
The 1960s were also a major period of change in Canada. In 1969, Prime Minister Pierre Trudeau legalized abortion (to a certain degree) and homosexuality at the same time. Clearly, the country was moving away from its Christian foundation.
Trudeau went even further by adding his Charter of Rights and Freedoms to the constitution in 1982. That document would ultimately lead to the elimination of any restrictions on abortion whatsoever, as well as extend homosexual rights to the point where the federal government legalized same-sex marriage in 2005.
Again, the change in law reflected a change in religion. Canada was becoming less Christian and more secular. We can see this from the history. We can understand the present political and cultural situation of our country only by learning this history.
Conclusion
Contrary to the evolutionary view that learning history has little value, the Christian perspective recognizes that history is the outworking of God's plan that provides meaning to our lives. It affects how we view ourselves and our purpose in the world. Without some knowledge of history, we cannot properly understand our own society and the significance of major cultural and political events.
Given that religious beliefs are the primary motivator for people's behavior, history provides a record of how different religions have affected the world for better or worse. What history also teaches us then, generally speaking, is that those countries most aligned with God's Truth – Protestant Christian nations – have been the freest and most prosperous.