Inflation, rising interest rates, business failure, job losses – there's no shortage of financial trouble these days. And these all contribute to anxiety and depression and even physical illness.
This financial uncertainty has us looking for solutions to our many questions, questions like:
Am I being responsible with what God has given me?
What will the future bring?
Where can I turn for help and advice?
What should I do?
Others aren't looking for solutions – some will simply shut down in hopelessness and fear, as a kind of paralysis takes hold, procrastination sets in, and the feeling of financial doom settles over them.
TRUST THAT GOD DOES REIGN
How, then, do we move from fear to faith?
The Bible contains many commands to God's people not to be afraid. There are more than one hundred imperatives to "Fear not; be strong; be courageous," and the like. Some commentators suggest that these commands rank second in number only to the commands to love.
Why such repetition? The Lord knows we are weak, so He requires that we take hold of Him in faith. Our finances can be a major stumbling block in doing so. We confess that He is our provident God, and that all things come from His Fatherly hand, including prosperity and poverty. But when the prospect of poverty or financial difficulty looms over us, we panic and become fearful, and so we fail the test to trust Him.
Likewise in prosperity, one can easily forget that the Lord is the provider of it all.
USE WHAT GOD HAS GIVEN YOU
Trust does not mean sitting back and doing nothing. The Lord gives us knowledge, wisdom, and the ability to plan. We must do so under His guidance and with much prayer.  Proverbs 16:3 tells us to "Commit your work to the Lord, and your plans will be established."
We have been given the tools for the job. First of all, we have God's Word which has over 2000 verses that speak to possessions and finances. The Bible provides us with the principles by which we can think and act in a godly and faithful way, and it gives us direction and solutions.
Another tool we have is our basic elementary school education which taught us the essentials of addition, subtraction, division, and multiplication. Basic math can give us many answers. Armed with these tools, we can walk the path the Lord is leading us on.
DON'T GO IT ALONE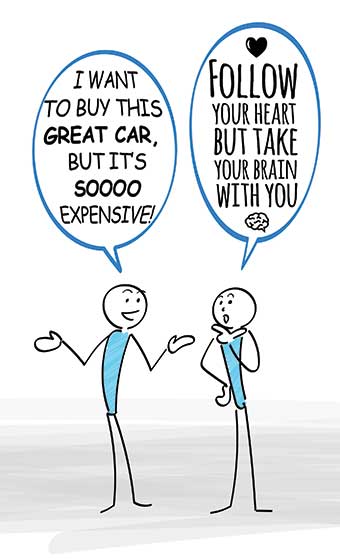 We should not try to do this alone. It should go without saying that we must seek the Lord's guidance and direction in our finances, except this may not always be the case. Prayerful contemplation needs to be part of our financial exercise. We must commit all our finances to the Lord, rather than trying to sort things out for ourselves, and we do well when we consult His word in all situations. We are told in Proverbs 3:5  to: "Trust in the LORD with all your heart, and do not lean on your own understanding."
The Lord has also given us many advisers and He tells us to use them. Proverbs 15:22 says: "Without counsel plans fail, but with many advisers they succeed." There are many qualified and experienced brothers and sisters in the extended church who are able and willing to help. This may include the Deacons whom God has appointed for circumstances of need, and the ministry of mercy.
For many other financial issues there are accountants, lawyers, and experts in investments, insurance, banking, mortgages, etc., and these people are all not much more than a phone call away.
Qualified advisors can help us stand back from ourselves and our situation. This is a very important step in the quest for answers and solutions. Many who experience financial difficulty are too absorbed in their own problem to see a clear way out. Objective assessment is an important  aspect of decision making. Standing back from your circumstances and understanding the problem in a detailed way, while looking at all the options, and asking lots of questions, will help to settle anxiety and to give comfort in decision making.
CONCLUSION
In all circumstances, including those relating to our finances, God tells us to turn from fear and anxiety and to look to him for our comfort and help. He provides tools and support in both His Word and his people. Finding solutions in the midst of difficult circumstances may require us to expend a lot of effort as well. Knowing the character of our God, it should provide great comfort when we read in Proverbs 19:21 "Many are the plans in the mind of a man, but it is the purpose of the LORD that will stand."
This has been a father-daughter collaboration: Rev. Hank Van der Woerd (MDiv) is emeritus minister (URCNA) and past president of the Mortgage Brokers Association of BC; Maria Dawes CIM CFP is a Portfolio Manager for Capstone Asset Management (www.capstoneassets.ca).