When they call God "she"
Remaking God in their image, homosexual "pastors" are professing Him to be a "her." That's blasphemy by God's standards, of course, but is objectionable even by their own replacement rules. After all, as Tim Barnett recently noted, they aren't doing to others what they want others to do unto them (Matt. 7:12):
"God has chosen to reveal himself using singular masculine He/Him pronouns. Why won't they use God's preferred pronouns?"
Chesterton on drinking
"The sound rule in this matter would appear to be like many other sound rules – a paradox. Drink because you are happy, but never because you are miserable. Never drink when you are wretched without it, or you will be like the grey-faced gin-drinker in the slum; but drink when you would be happy without it, and you will be like the laughing peasant of Italy. Never drink because you need it, for this is rational drinking, and the way to death and hell. But drink because you do not need it, for this is irrational drinking, and the ancient health of the world."
Wonders to behold
by John Hultink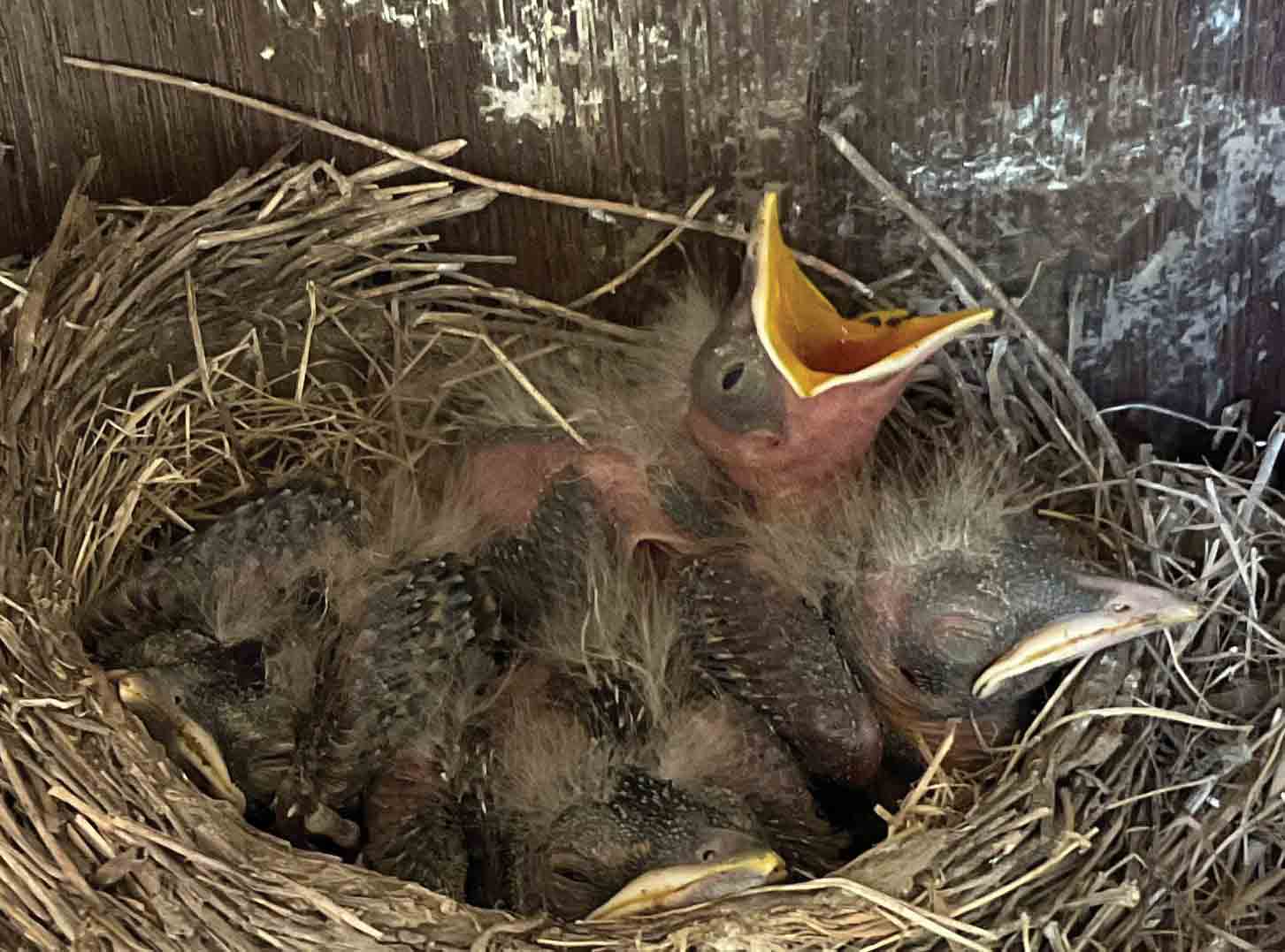 Imagine living in a world where a pair of robins built their nest in a wreath attached to your front door. This spring and summer they lay their eggs twice – the first time three eggs and the next four. Yes, on two separate occasions.
Robins sit on their eggs for only a few weeks before they come to life. Then, for a few more weeks, it's a feeding frenzy. All day long. The newly hatched robins grow by leaps and bounds. And then, in just a few more weeks, these new creations hesitatingly abandon their nest, the one hatchling with more finesse than the other leading them off. And so, these new creations take their place in God's creation.
All this took place twice in a nest built in a wreath attached to our front door. It was as if God said: "Here, take a look at this." My wife and I had a "grandstand view" of the entire proceedings from one or the other side windows in which that door is set. And on occasion, when both parents were out hunting for food, we could open the door and carefully take a closer look at this new life. It was a wondrous development to behold.
We witnessed God's display of the origin of life played out day by day from start to finish, the entire process taking only weeks. Kind giving birth to kind, exactly as God had Moses describe it for us in the first chapter of Genesis.
Thank-you God for that eye-witness account of your creative power!
Famous first words
When Alexander Graham Bell first succeeded in getting his invention, the telephone to work, his first words were, "Mr. Watson – come here…"
When Thomas Edison invented the phonograph in 1877, one of the first devices capable of recording a sound and playing it back, he tested it by reciting "Mary had a little lamb."
In contrast, just a few decades earlier, when Samuel Morse sent out the first official message on his invention the telegraph he wrote, "What hath God wrought?" This is from Numbers 23:23, where Balaam is, to the frustration of Moab's King Balak, the man who hired him, prophesying how God is going to do such mighty things for Israel that it'll be said, "What hath God wrought!"
My daughter says that if she invents the next big whatever the first words she'll speak into it, to be recorded for all of history, are "Stop abortion and turn to God." 
Media lies of omission
Just ahead of June, American retailer Target began featuring a line of "Pride" wear. Some reports also said they were selling "tuck friendly" girls' swimsuits for boys (with extra space for their male parts down below) and while that last point may or may not be true, it got people calling for a Target boycott.
Mid-June the Washington Post reported: "Target stores see more bomb threats over Pride merchandise." Did this headline have you worried that some Pride opponent had lost his mind and threatened to get violent? If you clicked through and started reading the opening paragraphs you'd be left with the same impression:
"Target stores in at least five states were evacuated this weekend after receiving bomb threats. Though no explosives were discovered, the incidents tie into the backlash over the retail chain's Pride Month merchandise."
It's only after you get eight paragraphs in that you'd find out who the real culprits are. The letter writers "…accused Target of betraying the LGBTQ+ community…"
What? Yes, the bad guys were Pride sympathizers. They were angry that in response to the boycott calls, Target had moved the Pride displays from the front of their stores to further back.
In my first-year journalism class, years ago, the prof explained that if a story "continued on page A6" you could count on losing 80 percent of the readership at that point. So biased reporters could bury any inconvenient facts in the back end of their story where hardly anyone would see them. The Washington Post pulled this same trick knowing that headline-readers and article-skimmers – the majority of media consumers these days? – would be left with an impression that was exactly opposite of what really happened.
In Proverbs 4, Solomon tells us wisdom is something to grab hold of – it can't be had by flipping through your social media feed. It might mean reading the whole article. It might mean skipping the paper and diving into a great podcast, or book. So yes, the media lies to us… but many, like this one, can be easily spotted, if only we ingest with intent.
It starts with salvation
"Look, folks, the reason the Church today is having so little impact is too many Christians view their faith only in terms of a personal relationship with Jesus. But Christianity does not stop with salvation: That's only the beginning. We've got to learn how to present our worldview in a winsome way. And if we don't do this, it simply dooms our churches to isolation and irrelevance – just when our culture desperately needs the hope of the Gospel more than ever."  – Chuck Colson (perhaps riffing off of Hebrews 5:11-14)
Christians give more reverence to the F-word
I sometimes get sent "screeners" for an upcoming Christian movie – a free online viewing before it hit theaters. This time it was a sports film, so I thought I would take a look. But three minutes in, one of the game's announcers took God's name in vain. I didn't watch the rest of it, but I know no one ever used the F-word. Not a single time. That doesn't happen in Christian films. Christian novels follow the same practice – never a single instance of the F-word but you will find about every second title taking God's name in vain.
I emailed the movie publicist asking for answers. Why never the F-word – even though it's such a common part of everyday speech – and yet God's Holy Name is regularly abused? I didn't hear back.
Amazing animals
The blue whale is the largest animal that ever lived, larger even than any dinosaur. Its heart weighs 400 pounds and its tongue weighs more than two and a half tons, roughly the equivalent of two Volkswagen Beetles or one Tesla Model S.
An elephant's trunk has 40,000 muscles (we have 600 in total) and their nose's abilities extend to being a hose, spade, spoon, and backhoe. It is strong enough to uproot a tree, and delicate enough to pick up a pin.
While your backyard rooster doesn't always crow this loud, at their loudest they can get up to 130 decibels, which is "about the same intensity as standing 15 meters from a jet taking off" according to Science.org's Kimberly Hickok. One rooster even got up to 143 decibels! While the crowing only lasts a couple seconds, a rooster might do it several times, and cries out morning after morning, so how come they don't deafen themselves? It turns out when the rooster opens its beak wide open, that closes a quarter of their ear canal – God gave them built-in ear plugs!
Materialism can't account for meaning or reason
Sam Harris, one of "the four horsemen" of atheism, once wrote a book about how man had no free will, because all we are is just the matter that we're made of, which will interact as it will with the environment around. There's some logic to what he says, if indeed there is no God.
He then went on a book tour in which he also encouraged people to treat prisoners more kindly because, after all, they couldn't help what they did – their misdeeds weren't the result of choices they'd made but just the chemistry that they amounted to. Harris' audiences didn't recognize that his clemency request rebutted his presentation. He wanted to convince us to treat prisoners nicer because our lack of free will means they aren't really responsible for their crimes? He was asking us to choose to be nicer to the prisoners, because choices don't exist. He should have read more Chesterton and Lewis.
"If the materialist view is true, our minds must in reality be merely chance arrangements of atoms in skulls. We never think a thought because it is true, only because blind Nature forces us to think it. We never do an act because it is right, only because blind Nature forces us to do it." – C.S. Lewis
"The great human dogma, then, is that the wind moves the trees. The great human heresy is that the trees move the wind. When people begin to say that the material circumstances have alone created the moral circumstances, then they have prevented all possibility of serious change. For if my circumstances have made me wholly stupid, how can I be certain even that I am right in altering those circumstances?" – G.K. Chesterton
It ain't enough to show they are hypocrites…
The folks at PragerU will often visit US campuses to challenge students who hold to the "latest thing" whether they can defend what they believe. In one of their latest videos, "If you can choose your gender can you choose your race?" they went to UCLA to set a trap of sorts. The interviewer first showed students some celebrities who'd used black make-up to caricature blacks. After the students all condemned this "blackface," he then raised the term "womanface" to describe guys who say they identify as women. He argued it would be hypocritical to object to someone saying they are transracial, if you think transgenderism is valid.
It's a good point, and it is a fantastic video.
But it has a problem, and the same one that all secular "apologetics" have – the interviewer is attacking a lie without presenting the Truth. God made us male and female (Gen. 1:27) – that's the corrective here. But when he just confronts students with their hypocrisy, they are left knowing they have made an error, but not knowing which way to head.
It's like the old joke about a man who insisted to his family and anyone who'd listen that he was dead. They finally took him to a doctor, hoping he could help. The doctor thought he had just the thing, and asked the man, "Do dead men bleed?" to which the man replied, "No, of course dead men don't bleed." The doctor then pricked the man's finger and, after the man saw the drop of blood forming, the patient shook his head, amazed, then stood up and gave the doctor a hug in appreciation. "I'm sorry doctor, I was totally wrong," he said, "It turns out dead men do bleed."
These students could also choose to resolve their hypocrisy the wrong way. They could decide: "I guess blackface – I guess transracialism – is okay."
To be a light to the world, Christians have to go one step further. We should get inspired by videos like this so we can tear down the lie using our creativity to highlight the world's silliness. But we need to do so while standing unashamedly on God's Truth.