by Christine Farenhorst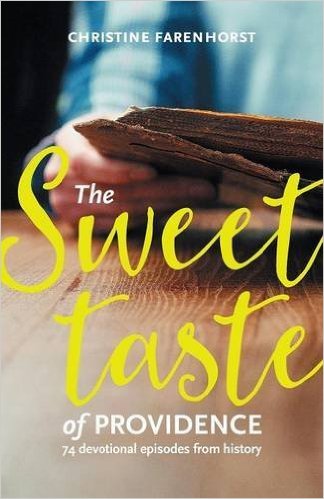 2016 / 296 pages
Seventy-four!
When Christine Farenhorst comes out with a new collection of short stories, the big question I have is, how many can I look forward to? And in The Sweet Taste of Providence she has given us an impressive 74.
These short stories are packaged as 4-5 page devotionals. They take no more than 5 minutes to read out loud, and end with a couple of questions for discussion. That makes this a great book to read with your kids, maybe 8 and up, before bed…or a little earlier, because this might get them discussing and dissecting right when you want them calming down. The short story length could also make this a good, ahem, "bathroom reader."
As Reformed Perspective readers know, Christine loves to share slices of history – usually bits we've never run across before – and show how God has been at work. It can be easier to see His hand in things when we're looking back than when we're looking around in the present (yes, God will turn even today's evil to our good – Romans 8:28) so these stories are maybe first and foremost a wonderful dose of encouragement. But it's also just a fun read.
The Sweet Taste of Providence is available at Amazon.ca and also at Sola Scriptura.