Drama / Black and White / War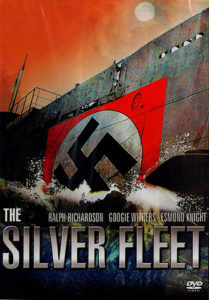 1943 / 88 minutes
RATING: 7/10
This is a well-done, almost unknown World War II film told from the Dutch perspective.
As the occupation begins the Nazis ask Dutchman Jaap van Leyden whether he would like to continue on in his job as shipyard manager. They want him to complete work on two half-built submarines that were originally intended for the Dutch navy. When he decides to accept the position both his workers and his wife question his patriotism – why was he willing to be a collaborator? But while van Leyden may not have the courage to stand up to the Nazis, someone else does. The workmen have started receiving anonymous messages outlining a daring sabotage plan. The notes are all signed "Piet Hein," a historical Dutch hero from the 17th century, and stirred by the memory of Hein's great deeds done long ago, and their own strong love of country, the workmen are happy to help this mysterious figure.
Cautions
Silver Fleet doesn't fully explore why these men were willing to risk their lives. Their love of country is the expressed motivation, but for Christian viewers, who know that our country can do nothing for us after death, patriotism should strike us as a wholly insufficient reason to risk one's life.
But while God is not mentioned in the film, we know that it was their love of God that prompted our Dutch grandparents and great grandparents to take the risks that they did. So, with that in mind, Silver Fleet can be enjoyed as a secular tribute to the bravery of Dutch men who, whether the directors cared to acknowledge it or not, were willing to risk their lives for love of God and country… in that order.
Conclusion
The Nazis are at times more buffoonish than threatening, but overall the acting is quite good. The Silver Fleet is a solid World War II film that I would recommend to any 1940s film enthusiast, as well as anyone who wants to learn more about the War from the Dutch perspective.
There seem to be no trailers available for The Silver Fleet, but the 3-minute clip below gives a feel for the film. While it doesn't seem to be streaming anywhere online, cheap copies on DVD are readily available.