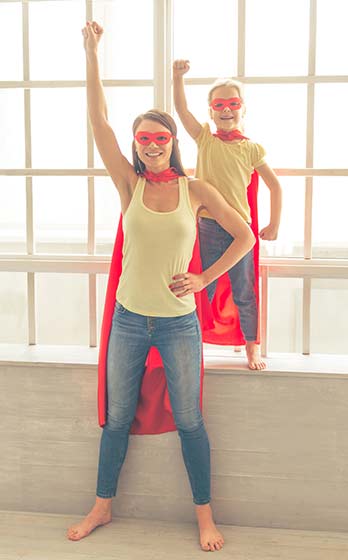 In his article "On being a Titus 2 young woman" Rev. Bouwman made a statement that likely had some readers blinking in surprise. He said of the Proverbs 31 woman:
"This woman is not the proverbial 'super-mom' but simply a God-fearing woman…"
Not a super-mom? Simply a God-fearing woman? Really?
That runs counter to the popular understanding of her as so pure, so selfless, so hard-working as to be a completely unrealistic example of what godly womanhood looks like. Sure, it'd be great to be like her, but then again it'd be great to be able to leap tall buildings in a single bound. But is either goal attainable?
So who has it right? Is this woman simply unreal, or "simply a God-fearing woman?"
To find an answer it will be helpful to grab our Bibles, turn to Proverbs 31 and then look at the passage in a more modern light. We could ask, "What would the Proverbs 31 wife be up to if she was around today?" and update the many tasks she takes on.
If we do that, then what we find is a wife:
This is certainly a remarkable woman. But doesn't she sound familiar?
Isn't this someone you know?
While this woman is amazing, we shouldn't dismiss her as unrealistic. That would be a mistake for two reasons.
First, because it would be ignoring the God-pleasing example He outlines here – this is an example given precisely for instruction. That Christian women will regularly fall short of this standard doesn't mean it can be ignored. It only means that they – like their husbands – need to regularly go to God in repentance, and ask Him to continue to mold them and shape them to better take on the good works He has laid out for them to do.
And, second, dismissing the Proverbs 31 woman as unrealistic would be to overlook what God has given us in the many women we know who bear a striking resemblance to the woman of this passage. As we read in verse 10, their worth is far beyond jewels! So we should never overlook the enormity of the blessing God has given us in these women!
Jon Dykstra is the father of three and the husband of one, who is worth far more than jewels.