by Theodore Beza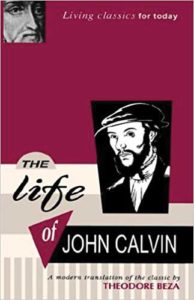 148 pages / 1997
This biography has two strengths.
First, it is short. Because it was originally written as an introduction to Calvin's last published work, his Commentary on Joshua, it weighs in at only 144 pages. That could also be considered a weakness – the small size means it doesn't have the detail or scope of most other Calvin biographies – but the slim size makes it more inviting than its 400 or 500 page rivals. This is a biography that can be read in a few days, rather than a few weeks.
Second, this is an eyewitness account. Theodore Beza was a friend and disciple of Calvin and wrote his account as a tribute. That too could be considered a weakness; Beza's admiration of Calvin made him incapable of seeing, or at least incapable of recording, any of his mentor's faults. But this same admiration made Beza the best chronicler of Calvin's gifts, the God-given talents that made the man a giant of the Reformation.
The Life of John Calvin is available in a number of different editions but, because the original is over 400 years old, some translations are dated and simply dreadful. Fortunately Evangelical Press books have done "a modern translation of the classic" that can be found without too much digging on Amazon.com or Amazon.ca.