Teach Them Your Way, O Lord

by Amanda DeBoer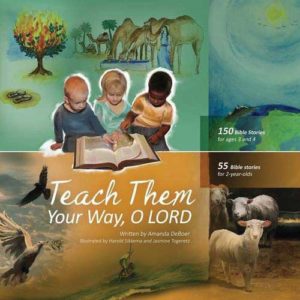 2016 / 183 pages
What we have here is a story bible crafted by a careful, Reformed mother and teacher. I'm actually not sure about the teacher part, but if she isn't one, she sure sounds like it – Amanda DeBoer knows how to engage little children, and she peppers the text with questions and other opportunities for the little ones to speak up and interact.
The 205 stories cover the Bible twice over, with 55 intended for 2-year-olds, and another 150 for the 3 to 4-year old set. It's a story bible you can keep using for a good while!
I could say all sorts of good things about it – for example, there's a colorful picture on every page, and lots of helpful suggestions for parents. But what I most appreciated about it was the care evident throughout. One example: unlike most story bibles, where Jesus is pictured as an Anglo-Saxon, here He isn't shown at all. That a respectful acknowledgement of the second commandment. The same care is evident in getting the theology right – the author eagerly sought out feedback from ministers and others. This is, in short, engaging, and educational. It is one of the very best story bibles I've run across.
To order, look for it on Amazon.ca or email [email protected].