by Andrew Wilson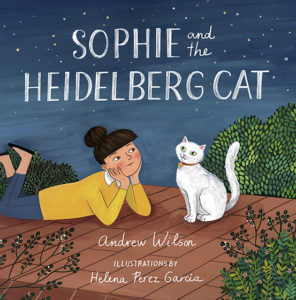 illustrated by Helene Perez Garcia
32 pages / 2019
The story, written in engaging rhythm, opens with Sophie crying because her sister broke her dollhouse and Sophie, in anger, pushed her over and then yelled at her parents. As she thinks about what just happened and meditates on how bad she is, she looks out the window and sees the Heidelberg's cat from next door.  Surprisingly, the cat asks her why she is crying and Sophie tells her sad story. He invites her onto the rooftop and as they walk along, they chat.
At first I thought, oh no, this is not a Reformed story, as Sophie tells her story and how she tries to be so good but fails. But then the cat sets her straight by explaining that no one can be good because we are all sinful. There is only one person who is good and that is Jesus. Only He can free us from our sins. The cat then uses Lord's Day 1 from the Heidelberg Catechism and comforts Sophie with the words that "I am not my own" but belong to Jesus.  This is a lovely book for ages 4 and up who can understand the concept of God's love and grace in Christ Jesus.
Never miss an article!
Sign up for our newsletter to get all the week's posts sent right to your inbox each Saturday.