All four of these films can be viewed, for free at RedeemTV.com (you will have to sign up for a free account and provide your email address), though the last ican be viewed below. You can also click on the movie title links for longer reviews.
You may also one to check out these Luther animated shorts.
TORCHLIGHTERS: THE MARTIN LUTHER STORY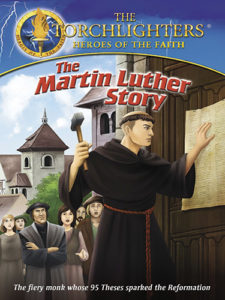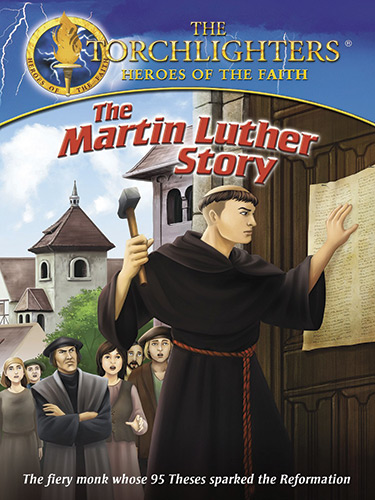 Animated / Family
2016 / 34 minutes
Rating 7/10
This is short, which is a plus and a minus. It means it might well keep the attention of younger viewers, but it also means that it is far too short to really deal with Luther's spiritual wrestling. The strength of this film is its short length. At just 34 minutes, it can be shown in the space of a single school period. For the pre-teens this is intended for, that might be just the right length, with the quick pace, and colorful animation sure to grab most students' attention.
But the biggest weakness of this short film is….its length. It is far too short to tell this story with the gravitas it needs – Luther's spiritual wrestling is dealt with in just 7 minutes! It also ends abruptly, with Luther busy translating the Bible into German in Wartburg Castle. The narrator then spends just a single minute summing up the whole of the second half of Luther's life. And then the credits role.
Check out the trailer below and watch it for free at RedeemTV here.
MARTIN LUTHER (1953)
Drama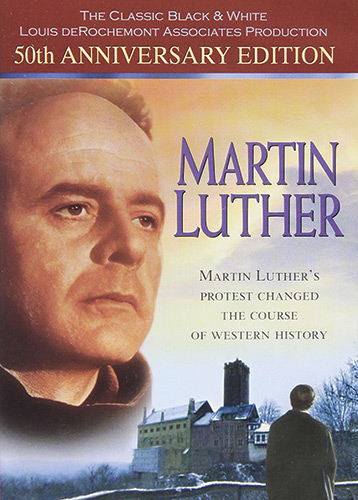 1953 / 105 minutes
Rating: 8/10
More than any other, this film gets into Martin Luther's theological struggles. That's because it was produced by the Lutheran church. And if that has you wondering about the quality of the film let me also add it was nominated for an Oscar – the production values are there. That said, it is in black and white and that will be an adjustment for many a viewer. It also gets off to a slower start, seemingly more documentary than drama for the first couple of minutes. But then we meet Luther and it all picks up from there.
This would be great for a family movie night. I've seen kids as young as 7 enjoy it, though with younger children you're going to want to break it into a few "chunks" so it's spread out over two or three nights. But for those 12 and up, so long as they are "forced" to give it a half-hour ("No, you can't check your smartphone while watching this") it will grab them and give them a good understanding of the amazing work God performed through this man. Watch the trailer below and go to RedeemTV to watch for free.
STORM AND LUTHER'S FORBIDDEN LETTER
Family / Drama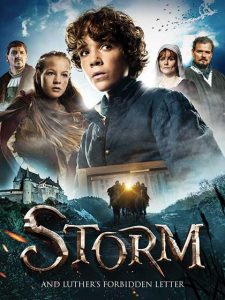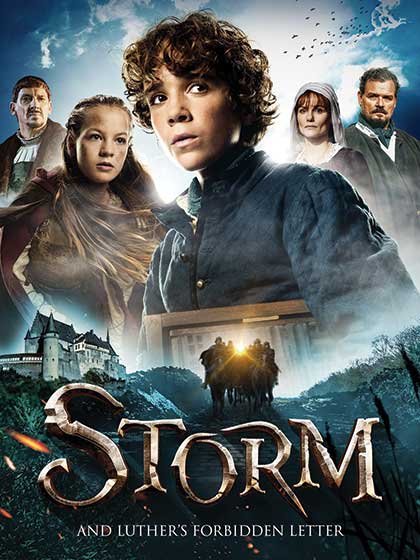 105 minutes / 2017
RATING: 7/10
This is more a "chase film" than a theological exploration of Luther's views, but that might just make it perfect for the younger audience it's aimed at. Storm Voeten is the 12-year-old son of a printer, living in 1500s Antwerp. Martin Luther has written his 95 Theses and his ideas are a source of debate and division across Europe. That's also true in the Voeten household, where Storm's mother, a staunch Catholic, doesn't even want to hear Luther's name. But his father is interested in learning more…and he's even willing to print Luther's ideas.
The opening scene has Luther making his brief appearance in the film. He's writing a letter, even as a squadron of soldiers is heading his way. The letter is entrusted to the care of an assistant to quickly and secretly take to Antwerp. Though the events in this film are more of the "inspired by" variety, rather than purporting to be historically accurate, there is some real history here. Luther did send a letter to Antwerp. In the film the letter is a rallying cry against the Catholic Church, and a call to rely on Jesus alone. In real life, while we don't have the letter itself, other accounts make it sound as if it had an additional target, the Anabaptists. But that doesn't come up in the film.
There are no language concerns, and any "sexual content" is limited to one short kiss between the two 12-year-olds at the film's end. But there is a fair amount of violence, though all of it is muted and some of it takes place off-screen. One example: a man is murdered by the Inquisitor, but off-screen, and before Storm arrives. We do see the body with just a little blood for a second or two. One theological concern: Maria thinks that the Virgin Mary helps her. Storm tells her Luther's thoughts on idols, and that Mary is just an ordinary woman, but the issue is left unsettled. By film's end, Maria hasn't clearly changed her mind.  So that might be a good topic to discuss with younger viewers
The film's tension means it might be best suited for 12 and up.
While the English trailer is hard to find (the one below is in Dutch) you can now also watch a version dubbed into English (and pretty well done too) for free at RedeemTV.com here.
A Return to Grace: Luther's life and legacy
Docudrama
2017 / 106 minutes
Rating: 8/10
A Return to Grace is a docudrama – half documentary and half drama, making good use of the strengths of each. I've probably watched at least a half dozen Luther films, and I've never seen the chronology of Luther's life depicted as clearly. There are also explanations offered here that are left as mysteries elsewhere.
For example, have you ever wondered why the Pope didn't just crush this monk early on when he was still seemingly insignificant? The answer shared here is that the Pope didn't want to make an enemy of Luther's prince, Frederick III, because the prince was one of the seven electors who would choose the next Holy Roman Emperor. The Pope had no direct say in that selection, and if he hoped to have any sort of influence at all, he would need to be on the good side of the electors. God so set the scene that the Pope had to act cautiously and with restraint and couldn't just burn Luther at the stake.
While the dramatic elements make this more engaging than the typical documentary this still isn't one for preteens. For adults, and teens who are on their way, this will be a fascinating presentation of the man, and what he learned about our great God. So don't save it for Reformation Day – it's free to see now (though with some commercials).