In addition to the dozens of books Jerry Pinkney (1939-2021) has illustrated for others, he has also retold a number of tales from Aesop's Fables, Hans Christian Andersen, and Rudyard Kipling. While loyal to these classics, he always adds in his own spin, which is often kinder than the original.
This gentler take comes out in his illustrations too, where his use of watercolor makes his pictures bright, but soft. He loved drawing animals with people's facial quirks and often packed his pages with detail.
What follows is a summary review of his most popular picture books.
Recommended
Rikki-Tikki-Tavi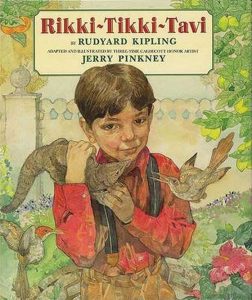 1997 / 48 pages
This is a gorgeous treatment of Rudyard Kipling's classic tale. Rikki-Tikki-Tavi is a lost mongoose taken in by an English family in India. But he's not simply a pet – mongooses are snake killers, and there are three snakes in the family garden that he has to fight, one by one. The story is scary in parts, but each fight is quickly told, which might make this a great book to introduce young readers to a bit of tension. Pinkney's watercolor paintings add enormously to the story.
The Ugly Duckling
1999 / 40 pages
Everyone seems a little bit nicer (or maybe a little less mean) to the ugly duckling in Pinkney's version, though he does still get picked on for looking so different from the other ducklings. It's only when he discovers he is a swan, not a duck, that he finds his place in the world. The moral to this story is one that parents can shape to a degree: is it about finding the right peer group – one that will accept you for who you are – or is what's important finding out who God intends you to be?
Aesop's Fables
2000 / 96 pages
This is a fabulous collection of more than 60 of Aesop's fables. Even if you aren't familiar with the ancient Greek author Aesop, you've certainly heard at least a few of his fables, ones like The Ant and the Grasshopper, The Tortoise and the Hare, and The Lion and the Mouse. In this collection the stories are at their shortest, just half a page to maybe two, which means you can read a handful at a time to your children. There is a moral to each story, again, and while most of them are insightful and foster common sense, these are not inspired. We found some of them are disputable, or right in one situation and may be wrong in another. That makes them all the more fun to read together, because examining the moral spurs on the discussion. That might be a reason parents would want to read this one with their kids, and not simply hand it off to them. None of the morals taught are all that horrible, so it isn't a dangerous book: just a limited one, that gets some things only partly right, which means, also partly wrong.
The Little Red Hen
2006 / 32 pages
A red hen asks her barnyard companions if any of them will help her plant, harvest, carry, or bake her grain, and the pig, dog, rat, and goat all answer in turn, "Not I!" So, when it comes to the eating of the bread, the hen decides that they won't have any part in that either. This is a tale about justice, so it is worth reminding kids that we shouldn't be so quick to deliver justice to others, as Jesus satisfied the just judgment coming our way so that we would instead receive mercy.
Little Red Riding Hood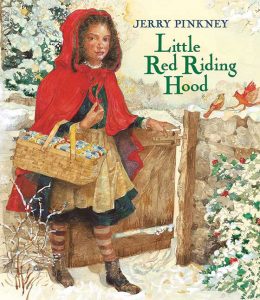 2007 / 40 pages
I love the little details Pinkney adds: in this one, he offers a reason as to why the wolf didn't just gobble Little Red Riding Hood when he first met her in the forest – "he heard the chop, chop of woodcutters working nearby." The wolf then gets ahead of Little Red by suggesting she stop to collect some kindling for a fire to warm her grandmother. Parents can point out that while this might seem a nice idea, it's actually disobeying Red's mother, who told her to head straight there with no delay. I was surprised when not only grandma but Red herself gets swallowed up. But, of course, the woodcutter does come to the rescue.
The Lion and the Mouse
2009 / 40 pages
When a tiny mouse disturbs the rest of the King of the Beasts, the King seems intent on having a quick snack. But instead, after some back and forth with the tiny petitioner, the lion lets the mouse go. Why? Readers already familiar with this Aesop Tale will remember that the mouse has pledged to help the king if ever he is in trouble. But in Pinkney's almost entirely wordless version – there are only a few squeaks, one owl screech, and a lion's roar – it isn't as clear. But no worries, we can follow along well enough. Then when hunters trap the mighty lion in a net, it is the mouse that comes to the rescue, chewing through the rope to set the lion free. The moral of the story? Even the strongest will need help.
Three Little Kittens
2010 / 40 pages
Three little kittens lose their mittens, and consequently, lose their chance to eat their mother's pie. Pinkney has extended but only lightly altered this classic tale, and paired it with page after page of adorable kitty pictures that any child will love to look at.
The Tortoise and the Hare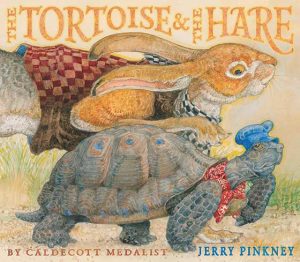 2013 / 40 pages
In this nearly wordless retelling (just 27 in all) we get treated to a double-page spread of the hare stretched out galloping with everything he's got. In some versions of the story, the rabbit succumbs to ego and flattery, falling behind when he does stunts to impress the fans (particularly the girl fans) but Pinkney gives him a less obnoxious flaw, distracting him instead with a plump lettuce garden, where he overindulges and falls asleep. And that's when the slow but steady turtle can make his move. The story concludes with the hare being a good sport and celebrating the turtle's victory.
The Grasshopper & the Ants
2015 / 40 pages
In this version the grasshopper is a one-man band, singing his encouragements to the ants to forgo their work for play. Of course, when winter comes, we see the (unstated) moral to the story play out: that we should not put off until tomorrow what we can do today. But Pinkney's ending, with the ants offering the grasshopper a place to winter, leaves us wondering if the grasshopper learned that lesson.
Three Billy Goats Gruff
2017 / 40 pages
This is the best version of this classic tale you will find, with wonderful artwork paired with an updated and improved version of the story. The three goats come, one by one, the smallest first, to cross a bridge to get to some delicious grassland. A troll pops up to devour the first goat, but this little one promises that his bigger, tastier brother is coming, and the troll should really wait for him. When the second comes, he says the same about his even bigger brother, and the troll lets him pass too. But when the biggest Billy Goat Gruff comes, he knocks the troll right off the bridge. That's usually the end of the story, but Pinkney has the troll land in a river where a giant fish tries to devour him! After his narrow escape, the question is, has the troll learned his lesson? This is a story parents could maybe use to talk about bullying, but they would have to note that even though the troll got what he deserved here, that doesn't mean we have to do to others as they were going to do to us.
Take it or leave it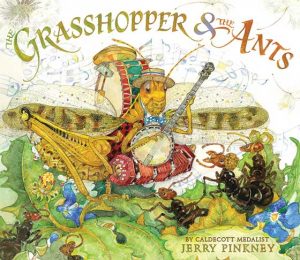 Noah's Ark
2002 / 40 pages
I'm leery of biblical adaptations in large part because those that do them are often casual about how closely their summaries line up with what the Bible says, and the visual dimension will add details that weren't in the biblical text. However, Pinkney is quite careful, with his most notable departure the omission that, in addition to the pairs of creatures two by two, seven of each clean animals were also taken (or, likely, seven pairs of each clean animal – Gen. 7:2-3).
Twinkle, Twinkle, Little Star
2011 / 30 pages
A chipmunk stars in this retelling of the classic bedtime nursery rhyme, and early on he is finding "little stars" everywhere, from a dandelion fluff floating in the sky, to water droplets glistening on a spider's web. But then, suddenly, he's in a boat sailing to the moon. Clearly, he must be dreaming here, but the transition from the waking world is abrupt and I think most children (and many an adult) will be mystified as to what just happened.
Don't bother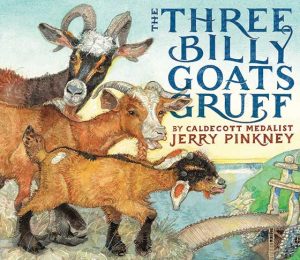 The Little Match Girl
1999 / 32 pages
I have to say I've never liked the original version of this Hans Christian Andersen tale, and nothing has changed with Jerry Pinkney's update. It is well done, but such a sad tale. And while it is important for adults to know of the needy, I don't know that I have to confront my Grade 1 child with these difficulties.
The Nightingale
2002 / 40 pages
An African adaptation of an odd and lesser-known Hans Christian Andersen tale. It features death as a creepy character which is why I'm content to have it remain a lesser-known tale.
Puss in Boots
2012 / 40 pages
A beautiful version of a less than heroic tale about a clever but deceitful cat who tricks everyone into believing his master is a Count.
The Little Mermaid
2020 / 48 pages
In his version, the Little Mermaid doesn't fall in love at first sight, doesn't give up her life underwater for a man who doesn't even know she exists, and doesn't trade her tail for legs that constantly feel like she's walking on blades. So, an improvement on the original? Maybe. But Pinkney's version has a witch that looks like Satan himself, all red and horned, and a tack-on "girl-power" ending with the Little Mermaid suddenly able to beat all the bad guys all by herself for reasons that remain elusive. There's no reason to get this one.
Conclusion
In the many articles prompted by Pinkney's passing late last year, mention was made of how this prolific author struggled with reading in his youth. It was only decades later that he discovered he had dyslexia. Pinkney credited his parents' positive outlook with enabling him to persist, and while he had struggles in one area, he found out that he was gifted in another: right from the start, he had a talent for art.
These obituaries also spoke of his advocacy for African Americans. He grew up in a tumultuous time. He was almost the same age as Emmett Till, a young black boy who was famously murdered for simply flirting with a white woman. It wasn't until Pinkney started having children himself that black children started being depicted in picture books. He's made a point of including them frequently in his own work – for example, he has a black Red Riding Hood – though the inclusion is done naturally, without any particular note made. Even his advocacy is gentle.
What never seemed to be mentioned was anything about Pinkney's relationship with his Maker. The closest was a passing reference to his wife being a minister, which would have us suspect he was a liberal Christian. If so, his love for the old classics seems to have kept him from pushing any such liberalism in his books. He is an author that Christian parents will love to share with their little ones, particularly because he so often put a new spin on familiar fare.