School is nearly done, and for some young men and women, this is the last classroom work they'll be doing. But that doesn't mean they are done with studying. God has a whole great big world for them to explore, and a command to follow to "be fruitful and multiply," and to make the most of both they'll have a lot of learning yet to do.
What follows are a few book suggestions intended to help with that ongoing process. These are the sort of reads that, if given a chance, will hook almost anybody. Some of our kids might be less than interested in reading now that they've graduated, and that's okay. Maybe they'll come across a great mentor, or listen to some good podcasts or the Bible as they go for a jog. Learning doesn't just happen through reading.
But reading is a way to learn from some of the very best teachers. And all five of these titles are instructive indeed…and accessible. If you want to help your son or daughter make the transition from learning as it was fed to them by their teachers to learning that is self-driven, then you won't come across better starter books than these.
All five are more serious books, meant to help the reader think God's thoughts after Him. A couple are particularly readable, at just a hundred or so pages. Two more are commentaries that work great as daily devotionals. And the last is a book that I wish I had read a long time ago, about life as a gift from God that is meant to be spent.
If you do gift one of these, take a moment to explain to the graduate why this book is worth their time. It doesn't need to be more than a sentence or two, but that pitch will greatly increase the odds that they actually do open it up and dive in.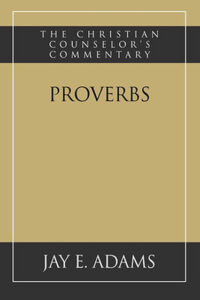 The Christian Counselor's Commentary on Proverbs
by Jay Adams
1997 / 231 pages
While the title might have you thinking it is just for Christian counselors this would make a great gift for anyone. But why is this a good gift for grads in particular? As young men and women step out from under the protective shadow of their high school teachers, they aren't supposed to go it alone. And what better mentor could they find than Lady Wisdom (Prov. 1:20-21)? So this is recommended because it is an exceptional tool for understanding and applying the wisdom of Proverbs.
What Adams gives us here is a commentary that can be read as a devotional. It includes the complete text of Proverbs on the top half of the page, and a verse-by-verse commentary on the bottom. I've used this on my own, and also used it at dinner with the family to quickly get a feel for two or three proverbs. I could scan Adams' brief explanations even as the kids were still cleaning off their plates, and then read and discuss the passage with everyone.
Proverbs is a unique book in that it should be read only a few verses at a time because there is so much packed into each verse, and Adams is such an insightful guide!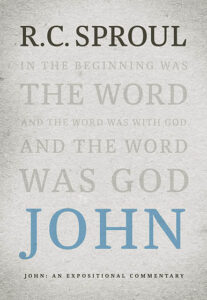 Commentary on John
by R.C. Sproul
2009 / 414 pages
Remember the last time you were doing an essay for your bible study group and you understood almost all of the passage, but were confused about one verse… only to discover that was the only verse your commentary didn't address? I've had that happen repeatedly, but it doesn't happen with Sproul – he actually explains the verses you need help with. Another great feature here is that Dr. Sproul has included the whole text of John, leading each of his chapters with the passage he's going to explain. That means your graduate can throw just this one book into their backpack when they want to bring something along to do a little lunch-time bible study.
While we don't normally think of commentaries as a front to back read, this is so engaging it could and should be. Sproul pairs insight with anecdote to craft a commentary that could also be used as a great daily devotional read.
Sproul has written a number of commentaries, and while I've only read two – Acts is the other – I'm confident you could buy full sets, and give each of the grads you know a different one. Then if any of the recipients marry (as does happen now and again) the couple won't have a duplicate, but instead two different Sproul commentaries. Wouldn't that be fun?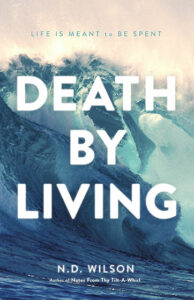 Death by Living: Life is meant to be spent
by N.D. Wilson
2013 / 190 pages
This is almost poetry, but the good sort. It is highly readable, explaining how the going might well get tough. It shares to the young Christian that it is the normal state of things to have sleepless nights, baby spit-up on your shoulder, overflowing honey-do lists, neglected household chores because you were helping at some church event, and so on. And it's okay. Because, as the subtitle says, life is meant to be spent – God gave us our lives to live them out. A strangely but profoundly comforting book, and one that issues a challenge as well. Wilson's Notes from the Tilt-a-Whirl is also fantastic.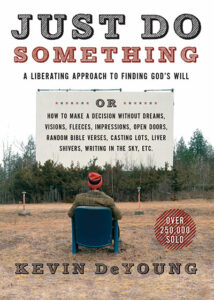 Just Do Something
by Kevin DeYoung
2009 / 150 pages
This quick read packs a mighty kick to the rear to use the talents God has given us, and not act tentatively, too afraid to make a mistake. This will be a fantastic gift to anyone who is having some difficulties trying to figure out what they should do next. I've given this out at least a half dozen times and gotten a lot of thank-yous from recipients who appreciated both the clarity and the boot to the backside.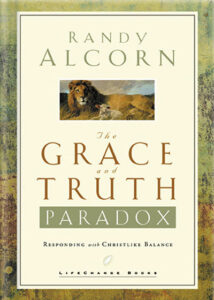 The Grace and Truth Paradox
by Randy Alcorn
2003 / 92 pages
Imagine if this Sunday the service ended right after the reading of the Ten Commandments. You've just been confronted with the Truth that you've offended God with your many sins and deserve eternal punishment… and then that's it, the service is over.
Wouldn't that be dreadful? In The Grace and Truth Paradox, Randy Alcorn notes that this is what Christians do too often – we present the world a graceless Truth. Or, if we remember to be Gracious, we do so by minimizing the Truth. For example, some graceless Christians are eager to shout out the Truth about homosexuality. But if that Truth is presented without Grace then instead of prompting homosexuals to ask us to Whom they can turn for help, they are sure to run from us. Other Christians, determined to act with more Grace, do so by downplaying the sinfulness of homosexuality – Truth is sacrificed. Once again, instead of leading homosexuals to repentance, our interactions with the world lead to the furtherance of sin. Alcorn's little book packs a huge wallop and would be of great benefit not only to graduates but their parents too. It really is a book everyone should read as we all have problems, one way or the other, in presenting a "Graceful Truth." Alcorn also has a larger, but every bit as important book, called Heaven, that would also make for a great grad gift.