Drama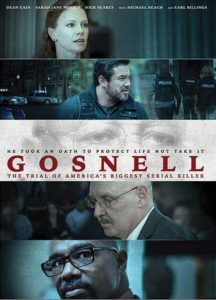 2018 / 93 minutes
RATING: 8/10
"Are you going to be the first prosecutor in American history to charge an abortion doctor with murder?"
****
There are some great lines in Gosnell. But it was a film I almost didn't watch. I knew it was the true-life story of Dr. Kermit Gosnell, a Philadelphia abortionist who in 2013 was convicted of killing three babies after they were born. I'd thought it an important story to get out into the public eye, so a few years ago I'd been one of the 30,000 who'd contributed more than $2 million to its Indiegogo campaign. But now, with the DVD in hand, I found myself thinking, "I'm already pro-life so do I really need to sit through a 90-minute film detailing the horrors of abortion?"
I'm glad I did, for two reasons.
First, the film wasn't the unrelentingly depressing drama I had expected.
This felt more like a Law and Order episode, with a mystery that needs solving, and dedicated men and women trying to deliver whatever justice they can. There were some talented people involved in the production, from director Nick Pearcey, who also stars as the defense attorney, to the Daily Wire's Andrew Klaven who had a hand in writing the script. There's no clear star in this ensemble cast, but it might be Dean Cain (Lois and Clark) who is his regular personable self in the role of Detective James Wood, the man who first uncovered what was going on behind the closed doors of Gosnell's clinic.
Second, the film is a much better pro-life tool than I ever expected.
Gosnell killed thousands so this could have been as hard to watch as Schindler's List (Schindler is in everyone's top 100 list, but has anyone watched it twice?). But by hiding almost all of the gore, and by keeping a quick pace, not lingering in the clinic too long, audiences aren't confronted with the full horror of what Dr. Gosnell did. That makes this a film that can be shared with the undecided; if they can handle network TV, then there's nothing here that'll be too graphic for them.
Now, there is a method behind the muted visuals. A gory film would have undecideds walking out or staying away. But the producers didn't intend to pull any punches – they've just been clever enough to lay out their argument in a way that'll be the most likely to reach and sway their intended audience. When Gosnell was being tried, both the prosecutor and the mainstream media emphasized that the case wasn't about abortion – this was about the murder of already born babies. But in his defense, Gosnell's attorney shows that what Gosnell did to these babies after birth was not significantly different from what other abortionists were – with the law's blessing – doing to babies before birth.
His reasoning was sound, even if it wasn't enough to get his client off. And seeing an abortion defender make the case that killing an unborn baby differs not a whit from killing a newborn baby is an argument that is sure to hit viewers right between the eyes.
Jon Dykstra also blogs on movies at ReelConservative.com.