by Eleazar and Rebekah Ruiz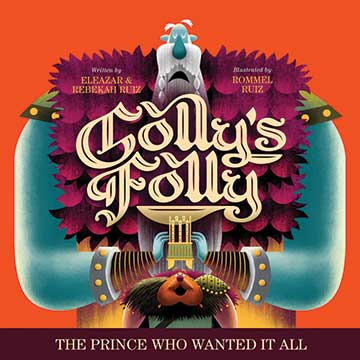 illustrated by Rommel Ruiz
36 pages / 2016
Inspired by the Preacher's denouncement that "all is vanity," this is the story of Golly, a prince who wants more and more and more, but finds that nothing satisfies. It's all done in rhyme, which along with the bright pictures makes this one that kids 3 and up will adore!
Our story begins with Prince Golly looking to power as the way to happiness. He convinces his father to give up his throne, so Golly can be king. And he is happy…for a time.
Next he turns to things, telling his trusted advisor:
"I want flocks of animals, and a farm on a hill.
Get some of all kind – what a thrill!
Build lots of houses, find rings for my hand.
Oh – and I'd like my very own band."
But the buzz from all this stuff only lasts for a while. And so Golly turns to food, partying, knowledge, but none of it brings him happiness and contentment.
In his despair, he starts to cry. And then his father comes by.
(It is hard to write a review of a rhyming book, and not start doing it yourself!)
In Ecclesiastes the world turns out to be vanity, but life under God is not. In this story Golly also learns the world is vanity, and he looks to find contentment in submitting to his father. In doing so the story almost presents "family" as the ultimate good and the one true way to happiness and contentment.
But, of course, his father, King Zhor, is meant to point us to our Father in heaven. That analogy shouldn't be pressed too hard, though, because while King Zhor gives up his crown, our Father doesn't. Maybe, in this act King Zhor is more comparable to Jesus humbling himself in becoming man. But it's not a direct parallel – like any analogy, the connections are partial, and incomplete. It's the gist that matters – the world is not enough! – not the details.
I read this out loud to my kids once, without the pictures, and they already liked it. And the pictures are so vivd, that makes it all the more remarkable. I'd recommend it as a fun one to read in a family setting with kids of all ages because Golly's Folly could be a great conversation starter on the topic of seeking happiness from what the world offers.
You can get the e-book for free if you subscribe to the publisher's newsletter here.