Today's library is very different from the one we all grew up with, and nowhere is that difference more noticeable than in the teen section. Even in my small, 99 percent Christian, town the teen section is filled with books that would have made my grandma blush – fiction and non-fiction in which teen sex, homosexuality, transgenderism, or atheism play a prominent part. And I've lost count of all the novels featuring vampires, werewolves and witches.
Some of this is dangerous, and some of it just dumb. But in either case, there are better novels out there. Here are five suggestions that are not just safe, but super – these are really good reads!
The Captive Maiden
by Melanie Dickerson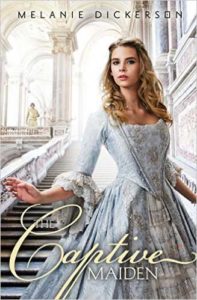 2013 / 304 pages
This is Cinderella reimagined, with all the famous bits altered but included: it has the carriage (but it was never a pumpkin), the slipper (but not made of glass), the ball (but now it's more of a jousting tournament), and the fairy godmother role (though she is not a fairy or a godmother). Author Melanie Dickerson gives new life to the story by taking the magic out of it, bringing in an additional villain, and making the key characters sincere Christians.
My only reservation would be one I have for all romance literature: they celebrate just the one stage of love – the beginning – to the exclusion of all that comes afterwards. But "afterwards" is very important, so if a teen girl ingests too many books about ball-attending, sword-fighting, head-turning Prince Charmings, they may well overlook that fellow right in front of them – the Bible-believing, hardworking, diaper-changing ordinary Joe. So while the occasional romance novel isn't a problem, these aren't the sort of books that should be ingested one after another.
Dickerson does a good job of keeping us wondering what new twists and turns she is going to add to this familiar tale. It is definitely aimed at teen girls with a little too much angst for anyone over 18. But adults could enjoy this as a nice light read too.
The Rise and Fall of Mount Majestic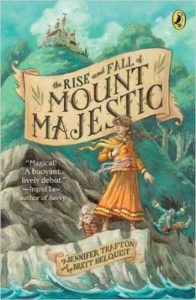 by Jennifer Trafton
340 pages / 2011
Mount Majestic is a fun romp, with all sorts of inventive ingredients:
• Piles of poison-tongued jumping turtles
• A castle built on top of a mountain that rises and falls once each day
• A tyrant twelve-year-old pepper-hoarding king
• A terrible, life-changing, island-threatening 1,000-year-old secret
Books with good girl heroes are hard to find. Most often the heroine is decidedly boyish (or at the very least tomboy-ish): armor-wearing, sword-swinging, that sort of thing. But Persimmony Smudge is a different sort. She dreams of battles, yes, but when it comes down to it, it's her brain and her bravery, and not her battle skills, that save the day.
While I suspect the author is Christian there is no mention made of God. The only "supernatural" elements are a prophetic Lyre-That-Never-Lies, and clay pots that give the recipient what they need (and not what they might want). When the question is asked about who it is that puts the gifts in the pots, and puts "words of truth into the strings of a Lyre" the only answer we get is, "I have no idea." So Mount Majestic is simply a fun read, without any spiritual depth – that dimension is left unexplored. Highly recommended, for girls in grade 3 through early teens.
When Lighting Struck! The Story of Martin Luther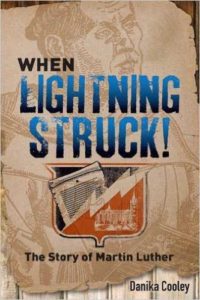 by Danika Cooley
231 pages / 2015
This year marks the 500th anniversary of Martin Luther nailing his 95 theses on the church door in Wittenberg and I can't think of a more enjoyable way to learn about the man than grabbing a copy of When Lighting Struck!
The target audience is teens, but like any fantastic book, adults are sure to enjoy it too. This is fiction which means parts of this are made up, including lots of the day-to-day dialogue, but the key events are all true. It didn't take much to make Luther's life exciting: as doubt-filled as he was early on, the Reformer was even more bombastic after he understood that forgiveness is a gift given, not earned. This is a man who:
• was condemned by the pope as a heretic
• had 200 knights pledge to protect him
• didn't want to marry lest he quickly leave his wife a widow
• was kidnapped
• masqueraded as a knight
• helped formulate the German language
• cared for Plague victims
• ended up marrying a nun
And it would be easy to go on and on. Put the story of such a man into the hands of a talented writer and what you're left with is a book anyone will just tear through.
War in the Wasteland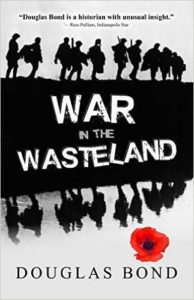 by Douglas Bond
273 pages / 2016
"Second Lieutenant C.S. Lewis in the trenches of WWI" – if that doesn't grab you, I don't know what will. War in the Wasteland is a novel about teenage Lewis's time on the front lines of the First World War. At this point in his life, at just 19, Lewis is an atheist, and his hellish surroundings seem to confirm for him that there is no God.
When men are hunkered down in their trenches waiting through another enemy artillery barrage, there is a motivation to talk about life's most important matters. Lewis's fellow junior officer is a good debater, and won't let Lewis's atheistic thinking go unchallenged. Their dialogue is imagined – this is a fictionalized account – but the author pulls the points and counterpoints of their back and forth argument straight out of the books Lewis wrote after he turned from atheism and became one of the best known Christian apologists on the planet.
War in the Wasteland comes to a solid and satisfying conclusion, which is a neat trick, considering that Lewis's story of conversion is, at this point, very much incomplete. This would be great for older teens and adults who have an interest in history, World War I, apologetics, or C.S. Lewis. Bond has crafted something remarkable here.
The Green Ember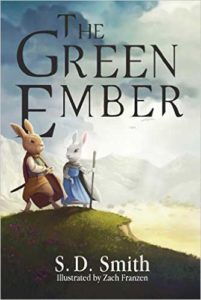 by S.D. Smith
365 pages / 2015
"Rabbits with swords" – it's an irresistible combination, and all I had to say to get my two oldest daughters to beg me to start reading.
As you might expect of a sword epic, this has a feudal feel, with rabbit lords and ladies, and noble rabbit knights and, of course, villainous wolves. This is children's fiction, intended for preteens and early teens, so naturally the heroes are children too. The story begins with siblings Pickett and Heather being torn from the only home they've known, pursued by wolves, and separated from their parents and baby brother.
It's this last detail that might warrant some caution as to how appropriate this would be for the very young. It isn't clear if mom, dad and baby Jack are dead…but it seems like that might well be, and that could be a bit much for the very young (I'm planning on skipping over that bit when I get to it with my preschool daughters). They escape to a community that is hidden away from the ravaging wolves, and made up of exiled rabbits that once lived in the Great Wood. Their former and peaceful realm fell to the wolves after it was betrayed from within, so now these rabbits in exile look forward to a time when the Great Wood will be restored. Or as one of the wisest of these rabbits puts it,
…we anticipate the Mended Wood, the Great Wood healed…. We sing about it. We paint it. We make crutches and soups and have gardens and weddings and babies. This is a place out of time. A window into the past and the future world.
Though God is never mentioned, and the rabbits have no religious observance of any kind, author S.D. Smith's Christian worldview comes through in passages like this, that parallel the way we can recall a perfect past, and look forward to a perfected future. It's this depth that makes this more than just a rollicking tale of rabbits in peril.
There are three full-size sequels – Ember Falls, Ember Rising, and Ember's End – as well as five small books that occur in the same rabbit world, but follow different characters. For those of us with voracious readers, it is quite the blessing to find a fantastic and enormous – more than 2,000 pages in all! – series like Green Ember.
So, my overall take is two very enthusiastic thumbs up for anyone ten and up.