by Ian & Larissa Murphy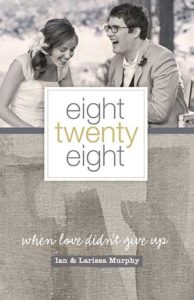 208 pages / 2014
I really enjoyed this book. It is the true story of Ian and Larissa. Soon after they decided to marry – ten months into their courtship – Ian was in a horrific car accident, receiving a traumatic brain injury. He spent many months in the hospital, and when Ian did eventually come out of the coma he was quite handicapped. Larissa felt that the old Ian was still there and continued to grow in love for him.  Then on the 28thof August, 2010, they married, seeking to serve God and enjoy life together with much laughter.
After the accident a person made a well-meaning comment to Larissa, "You need something to keep you going" which really hurt her because it sounded like he thought she "had nothing to be living for outside of an improved Ian." But what carried her, what she discovered was the understanding that God turns everything– Ian healed, or Ian handicapped – for good (Romans 8:28). Anyone who has sat beside a loved one's bed in ICU and gone through intense therapy with him or her, or someone who has had to come to terms with the handicaps of a loved one, will want to cling to the encouragement found in that promise.
You can read the prologue and the first chapter here. And the book trailer can be viewed below.