Animated / Children's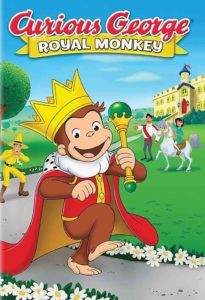 2019 / 86 minutes
RATING: 7/10
In this homage to The Prince and the Pauper, our monkey friend George accidentally switches places with his simian look-alike Philippe, the kingdom of Simiana's "royal monkey." While the two could be twins, they couldn't act more different: George is all fun-loving and childish irresponsibility, and Philippe is reliable and downright somber.
This is the fourth Curious George feature film (though there is no number, the events take place right after Curious George 3) but it's second only to the original in charm. The one criticism I'd have is pacing. It is a bit slower than some of the other films, so even as my kids absolutely loved it, I would have enjoyed seeing George get himself into a few more tight spots. However, even a relatively calm George is a very fun George, making this one that the whole family, young and old, will be sure to enjoy.
As they often explain in the also charming TV series, George is a monkey so sometimes he does things we shouldn't. That's a good way of letting kids know they better not do what George does, but our youngest will still sometimes get quite stressed at George's antics because she understands that, well, if she were in George's shoes, what he's doing would be quite naughty!
So I appreciated how in this film the writers managed to so arrange things that the trouble George gets into isn't his fault (at least for the most part). While watching TV, George spots a commercial for a new theme park called "Castleland" where every guest is "treated like royalty" and the man in the yellow hat tells George that if he's good, he'll arrange for a visit. So when, after the monkey mix-up, George ends up with the Simiana royal family, he isn't surprised that people start treating him like royalty. And he isn't at all naughty going off with this other family, because he thinks this is the visit that the man in the yellow hat had arranged.
If you know the Prince and the Pauper then you might be thrown just a bit by the one-sidedness of the lessons learned here. George teaches the royal family to be less uptight, and the man in the yellow hat teaches Phillipe to be less uptight too. Was there a lesson for George to learn? If there was, our monkey friend missed it. Oh well. I guess that just means there'll have to be a Curious George 5. I'm looking forward to it.
For a preview of the film's first ten minutes, check out the video below.