edited by Rev. Peter H. Holtvluwer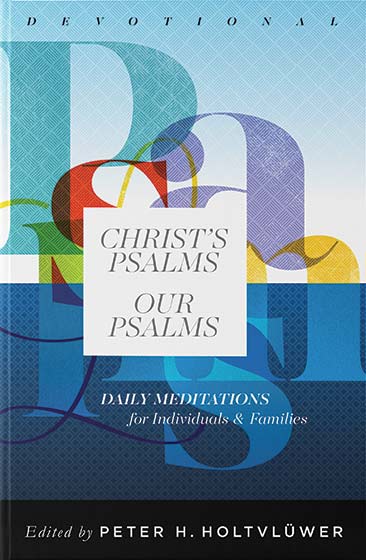 Psalms-196x300.jpg 196w" sizes="(max-width: 366px) 100vw, 366px" />
383 pages / 2018
The Psalms are a rich treasure for God's people: so many inspired words of comfort, so many choruses of praise to our Father in Heaven! For generations, Christians have used these songs as a beautiful means to meditate on God's faithfulness and love.
In Christ's Psalms, Our Psalms, Rev. Holtvluwer has compiled daily meditations that show how Jesus Christ is revealed and glorified throughout the 150 songs that make up the Psalter. Sixteen Reformed ministers, professors, and theologians contributed to these one-page devotions, each focusing on a few verses of a psalm, often with suggested short readings from elsewhere in Scripture.
The writers act as guides, helping us to see the work of Christ in every psalm: in the imprecatory psalms with their themes of judgment, in the songs of lament, in the joyous choruses that praise God the creator, in the songs of deliverance from enemies. By providing this redemptive historical perspective, these teachers have done a great service to help Christians appreciate the Psalms more fully, and see Jesus revealed on every page.
The writers also bring our attention to godly living. As Christ was the perfect Israelite, so we are called to lives of obedience, thankfulness, praise and prayer. Like the psalmists, we are reminded how far short of God's perfect standard we live, and how we are called to repentance and comforted with forgiveness.
Christ's Psalms, Our Psalms is suitable for personal study, or for family devotions at mealtime for example. Since many Christians have the practice of starting their morning by reading a psalm, this may be an excellent aid to this good habit.
In addition to one or two meditations on each psalm in numerical order, the book also has sections dealing with psalms about Christ's birth, his suffering and death, his ascension, and outpouring of the Holy Spirit. A final section highlights psalms suitable for use at special occasions like Thanksgiving, the turning of a new year, and prayers for fruitful crops. Beautifully bound in a long lasting hard cover format, Christ's Psalms, Our Psalms is a welcome addition to our bookshelves and breakfast tables.
And if you enjoy this devotional, a companion study resource will also be available in 2019, written by the same authors, and intended as a pastoral commentary to help preachers and laymen see the themes of the redeemer in the psalms. You can find out more details about that on Rev. Holtvluwer's blog here.
All proceeds from Christ's Psalms, Our Psalms go to benefit mission work in Brazil, and specifically the Reformed Reading Room in Recife. Canadian, US, and International order can purchase it at PremierPublishing.ca. It is also available at Amazon.ca and Amazon.com.