by K. Scott Oliphint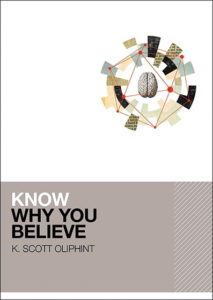 2017 / 221 pages
There's a need for different types of books on apologetics. We need the books on theory – and there are plenty of them. Several efforts have been made over the years to write books specifically addressed to unbelieving skeptics.
However, so far as I'm aware, there haven't been too many books written for believers at a popular level. I'm talking about the kind of book you could give to your teenage son or daughter when they start asking hard questions about the Christian faith. This is that book.
As a professor of apologetics at Westminster Theological Seminary, Dr. Scott Oliphint is well-qualified to write this kind of work. He has a great grasp of the background philosophical and theological issues – and this is evident in his more scholarly apologetics books. Yet he also has a track record of accessible writing for popular audiences – for example, some years ago I reviewed his great series of biblical studies entitled The Battle Belongs to the Lord: The Power of Scripture for Defending Our Faith.
He's done it again. Except for a couple of more technical sections, most of Know Why You Believe should be comprehensible to the average reader from young adults upwards. And the book launches with this profound quote from C.S. Lewis at his best:
"I believe in Christianity as I believe that the sun has risen: not only because I see it, but because by it I see everything else."
That really sets the tone for everything following. One of the reasons I love this book and can highly recommend it is because it takes God's Word seriously. It takes Psalm 36:9 seriously: "For with you is the fountain of life; in your light do we see light." God's light especially shines forth in his Word. If you want to see clearly, you need to see things God's way. This is also true when it comes to the reasons for believing the Christian faith. The best and most trustworthy reasons come from God himself – the faithful God who never lies. That's the basic approach undergirding Know Why You Believe – a biblical, Reformed approach to apologetics.
Oliphint covers 10 questions we might struggle with:
1. Why believe in the Bible?
2. Why believe in God?
3. Why believe in Jesus?
4. Why believe in miracles?
5. Why believe Jesus rose from the dead?
6. Why believe in salvation?
7. Why believe in life after death?
8. Why believe in God in the face of modern science?
9. Why believe in God despite the evil in the world?
10. Why believe in Christianity alone?
Each chapter deals with one of these questions. It explains the reasons and then also addresses responses or objections that might arise. There are also "Questions for Reflection" and recommended readings with every chapter.
Just touching on one chapter, the second last deals with the problem of evil. It describes the problem and then explores two ways in which Christians have tried to address it, albeit unsatisfactorily. Instead, Oliphint attempts to offer biblical reasons as to how evil can co-exist with a good God. He points out that God has recognized the problem of evil from before creation. Furthermore, God created human beings in his image as responsible agents. When Adam and Eve fell, God rightly judged their sin. The real blame for evil is on them, not God. He then points out how God himself has dealt with, is dealing with, and will deal with the problem of evil through his Son Jesus Christ. This is a good explanation, but Oliphint might have said more. For instance, he could have added that because God is good, he must have a morally good reason for allowing whatever evil there is to exist.
Not every Christian ponders the deeper questions of why we believe what we do. But if you or someone you know does, this will be a great read. It would also make a great gift for consistories to give to young people who make public profession of faith.
A 12-part video series based on the book is also available. Here below you can see the episode based on "Chapter 5. Why Believe Jesus Rose from the Dead?" Dr. Bredenhof reviews many other books on his blog Yinkahdinay.wordpress.com.