Getting a degree without going broke
by Alex Chediak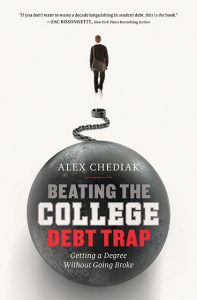 212 pages / 2015
In Canada, the average student debt among university graduates is now more than $26,000, and in the States, over $37,000, with only three in ten graduating from college debt-free. This may seem an inescapable reality – college tuition levels are on the rise, as are other costs like housing and textbooks.
But author Alex Chediak makes the case that students can, and should, pursue post-secondary education with no, or manageable, debt. He does so by illustrating nine "traps" or commonly held notions about college that lead many students into debt. These traps include the ideas that a four-year degree is best for everyone, spending a fortune on a prestigious university is always a good idea, and that student loans are always worth it.
This book is written from, and for, the American context, and the author acknowledges that although he's "writing as a Christian" this isn't a densely religious book. In spite of this, the principles taught in this book are applicable for a broader audience. And, while the pages aren't brimming with scriptural proofs, the advice given is grounded in sound scriptural teaching about finances, stewardship, and debt. This is an excellent read for prospective post-secondary students, but maybe even more so for parents looking to give them sound advice.