"But I tell you: Love your enemies, and pray for those who persecute you" – Matthew 5:44.
*****
Extraordinary stories of extraordinary men and women make up the fabric of history books: men and women who by some incident in their lives have been able to capture the attention and imagination of those living today. They usually comprise those of outstanding intellect; those who have invented things; those who have led armies to victory; those of noble birth who have ruled well; or those who have explored unknown territories. We rarely delve into the lives, however, of the little folk, of those who merely accomplish the sometimes boring, day-by-day tasks that God has assigned to His people.
Yet the days written in God's book of those little people – the widow who dropped a seemingly worthless mite into the temple treasury, the man who provided a donkey for the Master's use, and those who shared bread and fish in times of hunger – are endless.
There is the story of Betsie – Betsie the watchmaker's daughter – Betsie, an ordinary, little woman – who used her time well.
Father's arms – 1889
She often sat on the single stone step leading down from the doorway of her father's shop on the corner of Barteljorisstraat, watching the children of the neighborhood run by. The ragtag and bobtail of the city's youngsters sprinted by her as they kicked a ball, skipped noisily with skipping ropes and ran helter-skelter in all directions playing hide-and-go-seek. Soft auburn hair framed her face and she smiled into the shouts as if she were participating in the games. Her feet in the high, laced-up shoes, tingled. They longed to gallop and rush about in wild abandonment as well.
"Betsie, meisje (little girl)." A strong hand touched the small, hunched up back. "What are you doing sitting here on these cold steps? You'll get sick again."
Betsie turned her head and looked up, smiling at the bearded man framed in the open door of his shop. Then she slowly stood up and father Ten Boom picked up the four-year-old, carrying her into his workshop. "So," he whispered softly into her ear, "you are studying the other children running and playing and inside you there are some tears because God did not make Betsie strong and able-bodied and fit."
Betsie's arms tightened around her father's neck. His beard scratched her cheek and she nuzzled into it. "Yes," she whispered back.
All around them in the 1889 watchmaker's workshop clocks ticked and chimed and spoke of time. Father Ten Boom sat down on his chair by the workbench and settled the child onto his lap. He rocked her back and forth. "God has a reason for making each one of us the way we are, Betsie. Perhaps you are often tired and ill in your body so that your spirit might grow strong."
The child sighed and thought of the wind on her cheeks and how she would love to run into it, stretching her arms wide to receive its blowing head-on.
"You are very special, Betsie. God loves you very much and maybe you can show others His love also."
He kissed the top of her hair. "Now then, let's go upstairs and see if mother has some tea and if your brother Willem is home from school yet."
He stood up and the child, light in his arms, was strangely solemn as she looked towards the street door – a door she passed with her father as they made their way up the stairs.
*****
The years passed and the watchmaker was blessed with two more children, two more daughters, who were named Nollie and Corrie. There were also the three aunts, sisters of Mama ten Boom, who lived in their brother-in-law's home until they died. The watchmaker's house, though overflowing, was filled with happiness as he taught his children and his neighbors how to live faithfully before the face of God.
2 Peter 1:5-8 teaches a very important precept which is that certain qualities will produce a well-rounded, productive Christian life. The passage reads:
"For this very reason, make every effort to supplement your faith with virtue, and virtue with knowledge, and knowledge with self-control, and self-control with steadfastness, and steadfastness with godliness, and godliness with brotherly affection, and brotherly affection with love. For if these qualities are yours and are increasing, they keep you from being ineffective or unfruitful in the knowledge of our Lord Jesus Christ."
Not everyone in the world is born with amazing talents, with awe-inspiring gifts. Although there are some who can sing as if they were Caruso, and others have the ability to draw in the manner of Michelangelo, and still others play the violin like Itzak Perlman, the truth is that most people are run-of-the mill, ordinary people; people who appear average and unremarkable. And yet it is good to remember that all mankind is made in the image of God and that all Christians have access to the fruit of the Holy Spirit.
Betsie ten Boom was spoon-fed on 2 Peter 1's promise and as a child, and later as a young woman she strove for godly qualities; as she labored, she increased in faith and in compassion. She developed a deep love for other people who experienced pain or trouble. The years passed, and God blessed the frail child in ways that may not have been obvious to others.
Times changed in the ten Boom household after World War I. The children grew older. Nollie and Willem married. The aunts and mother ten Boom died. Betsie's health, although fairly stable, was never quite up to scratch and she made a conscious decision not to marry but to stay home and take care of her aging father and her younger sister, Corrie. Initially, she helped her father in the watch shop downstairs, but Corrie took her place and Betsie was happy to take charge of the household side of things. There were scores of foster children who passed through the ten Boom household, all receiving Christian nurture, love and care. Together with Corrie, Betsie, a single mother in Israel, was effective and productive in God's eyes.
The radio address – May 1940
The year 1940, a year, which would celebrate Betsie's fifty-fifth birthday, also hosted the onset of World War II for the Netherlands. Although the Dutch had hoped to remain neutral in the looming conflict which was already raging in Europe, this was not to be. The Third Reich, after invading and occupying Poland, Norway and Denmark, also invaded her little western neighbor.
The evening prior to this invasion, on May 9, 1940, father Ten Boom, Betsie and Corrie stayed up to listen to their radio. After their usual prayers and Bible reading, they were getting sleepy. It was past their usual bedtime, but the Prime Minister of Holland, his Excellency Dirk Jan de Geer, was slated to speak and most of the people in Holland were eager to hear what he had to say. Flowers were blooming in the parks and in the ten Boom windowsills. Conflicting rumors flew around. Betsie heard them from the people next door; she heard them in the shops when she bought food; and she heard them on the steps of the St. Bavo church after she worshipped each Sunday. Holland would be drawn into the war, many said while others were convinced that the German Nazis, who had pledged goodwill to the people of the Netherlands, would not invade. But France and Britain were already in the war and shouldn't those countries be supported?
The radio crackled and both Betsie and Corrie sat up straight in their chairs. It was 9:30. They strained their ears towards the wireless. Prime Minister de Geer's voice was mild. There is nothing to worry about, he assured his radio audience. War will not happen. Had he not just spoken with influential government officials? Father Ten Boom, Betsie, and Corrie looked at one another skeptically. The Prime Minister's words seemed to be full of air, unrealistic, carrying no weight. Father ten Boom turned off the radio. Then the family rose quietly from their high-backed, wooden chairs, kissed one another goodnight and trudged up the stairs to bed.
Sleep was difficult to come by even though the blankets were tucked in tightly. There were too many thoughts running around in Betsie's mind. She sighed, tossed and turned. The city of Amsterdam lay seventeen kilometers to the east. Betsie noted through her window that the sky was aglow with a strange color. It was an unearthly glow, and the house on Barteljorisstraat seemed to be shaking from time to time.
Corrie, who was huddling next to Betsie, whispered: "I had a dream."
"What did you dream, Corrie?"
"I dreamt that I saw a big wagon in the middle of Haarlem. Four huge, black horses pulled the wagon. I was in the wagon, Betsie… and you were too… and father was in it as well… and some of our friends."
She hesitated and Betsie waited for her to continue. "The horses began to pull the wagon and we couldn't get off but we didn't want to go where they were taking us." Corrie stopped again and then leaned heavily into the curve of her sister's back. The house shook again.
"Oh, Betsie! I'm so afraid! Do you think the dream was some kind of vision?"
Betsie answered softly, turning and putting her arm around her sister. "I don't know. But if God has shown us the bad times that are coming, it's enough to know that He knows about them. That's why He sometimes shows us things – to tell us that He is in control."
Amsterdam was bombed on May 11, 1940.
*****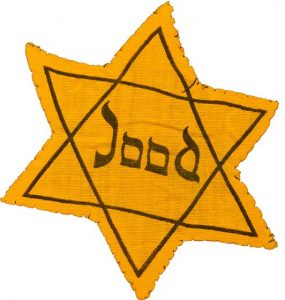 The ten Booms became acutely aware, as the next few months passed, that life was being made extremely difficult for the Jews living in Holland. First posters, then signs, shot up reading "No Jews Allowed."
After this yellow stars became mandatory as part of the dress code for the children of Abraham. Finally, groups were seen being herded onto trucks and taken away. Father ten Boom said, "Those poor people," but it was the soldiers perpetrating this ungodly work to whom he was referring. Betsie understood her father with her deepest spirit. Were not the Jewish people the apple of God's eye? And were not those who hurt them to be pitied?
A secret room was constructed in Corrie's bedroom behind a false wall. It had a ventilation system and could hold six people. A buzzer was installed which could be heard throughout the house to warn refugees to retreat to the secret room as quickly as possible if a raid was imminent. Almost overnight the ten Boom home became part of the resistance movement – a sanctuary where Jews could turn up and hide from their oppressors, from those who sought to kill them. Eight hundred Jews were eventually helped as father ten Boom and his two daughters risked their lives in feeding and sheltering the persecuted.
"Fear God and honor the queen" – February 1944
For four years things went well until a German raid on the ten Boom residence in February of 1944 seemingly brought Jewish aid to a grinding halt. The raid happened on a day when Corrie was not feeling well. Feeling miserable and running a high temperature, she was roughly pulled out of her bed by Nazi soldiers. Permitted to put on clothes over top of her pajamas, she was taken downstairs. Her father and Betsie were sitting on chairs pulled back against the living room wall.
"Where are the Jews?" The Nazis barked out the question and when no answer was forthcoming, Corrie was struck twice, so hard that she almost fainted.
"Lord Jesus," she whispered, "Protect me."
"If you say that name again, I'll kill you."
Betsie was led from the room and returned later with swollen lips and a bruised cheek.
"Oh, Betsie," Corrie moaned, "They hurt you."
"Yes," Betsie answered thickly, "and I feel so sorry for them."
The German officer in command turned, yelling: "Prisoners will remain silent!"
He then turned to father ten Boom. "You, old man, I see that you believe in the Bible. What does it say in your Bible about obeying the government?"
"Fear God," father ten Boom answered in a clear voice, "and honor the queen."
The German officer stared at him suspiciously. "The Bible doesn't say that!"
"No," father ten Boom admitted, "It says 'Fear God and honor the king,' but in our case that is the queen."
*****
The secret room was not found during the raid although it was not for lack of trying by the Nazis. They ransacked the house from top to bottom. The ten Booms, however, were not allowed to go free. Along with thirty-five other people they were herded to the police station where they were put in a room together. There were mats on the floor where they were told to sleep. Father ten Boom read to the entire room from the Bible: the Bible which was stored within his memory.
"Thou art my hiding place and my shield…" The old man's voice was firm and the others who had been arrested drank assurance from it.
"Hold Thou me up, and I shall be safe."
They all slept soundly that night.
*****
The next morning, after another period of questioning, they were all packed onto a bus.
"The dream," Corrie spoke under her breath to her sister, "It's the dream, Betsie."
After a lengthy drive of more than an hour, they were ordered off the bus and lined up against a yellow wall. The men were separated from the women at this point. As the sisters were being led away, Corrie turned her head to look back.
"God be with you, father!" Father ten Boom turned his face away from the wall also and answered, calling back clearly, "And with you, my daughters!"
These were the last words Betsie and Corrie heard their father speak on earth. Becoming ill in the Scheveningen prison to which they had been taken, he died in a hospital corridor only ten days after the arrest.
Vught camp – June
The next months in prison were difficult. For the first time in their lives, Betsie and Corrie were separated. Providentially, four months later, as women were being loaded onto a transport train to a different internment camp at Vught they were reunited.
Vught was a political concentration camp. With barbed wire fencing surrounding it, the place appeared both dismal and terrifying. The women guards were cruel and made the inmates stand for hours on end. It was a somber, desperate and dirty place and it never had enough food for the people housed within its enclosure. Roll call each morning was five o'clock sharp and if only one prisoner was late, all the other prisoners were punished.
*****
"Betsie," wailed Corrie, one early morning, "How long do you think we shall be here?"
"Perhaps a long, long time, Corrie," Betsie answered slowly and thoughtfully, "Perhaps many years. But what better way could we spend our lives?"
"What are you talking about, Betsie?" Corrie was frustrated at the answer.
"These women here with us, Corrie, look at them. If people can be taught to hate, then they can be taught to love as well. And we must find a way to teach them."
*****
Betsie's work assignment was sewing uniforms, whereas Corrie's job was labor in a factory. They had been able to smuggle a Bible inside the camp and took turns carrying it about in a small cloth bag hanging from their neck. In the evening, prayer meetings were held and many women crowded around the bunks to hear the comforting words of the Bible.
Ravensbruck – Sept
In September of 1944, the sisters were transported once again. This time it was to Ravensbruck. Fifty miles north of Berlin, it was the largest concentration camp for women in the German Reich and housed political prisoners, gypsies, Jews, Jehovah's Witnesses, and others deemed dangerous by the Nazis.
If conditions had been bad in Vught, conditions in Ravensbruck were far more brutal. The straw that covered the bunks in the eighteen barracks that made up the main camp was filthy. Women prisoners slept in three-tiered wooden bunks, and each barracks had but one washroom and toilet. Food rations were meager and sanitary conditions abominable. Many women were subjected to unethical medical experiments as SS doctors put chemical substances on wounds to ascertain what the results would be. These doctors also tested women on various methods of setting and transplanting bones and they cruelly amputated limbs to facilitate these tests. Countless prisoners died as a result of these horrific experiments. It was in such an environment that the ten Boom sisters arrived in the last winter of the war.
*****
"We should cut our hair, Corrie." Betsie's advice was down-to-earth and practical. Everywhere around them women were cutting each other's hair. Long hair was difficult to keep clean.
"Oh, Betsie!!" Corrie sobbed as she snipped several inches off Betsie's thick dark hair. Later, they buried their hair in the sand around their barracks.
The three-tiered bunks were appallingly grimy. Rotting straw had been placed on top of broken wood and the women were so crowded that they were forced to lay three in a single bunk – making it very taxing to get any rest at all.
"How can we live in such a place, Betsie?"
"Show us how, Lord," Betsie prayed in reply and then she opened her eyes and said, "Corrie, what did we read this morning?"
"We read from Thessalonians."
"And what did our text say"?
Reluctantly, Corrie answered her sister: "Rejoice always, pray constantly, and give thanks in all circumstances."
"That's it. That's God's answer."
"What is His answer, Betsie?"
"To give thanks … to give thanks in everything."
The sour smell of human sweat and dirt drifted around them. Lice moved the straw in the bunks. "In everything, Betsie? Must we give thanks in everything?" Corrie's voice was small and resigned.
"Yes, in everything. Listen, Corrie. We're together. That's a blessing, isn't it? And then, well we have a Bible. Think of it!! A Bible!! And then, last of all, we're really crowded and that means we'll be able to tell more women about Jesus."
Corrie nodded, subdued.
"So then," Betsie closed her eyes again, "thank You, Lord, for the lice…"
"Oh, Betsie," wailed Corrie, "not the lice!"
"It says 'in everything,' Corrie."
*****
Barracks 28, where Betsie and Corrie were housed, was an extensive melting-pot of nationalities. The women housed there came from a diverse number of countries – Germany, France, Poland, Holland, to name a few. Because the quarters were so cramped, there was much quarreling. In the dark of the night Betsie took Corrie's hand.
"Lord Jesus," she prayed out loud, "send your peace into this room. There has been too little praying here. The very walls know it. But where You enter, Lord, the spirit of strife cannot exist."
Gradually things quieted down and the angry mutterings stopped.
*****
Ravensbruck held no sewing detail for Betsie, nor a factory job for Corrie. Both sisters had to work outside, leveling rough ground. Lifting shovels full of heavy dirt was almost too much for Betsie. She staggered if the load was too massive and at one point a guard struck her. Corrie, seeing her sister hurt, lost her temper and wanted to fly at the guard with her shovel, but Betsie restrained her. A red stain became visible on Betsie's shirt.
"Oh, Betsie!" Corrie was overcome with sadness, but Betsie covered the bloodstain with her hand.
"Don't look at it, Corrie. Only look at Jesus."
*****
There were worship services. These services were not conducted in a chapel or in a church of any kind but were held at the back of the barracks under a dangling, pitiful little light bulb. These services were conducted, not just on Sunday night, but every night. More and more women attended these services. First they sang softly, the Polish women singing a Polish hymn or the French women singing a French hymn. Then either Betsie or Corrie would open the Bible, translating the words into German as they read. And one of the women would translate their words into Polish and another would translate into Russian and another into French. In this way, all the women would hear the Word of God in their own language. Sometimes Betsie and Corrie wondered why no one interrupted these services. Later they discovered that the lice – the thanked-for lice – kept the guards away from Barrack 28.
*****
Betsie was not growing stronger. The frail child, who had sat on the front step of her father's workshop watching other children play, had run with the best of them. But she was now visibly wasting away. There was a small vitamin bottle that Corrie had carefully saved. Whenever Betsie was especially weak, Corrie would insist that her sister take a vitamin drop. But there were other women who were also ill. Corrie tried to save the drops for those who needed it most. But there were so many ill women. First there were fifteen, then twenty, and then still more. Yet every time she tilted the small bottle, another drop petered out.
"There was a woman in the Bible," smiled Betsie, "whose oil jar was never empty."
One day one of the other women prisoners managed to obtain some more vitamins, several large bottles of vitamins. The prisoners felt rich but they decided together that before they use their new cache of nutrients, the small bottle should be finished off. But when Corrie tried, at this point in time, to shake another drop out of the faithful jar, nothing happened. No matter how hard she shook the bottle, nothing materialized. It was finally empty.
*****
"Corrie!! Corrie!! Wake up!"
"What is it, Betsie? It's in the middle of the night. We need our sleep."
"I have to tell you something important, Corrie."
"Can't you tell me tomorrow?"
"No, it's really important. It's about what God wants us to do after this war and I'm afraid that I will forget it if I don't tell you now."
"All right, Betsie, go ahead. I'm awake now."
Through the darkness of the barracks, Betsie's hands found Corrie's hands and squeezed them. "We must rent one of these camps after the war, Corrie. And we must clean it and make it comfortable so that the German people who will have no home left can begin a new life. And in Holland, Corrie, in Holland we must find a house where we will be able to take care of all those who will survive these concentration camps."
"Where would we live, Betsie, in Holland or in Germany?"
"We would live in neither place, Corrie. For you will travel all over the world and tell everyone what we have learned here: that Jesus is very real and that He is stronger than any power of darkness."
Released – December
The days passed. Betsie grew more tired each day and was barely able to fill her quota of work. One morning a fit of coughing seized her and when it was over a blood stain darkened the straw on which she lay.
"Are you sure we'll be together after the war, Betsie? You said that we would…" Corrie could not finish and helplessly watched as her sister coughed again and again. But afterward Betsie did answer.
"Always, Corrie … you and I."
The morning dawned when Betsie could move neither arms nor legs. She was carried away on a stretcher to another building where the very sick were kept. Corrie managed to find out that Betsie had been put on a cot next to a window. She stood by that window, smiling at her sister until the camp police shouted at her and told her to move along. At noon Corrie tried again. Betsie looked tremendously thin and frail in the cot. Her lips were blue. But those blue lips smiled at Corrie and formed words.
"So much work to do."
It was not until the next morning that Corrie was able to visit the window once more. But a nurse blocked her view. Corrie pressed her face against the pane. She tried to peer past the white form. Another nurse entered. When they both moved to the side, Corrie finally saw Betsie. That is, she saw what had been Betsie. There was only a body now – a thin, yellow skeleton whose soul had flown straight into the arms of a waiting and loving God. Corrie sobbed as the two nurses wrapped her sister's body in a sheet, lifted her off the cot and carried her away.
There was a room where the dead were kept. Bodies were piled on top of one another along the wall. Betsie's body was put there alongside all the others who had died that night. But her face was no longer lined with sorrow, hunger and pain. She looked peaceful. She appeared to be sleeping. She seemed to be leaning on her father's lap, as she was wont to do when she was a little girl. And so she was. Betsie ten Boom had reached her Shield and Hiding Place.
Two days after Betsie's death, Corrie's name was called out during morning roll call and she was commanded to stand to the side before reporting to the administration barracks. When she came to the administration barracks, a clerk stamped papers on which was written "Certificate of Discharge." Although it was later discovered that this was a human clerical error, it truly was God's providence. After a brief hospital stint because of her swollen legs, Corrie was released from Ravensbruck at the end of December 1944.
Reunited – 1985
After the war Betsie's sister, Corrie, was able to open a camp in Germany for the many homeless people there. God also permitted her to begin a home in Holland for war victims. Later she traveled all over the world, carrying the message of Jesus until her death in 1985.
"Are you sure we'll be together, Betsie?" Corrie's question echoes down the corridors of time. And always Betsie's answer rings out firmly, rings out firmly to encourage all followers of Christ.
"Always, Corrie … you and I."
And so they are, even as all Christians will be, together before God's throne.
The "Voor Joden Verboden" picture is adapted and used with permission under a CC BY-SA 3.0 NL license, from the original at the Museum Rotterdam.