I know some people who called themselves freedom-loving capitalists. But they also support government bailouts, high tariffs to block imports, supply management, and whenever the country is facing a tough situation, they inevitably call for some new government program to fix things.  They want to be called freedom-loving capitalists, but I can't. It's not a matter of me being unloving. It's just that words have meanings. So I can't call them capitalists, when they aren't.
Glenn, you call yourself a Christian, saying you hold Christ in common with me. And in a Facebook posting you shared how hurt you felt when someone asked you to stop calling yourself a Christian and you wondered at the "arrogance of anyone who thinks their doctrine is enough to kick people out of the tent of Christ."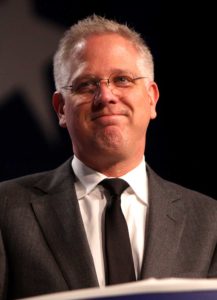 But your prophet Joseph Smith did just that when he claimed long ago that it had been revealed to him all other churches were wrong and "all their creeds were an abomination in [God's} sight." Your prophet thought there was a divide between your beliefs and mine, and that one of us is right and one of us is damnably wrong. Now, I don't believe Joseph Smith was right about which religion is wrong, but I agree with him that Mormons are not like any of the Christian churches. Just consider some of these differences:
Christians believe that Jesus was never created but Satan was; Mormons believe both Jesus and Satan are created beings.
Christians believe that Christians are adopted children of God and in that sense are brothers and sisters of Christ; Mormons believe all created (sentient) beings are spirit children of the Father and thus not only are we brothers and sisters to Christ but so is Satan.
Christians believe that the first sin involved trying to become like God; Mormons believe that we can become gods.
Christians believe that God the Father does not have a bodily form; Mormons believe that God the Father had a physical body and continues to have one.
Christians believe that God is eternal and without any beginning; Mormons believe that God had a beginning – the Father had a father.
Christians believe that we have one Heavenly Parent, God the Father; Mormons believe that we have a Heavenly Father and Mother.
So this isn't primarily about doctrine (though it is that too) but about who Jesus really is. When someone claims to know me, but tells my buddy that I'm short, hate basketball, and like soap operas, my friend can confidentially say, "No, you don't know Jon – that isn't Jon." When you say you are a Christian, but you say Christ is the brother of Lucifer, had a beginning, has a mother, and his Heavenly Father has a physical body, then I can confidently say, "No, that isn't Christ – you don't know Christ." It isn't an insult; it is simply that words need to have meaning and that such important differences – about who Christ really is! – should not be muddied.
Clearly we don't worship the same God, so rather than pretending we do, we should be trying to help each other figure out who God really is. You should be saying to me that you don't think I'm a Christian because the Jesus I describe – eternal, not the brother of Lucifer, no mother – isn't the person you know as Christ. That would be the straight-forward approach, rather than taking any sort of "I'm offended" defense. There is no more important issue – not even abortion or ISIS compare – than for us to seek after and learn who God really is. And to do that we first have to be clear about the fact that the God you describe as your Lord is very different from my Lord. Can't we agree that we have a disagreement about who Christ is?
Picture by Gage Skidmore and licensed under the Creative Commons Attribution-Share Alike 3.0 Unported license