"…even as He chose us in Him before the foundation of the world, that we should be holy and blameless before Him. In love He predestined us for adoption to Himself as sons through Jesus Christ, according to the purpose of His will, to the praise of His glorious grace, with which He has blessed us in the Beloved." (Eph. 1:4-6)
***
Our Father in heaven is the perfect example of what a father ought to be like. He is, therefore, the model that should be followed in families. Children who have godly fathers – that is fathers who obey the Lord in faithfully following His commands and displaying humility, love and mercy – have a wonderful guideline for how to behave in their own lives.
Children who do not have godly fathers, will have a difficult time finding their way in life.
***
There was a rather unique story in an English newspaper recently about a little girl who had lost her father, a man by the name of Tony, when she was just four months old. The article gave no information as to how her father had died – whether the man had been ill, had been a casualty of war, or had suffered an accident. The readers were simply told that since the age of 4 months the little girl had been raised by her mother. Such things do happen and, by the grace of God, they can work out fine. The eight-year-old girl was from Braunstone, Leicester in the UK.
In June, when Father's Day rolled around this last summer, the child felt uneasy and somewhat left out. All her friends were making cards and presents for their dads, but she had no one for whom to make a gift. So she thought to write a letter to her dead father, something she had done before on special occasions. Her mother said it was fine for her to do so again. When the little girl had finished her letter, which was filled with "I love you, Dad!" and "I miss you, Dad!" she asked her mom where her father now lived and what address she should put on the envelope into which she had neatly folded the letter. Her mother replied: "Put down Heaven, Cloud 9."
There are two reactions that the initial part of this anecdote brings to mind and heart. One is anger and the other is compassion. Obviously, there had been no interaction between the girl and the mother about where dead people might be. For the mother to tell her child that she could connect with her earthly, dead father by mailing a letter to an imaginary, fuzzy, warm-feeling type of place was fundamentally misleading; and for the mother to leave out the comfort of a very real Heavenly Father Who desires a relationship through prayer was to put her child on a path of hopelessness.
The letter was duly mailed and when a postman named Simon opened the red pillar mailbox on his route he happened to notice it. He saw that the envelope did not carry postage and that it was addressed to "Dad in Heaven, Cloud 9." Having recently lost his own father, he asked his manager if he could try to locate the family to discover who sent the letter. Having obtained permission, he took a picture of the envelope and posted it on Facebook. Thousands of people responded. The mother and child were subsequently tracked down and the Facebook responses were sent on to them. The mother was astonished at all the responses that had come in.
"I haven't stopped crying since," she said, "I never thought for a second that anyone would find the letter or do anything with it."
Simon the postman later met the little girl and gifted her a father-daughter figurine as a remembrance. Her mother placed the Facebook comments in a box for the little girl as a memento.
Perhaps some of the people who responded to the Facebook photo sent messages of a heavenly Father. We are not privy to that information.
***
My own father, Louis Praamsma, was also very young, (he was six years old), when his father, Riemer Praamsma, passed away. Riemer Praamsma, who was a Christian school principal, died of pneumonia. Before he died, however, he left instructions for his children as to how to deal with his death, and his wife made sure that all the children would receive these instructions.
My father, Louis Praamsma, decades later, still remembered what had happened, and he wrote it down before he himself died, so that I and my five siblings would also be guided even as he had been guided. These were his words.
"When my father suddenly fell ill in 1916, I and my six siblings were all parceled out amongst relatives for ten long weeks. At the onset of these weeks, however, I was sent for to stand at his bedside. My father had himself taught me to read, and the family Bible was placed in my small hands. I have now forgotten so many things, but I have never forgotten that my father asked me, at this time, to find Psalm 25. When I had found it, he said, 'Read, Louis. Read the first few verses of this psalm.' And I read:                 
'To you, O Lord, I lift up my soul, O my God, in You I trust; let me not be put to shame; let not my enemies exult over me. Indeed, none who wait for You shall be put to shame; they shall be ashamed who are wantonly treacherous.' 
"I have especially remembered the next few verses – verses 4 and 5 of this psalm: 
'Make me to know Your ways, O Lord; teach me Your paths. Lead me in Your truth and teach me, for You are the God of my salvation; for You I wait all the day long.'"
The picture of my father as a little boy standing in front of his father's deathbed is solidly imprinted in my mind. All of six years old, he was undoubtedly not totally aware of the gravity of the situation. His miniature hands could barely hold the large Bible and his immature voice read in a thin, childish treble. When he was done with the passage, he saw his father nod with satisfaction and that made him feel good. My father always recalled that moment. It was the last time that he saw his father alive.
He told me more about his father's death. He related that a huge crowd of schoolchildren followed their principal's funeral carriage on its way to the cemetery. Every child and adult wore black and the carriage itself was also shrouded in black. And at the grave-side hundreds of voices sang:
Lo, as for man, his days are like a shadow,
Like tender grass and flowers of the meadow,
Whose morning beauty fadeth with the day;
For when the wind but lightly passeth o'er it
'Tis gone anon and nothing can restore it;
'Tis found no more, it vanisheth for aye.
After the funeral, the Praamsma house was filled to overflowing with people, all bringing their condolences to the bereft widow and the brood of seven children. My father, Louis Praamsma, walking between the crowd of legs, hardly realized that his beloved friend and companion was gone and would never come back. He later penned for his own children to read:
"I had such little conception of death that I did not fully understand that I would never see my father again. Caught up in the crowd of mourners who surrounded my mother, I suddenly walked up to a grown man, reached for his hands, and tried to 'climb up.' It was something my father had always done with me. Taking both my hands, he would allow me to 'climb up' and then, with a flourish, would swing me through the air before depositing me on the ground once more. But even though for a moment I thought that the stranger was my father, I quickly comprehended that he was not.
"When I later questioned my mother as to why my father was not coming back, as to why he had died, she gave me an answer that I shall also never forget. 'It is,' she told me, 'because God has better use for father in heaven than He has for him here on earth.'
"That answer gave me peace."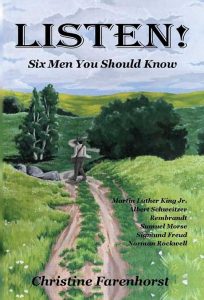 Evangelism, making disciples of all nations, surely begins at home.
Perhaps that little girl in England will also have someone who will speak to her at some time about a heavenly Father with whom she can have a relationship. Perhaps someone will point her to all the notes and letters that this Father has written to His children.
***
It is incumbent upon all of us to endeavor to make disciples of our children, of little neighbor girls and boys, and of all the people God places on our way each day. Jesus has said so:
"Go therefore and make disciples of all nations, baptizing them in the name of the Father and of the Son and of the Holy Spirit, teaching them to observe all that I have commanded you. And behold, I am with you always, to the end of the age." – Matthew 28:19-20
Christine Farenhorst has a new book out, "Listen! Six men you should know," with biographies on an intriguing selection of famous figures: Norman Rockwell, Sigmund Freud, Samuel Morse, Rembrandt, Albert Schweitzer, and Martin Luther King Jr. You can find it via online retailers including Dortstore.com.