"Inviting applications!" the ad calls out. It goes on to list four teaching positions that need to be filled, and tries to paint an inviting picture of the location and supporting community. The problem is, it is drowned out by many others exactly like it.
Look in any Reformed church magazine and you will likely find the majority of the advertising space devoted to one thing: job postings for teachers.
What has been an occasional challenge for some schools has broadened to become one of the most pressing challenges for almost every Reformed school in the country, with little hope on the horizon for change.
Since each school is independently run, it has been a challenge to get a clear picture of what is causing the teacher shortages and whether there is potential for collaboration by the Reformed community to address and reverse this trajectory.
Thankfully, work is already being done behind-the-scenes to change this.
Going beyond anecdotal stories
If there is one man who has a finger on the pulse of Reformed education in Canada, it is John Wynia. Wynia's own education began with homeschooling in his elementary years, a Reformed Christian high school, and an Education degree at Redeemer University. He then served as a teacher at Reformed schools in southern Alberta and southern Ontario, before taking on the full-time position of League Coordinator for the League of Canadian Reformed School Societies (LCRSS) in 2018 where he is still serving today. There is no other position like it in the country, dedicated entirely to coordinating and blessing Reformed school societies in Ontario.
I met with Wynia to learn more about the teacher shortage and what's already being done. Wynia shared that when he started his role as League Coordinator in 2018, his very first "League Learning Day" with schools in Ontario was devoted to this problem because it had been a huge challenge for a few years already.
"Anecdotally it is a problem. You can see it in the advertisements in the various periodicals, the Clarion or Christian Renewal or whatever it may be," Wynia shared. And it isn't limited to a particular denomination. "Rehoboth Christian School, the Free Reformed schools, Heritage Christian School, they all reported similar challenges." Wynia added that even in the case of the schools that are reporting they are fully staffed, it is often because they asked a mom, or a retired teacher, to come back to teach part-time. "They are making do."
The 2018 meeting highlighted the need for better data, to go beyond anecdotal information. And it sparked an initiative called "Teach With Us Ontario" (TWUO). The TWUO team started gathering information from schools about enrollment, the number of teachers, attrition rates (the number of teachers that leave each year), reasons for teachers leaving, and more. They also developed a teacher appreciation program, found a teacher champion for each school, and made a webpage – LCRSS.ca/teachwithus – that featured videos and stories about the blessing of serving as teachers.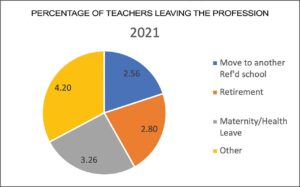 It didn't take long before schools from western Canada expressed the same need and TWUO morphed into TWUC  – "Teach With Us Canada." Kent Dykstra, Principal of Credo Christian High School in Langley, BC, served as the primary contact point for gathering data from Reformed schools in Western Canada.
Although the data doesn't account for all Reformed schools, it is likely representative. They found:
Enrolment is increasing steadily, from 4,593 students in 2014-2015 to 5,252 this past year in the schools counted. Generally speaking, more students require more teachers. Maintaining the teacher numbers won't be sufficient long-term if the trajectory of increasing student population continues;
There was a slight decrease in the number of teaching staff from 2020 to 2021, and incomplete data prior. The total Full-Time Equivalent Teaching staff was 355.4 in 2021 and 367 in 2020.
The attrition rate (percent of teachers leaving the profession in a given year), not including to other Reformed schools, increased from 9.5% to 10.3% in 2021. Wynia explained that these attrition rates are somewhat higher than other professions, and higher than for teachers in the public schools, where it is about 6-7%.
Of the reasons for leaving, 4-5% of the total number of teachers leave annually for reasons other than health, retirement, maternity, or going to another Reformed school.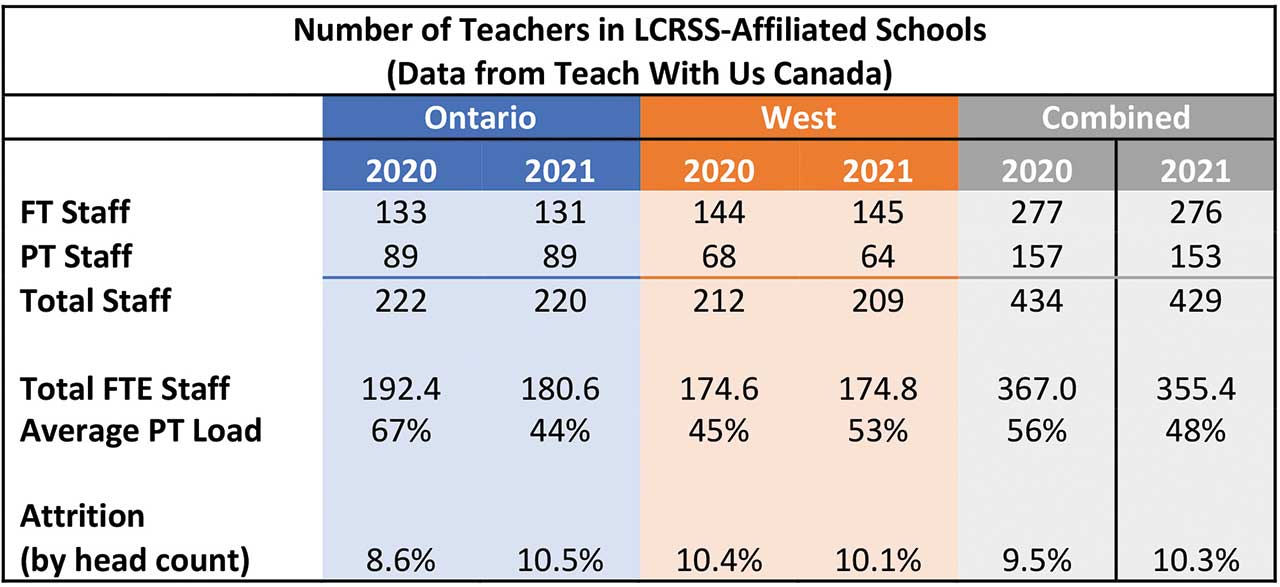 A dearth of applications
One side of the challenge is making it possible for teachers to stay in the profession long-term. A goal every bit as important is recruiting more people to join the profession, either transferring over from other professions or as their first career.
The TWUC team sent out a survey in 2019 and 2021 to grade 11 and 12 students in Reformed high schools, exploring why these students would or would not consider teaching as a career. It found:
37%-42% of students considered a teaching career
Far more female students (48%) than male (27%) consider teaching
The most important factors cited by students to consider teaching were: "Using my God-given gifts and abilities," "Desire to pass on a Reformed worldview" and "Desire to make a difference"
As for reasons to not consider teaching, the top factors were: "Passion for another profession/career," "Feeling called to another profession/career" and "Limited opportunities for professional advancement"
Although a substantial percent of students consider teaching, these ambitions are not culminating in an abundance of qualified men and women for the job openings for teachers. The opposite is true.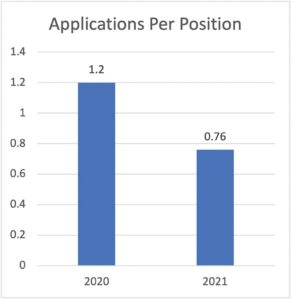 From the "Applications per position" chart, courtesy of TWUC, we see that the 37-42% of students with ambitions to teach doesn't materialize into teachers. Only 4.1-6.3% are graduating from a teacher education program. (The drop off from 2020 to 2021 is likely attributed to Covid restrictions).
Another helpful statistic from TWUC's research is the number of qualified applications that schools are receiving for each position they have open. In 2021, it wasn't even one application for each opening.  Kent Dykstra clarified that a "qualified" applicant doesn't necessarily mean they even have a Bachelor of Education degree or equivalent. In provinces that allow people to teach without this, these applicants are also deemed to be qualified. When we factor in the reality that new graduates who are looking for a position likely send their application to multiple schools, that leaves most schools high and dry.
Adam Kloostra, Principal of Rehoboth Christian School in Copetown, Ontario – which has members from Free Reformed, Netherlands Reformed, and Heritage Reformed churches – shared with me that their school community has very similar challenges. "I've just begun my fourth year as principal, and I can confirm that each time we post a job opening we're only receiving 1-2 applicants on average per posting. We've been seeing this trend for a number of years now and have instituted a "teacher attraction and retention committee."
The same is true for Heritage Christian School, which is one of the largest Reformed school in the country, based in the Niagara peninsula of Ontario. Their principal, Brian Kemper, shared with me that "in past years, there were often plentiful teacher applicants. Now, some years pass by and we don't even get one applicant for a teaching position."
Woke universities
The huge gap between interest in the teaching profession from Grade 11 and 12 students and the number of applications being received points to some significant challenges. What is happening? As helpful as data is, to get to the heart of this issue it often helps to talk to the people on the ground.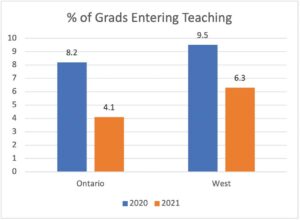 An accompanying article "Report from the Front Lines" was graciously compiled by six current high school teachers, in an effort to give their honest reflections on the blessings and challenges of serving in this vocation. The benefit of frank and anonymous data is that it is more likely to cut to the heart of the issue. At the top of the list of "cons" is:
"Need to jump through a lot of hoops to get trained. Lots of unnecessary/politicized courses and topics to cover, which can get tiring and demoralizing."
I asked one of these teachers to speak to this further. He shared that when he went through university in the 90's, although it was no small feat to go through six years of study on his own dime, at least he received a quality education from professors who wanted to teach their disciplines well.
The same can't be said anymore. We won't even factor in the disruptions caused by the vaccine mandates and other Covid restrictions over the past two years. For the past couple of decades, Canadian universities have become bastions of political correctness. It is one thing to jump through a six-year hoop and get a decent education. It is another to withstand six years of sensitivity training and woke indoctrination.
A recent study by the MacDonald Laurier Institute, published this September, bears this out. It found that a staggering 88% of professors on Canadian university campuses identify as left-leaning, compared with only 9% who are conservative. And that tiny minority who are conservative are censoring their own thoughts, out of fear of negative consequences.
Reformed Christians have very few options for a quality degree in education that is accredited. One noteworthy institution, which has been making an effort to uphold its Reformed roots, is Redeemer University in Hamilton, Ontario. Reformed Perspective's "Real Talk" podcast recently interviewed the university's new president Dr. David Zietsma, in which he detailed, in-depth, his desire to lead the institution faithfully and with a Reformed confessional basis.  However, for most Canadians, attending Redeemer would mean moving to southern Ontario and paying substantially more than secular schools (though Redeemer has cut tuition significantly in recent years).
Covenant Canadian Reformed Teacher's College (CCRTC) is another solid option for teacher training. It is also based in Hamilton and has been providing teacher's training since 1976. They now provide a Diploma in Education and a Diploma of Teaching, and have graduated many students who have gone on to teach in Reformed schools throughout Canada. However, their lack of government recognition – formal accreditation – for their diplomas has meant that graduates have primarily served Ontario schools, one of the few provinces that doesn't require teachers to have accredited degrees. In recent years, the CCRTC has been going through a rigorous process to achieve accreditation, which would go a long way to attracting students from across the country who desire a solid Reformed teacher's education.
The increasing cost of living
Another "con" listed by teachers in the "Report from the Front Lines" article is:
"Pay not that good for that much university training – many trades pay better, RN nurses start at around $90k, RCMP make $106,576 after three years, etc., while most teachers start at $50k and max out at $80k."
Although salary was ranked as the least important factor for Grade 11 and 12 students, it doesn't take long until young adults realize they have massive bills to pay for tuition, living, and potentially also raising a family. These costs have escalated significantly with inflation and a housing market that has more than doubled in price. It is one thing for established teachers in rural communities to continue to get by with salaries of $50,000-$80,000. But it is another thing for those who recently finished six years of post-secondary education with student loans and face a housing market that starts in the neighborhood of $800,000 to purchase a modest family home. As much as someone may want to teach, they have to pay their bills and support their families.
At the same time, wages for trades have increased substantially in recent decades. As the teachers shared "5-6 years of university – expensive, especially if you have to move out of town. Lost wages for 5-6 years, and lost years of experience, seniority, working your way up in other careers. Takes decades to catch up to peers (if ever)."
Brian Kemper from Heritage Christian School concurs. "Teaching is a demanding calling and wages are not very high. Often, there are teachers who supplement their income with other work/investment opportunities. The high cost of living in the Niagara area is also a significant factor. More people are leaving for other opportunities or to move to other areas."
Reformed schools are supported by families, and in Ontario the entire budget for private schools comes from donations and tuition, as there is no government support. Increasing salaries generally means increasing tuition fees, which are being paid for by families who are also facing the pressures of rising costs and limited finances.
"I think there is a desire to find ways to support teachers," Wynia offered. "The scholarship idea is a start." However, "the money has to come from somewhere. We are venturing into this territory for the first time. The desire would be there to provide more support. Especially in supporting their education."
"I can speak from experience of living on a teacher's salary, paying off student loans, trying to buy a house, though prices aren't where they are now. We have a good life. We don't get to do all the things that others do. But that doesn't bother us." Wynia added that in the church, where there is a lot of affluence, we have to be careful to not lose sight of what the most important things are.
Seeking His kingdom first
At root, it is evident that teaching won't stand out from other professions because of the ease of getting into the profession or the salary and benefits. Although all professions can be understood as "callings" when we recognize that all the earth is God's, the calling for men and women to raise covenant children in the fear of the LORD requires the support of an entire church community and won't happen unless it is prioritized.
"We want people to understand the joy of being a teacher and the calling of it" shared Wynia. "We need to have our current teachers and parents and community pass on the beauty and joy of Reformed education and the blessing to be a part of it. We have work to do on that front."
Adam Kloostra, from Rehoboth Christian School, agrees. "They're in it because they love it and they want to be used by God to serve others – so it's far more a calling than a job. We've started to take this approach in our community and amongst our students – we want our students to consider teaching in Christian education as a calling that the Lord may be leading them towards – so we do what we can to show forth positive attitudes towards our positions here. Our behaviour in relation to our calling definitely impacts our student's perception of the calling."
Brian Kemper reminded me that when a school is up front about its identity it will be attractive to those who want to pursue a meaningful career. Heritage Christian, where he serves, is "a Reformed, parental, covenantal school that equips young people with the knowledge, skills, and attitudes for a life of service to Christ and their community. Teacher applicants know who we are, and when they apply for a position here, they get excited about the Heritage that they are joining."
As discussed further in the editorial for this issue, whether it is teaching or a different profession, the key ingredient is a heart that is seeking first God's kingdom (Matthew 6:25-34). In the broader Christian community there is often a lack of volunteers to serve in positions of church or school leadership. This points to an underlying spiritual problem that can't be resolved through practical strategies. There won't be enough kingdom workers if there aren't enough people seeking His kingdom first.  Thankfully, there seems to still be plenty of people willing to serve as volunteers in Reformed schools, which suggests that the problem likely has more to do with the challenge of entering and staying in the teaching profession rather than a lack of heart for Christian schooling.
A coordinated strategy
Recognizing that practical steps can go a long way, some schools are looking at ways to increase their pay scales or offering scholarships to students pursuing a teaching career. As helpful as these efforts are, it was clear to the leadership of TWUC that a larger-scale and more coordinated effort was needed.
Covid delayed the progress of this new national effort till the spring of 2022, when an ambitious strategic plan was developed. The plan settled on five strategies and immediately got to work in making all five a reality:
Student scholarships/bursaries: Implement a program providing scholarships/bursaries to eligible students. All school boards would have an opportunity to contribute to fund the program. The hope would be that the fund is self-perpetuating once it is set up. Ads would then be put in Christian publications, to make students aware of the opportunity. Surveys could be done to better determine how important a bursary would be for pursuing teacher training.
Mature students' education: Survey Reformed school societies for individuals who are already in a vocation but may consider becoming a teacher, through a mature student education program. This also involves working with the Covenant Teacher's College to determine the feasibility of a program for mature students.
Local awareness program: Come up with local awareness initiatives, such as developing an outline of talents that a prospective teacher should or could possess, survey Grade 11 and 12 teachers for potential teacher candidates among their students, promote teaching as a second career, establish contact with recent grads from any vocations to promote teaching, and more.
Teacher in-training registry: Create and maintain a registry of teachers, including students pursuing a teaching career, to ensure good communication and awareness between schools and potential teachers.
Professional development: Design and implement programs to strengthen teaching abilities, including mentorship programs and opportunities for specialization.
TWUC hopes to develop these five prongs concurrently and begin implementing them next spring. If anyone is interested in helping, they are encouraged to reach out directly to John Wynia at [email protected].
Other schools have also been working on a coordinated strategy. Daniel VanBrugge, a teacher at Timothy Christian School, a large school with students from local Netherlands Reformed and Heritage Reformed congregations, shared that "in our own NRC schools the vast majority of up-and-coming teachers are ladies. Very few men have made the decision to study for teacher right out of high-school."
In response "at least two communities have hosted an "Own-the-Issue" evening that brings together teachers, school leaders, church leaders, parents, and grandparents to raise awareness that the teacher supply is a community problem that will be best solved by the community coming together (as opposed to just the school board trying to brainstorm and address the issue)." And since Netherlands Reformed congregations have direct oversight over schools, their church leadership has also taken action. "Our educational committee at the NRC Synod level has done a denominational-wide study on the numbers high school students considering, or planning to study for teacher. The issue looks like it will remain. It's an important topic."
Broadening the field
In Canada, the provincial government sets expectations for who may teach in schools. Most provinces require a Bachelor of Education degree, in addition to a standard undergrad degree. Ontario is an exception, allowing schools to set their own criteria.
Ontario schools are increasingly making use of this freedom. Kloostra shared that "Ideally, when an applicant does come along, they have their B.Ed. – but we have found that this is no longer a pillar we can bank on each time a position opens up. So we have several staff members who don't have their B.Ed. and despite not having it, they're doing great things – right on par with teachers who have spent the 5-6 years accomplishing a B.Ed.
Other provinces allow exceptions. For example, in BC a school can hire a teacher who doesn't have an education degree if they can prove that they advertised the position and didn't find someone more qualified to fill it. The schools have to repeat the process annually but are generally not met with resistance by the government. This allows schools to broaden the range of who can fill positions, but the lack of stability means that not many people would consider it to be a long-term career.
Another option to expand the pool of teachers is to broaden the criteria of which churches or denominations a prospective applicant can come from. For example, instead of restricting applications to a particular denomination, a school could welcome teachers who are members of a NAPARC-affiliated church, or some other criteria that maintains a confessional and orthodox Reformed basis. (NAPARC stands for "North American Presbyterian and Reformed Council" which includes the CanRC, URC, OPC, PCA, and RCUS among its member denominations.)
When I asked Kent Dykstra about this possibility, he observed that parents and school members are rightly concerned about the worldview of those teaching their students. "There is some flexibility, and some boards and some communities are using that flexibility that is written in their founding documents. Others are changing their documents to reflect that reality, but there is also some sensitivity." That said, it may not even help. "I'm curious whether opening up the hiring policy would address the problem. It probably would attract some teachers. But if we open up the hiring policy, would it not be consistent to open up the admissions policy? And if we open up the admissions policy you might cancel it out because you need more teachers." 
Financial solutions
School societies are understandably very hesitant to increase salaries and benefits because the cost is felt directly by families who are paying tuition, many of whom struggle with paying their own bills. Yet what isn't often publicly acknowledged is the massive increase in wealth that many Reformed families have experience in recent decades. In the past six years alone, the average Reformed family in Canada has received an extra $1,000-$2,000 in tax-free income every month from the federal government in the name of child care benefits (up to a maximum of $6,639 per child under 6 and $5,602 for ages 6-17 each year, adjusted for income). Others have seen their property values climb into the millions. Lifestyles so easily adjust accordingly. The percentage of a family budget that goes to tuition decreases, especially when compared with what our grandparents and parents contributed. As one very elderly and wise lady shared with my wife when reflecting on raising a family with limited means "after paying for church and school, there just wasn't much money left for things like shoes."
To be clear, there are many Reformed schools that pay fair, and even generous, wages to their teachers and employees. The fact that other professions have seen massive pay increases does not need to translate into pressure to go beyond what is already fair.
A different but related issue that has been raised already in this piece is the "hoop" that teachers have to jump through to become certified – five or six years at secular universities that are offering sub-par educations. There are very few solid Christian institutions, and the two that come to mind require a student to move to Ontario, or pay higher tuition.
Some schools have come up with creative efforts, such as providing a slightly higher wage for the first year of teaching, or offering a scholarship to students who are becoming teachers. But as helpful as these are, it is hard to see them actually resulting in more people pursuing teaching. For example, a $5,000 scholarship sounds generous, but it can't be depended on and doesn't actually go that far when you consider the cost of six years of full-time studies (including tuition, living expenses, and not being able to work full-time). It would help alleviate the expense, but likely wouldn't sway someone to proceed if the education requirements are a barrier.
One idea that I haven't heard discussed by schools or TWUC is to offer students who are pursuing teaching a loan (for example, up to $15,000 per year for five years), contingent on them studying at a solid Reformed institution like Covenant Teacher's College or Redeemer University and maintaining a full course load and good grades. Then, when they take up a teaching position, a portion of the loan can be forgiven for each year of teaching (e.g. a $15,000 signing bonus, with $10,000 being forgiven each year for the next five years). The original pool can be contributed by investors who have the means and want to see more teachers. But the pool can be maintained by school societies who cover the loan repayment. That way, if a school really wants a teacher, they can pay to make it happen. If a school doesn't struggle with finding teachers, they don't have to offer to repay any loans.
Your ideas welcome
What ideas do you have? This article was written to start a discussion in homes and communities across the country. We invite you to share your ideas and insights by sending them to the editor.