Marvin Olasky has been many things – the Editor-in-Chief of World magazine, a journalism professor, the author of more than 20 books, and a baseball fanatic. Two of those books lay out his radical notions concerning journalism, on how it used to be a Christian enterprise, and how it can be again.
This is an "interview" with those two books, and the text in bold are his words as they are found in Prodigal Press: The Anti-Christian Bias of American News Media and Telling the Truth: How to Revitalize Christian Journalism.
****
JON DYKSTRA: Let's start with the title of your first journalism book. What does Prodigal Press refer to?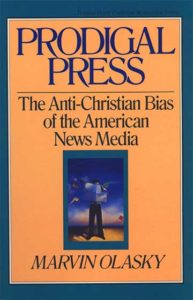 MARVIN OLASKY: The title refers to the relationship that today's secular press has with the Christian journalism of yesteryear. Though few know it, American secular journalism is the wayward son of Christianity.
JD: Do you mean newspapers used to be Christian?
MO: Yes, indeed. For example, the New York Times was founded in 1851 by Henry Raymond, a Bible-believing Presbyterian. Throughout the City of New York there was at one time fifty-two magazines and newspapers that called themselves Christian.
JD: A Christian New York Times? That is pretty hard to believe.
MO: It was a great Christian paper! It became known for its accurate news coverage and for its exposure in 1871 of both political corruption (the "Tweed Ring") and abortion practices. A reading of the New York Times in the mid-1870s shows that editors and reporters wanted to glorify God by making a difference in this world.
JD: The 1800s seemed to be a good time for Christian journalism. Is that when it all started?
MO: Oh, it started much earlier than that. You could even say that Luke was one of the first journalists. At that time published news was what authorities wanted people to know. The Acta Diurna, a handwritten news sheet posted in the Roman forum and copied by scribes for transmission throughout the empire, emphasized governmental decrees but also gained readership by posting gladiatorial results and news of other popular events. Julius Caesar used the Acta to attack some of his opponents in the Roman senate – but there could be no criticism of Caesar….The Bible, with its emphasis on truth-telling – Luke (1:3-4 NIV) wrote that he personally had "carefully investigated everything from the beginning" so that Theophilus would "know the certainty of the things you have been taught" – was unique in ancient times. New Testament writers comforted the afflicted and afflicted the comfortable.
JD: But if journalism had a Christian origin, what happened to change things? Most journalism today could hardly be called Christian.
MO: There were a number of reasons for the change. First newspapers started shying away from tough stories. Evil unfit for breakfast table discussion or considered unfit to print was ignored and thereby tolerated. Several generations later it was embraced. More importantly, just as Christianity was being attacked by ideas like evolution and materialism, Christianity in North America underwent a period of revivalism that emphasized individualism. Many were saved thankfully, but this emphasis on personal faith did not stress the importance of a Christian worldview. So instead of confronting all problems from a biblical perspective, newspapers pushed Christianity to the sidelines. Furthermore, many Christians began to believe that the general culture inevitably would become worse and worse. They thought that little could be done to stay the downward drift. Christian publications should cover church news, they thought, and ignore the rest of the world.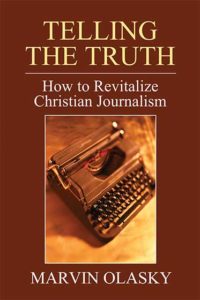 JD: So instead of responding to these attacks, Christian journalists just retreated?
MO: Exactly.
JD: When did this shift take place?
MO: It's hard to put an exact date to it, but by the 1890s things were underway and by the 1900s journalism had turned rather vicious under the leadership of men like William Hearst and Joseph Pulitzer.
JD: But weren't Hearst and Pulitzer giants in the newspaper industry?
MO: Yes they were, but you wouldn't want to get on their bad sides. Hearst, for example, was the first journalistic leader to assault regularly those who stood in his path. When Hearst could not get the Democratic presidential nomination in 1904, he called Judge Alton Parker, the party's nominee, a "living, breathing cockroach from under the sink." 
JD: Nice. Well, if we've lost our way, how can we make journalism Christian again?
MO: For too long Christians have contented themselves with singing "A Mighty Fortress Is Our God," all the while forgetting that a fortress was an offensive as well as defensive weapon: From it soldiers could make sorties. We have to go out boldly and engage culture, and contrast our Truth with their opinion.
JD: But don't we already have a number of Christian columnists who do just that?
MO: We have columnists, but not many journalists.  We need to have people covering the day-to-day news from a biblical perspective. Too often Christian newspapers fill their pages with warmed over sermons rather than realistic stories of successful independent schools or corrupted churches and thereby miss an opportunity to teach boldness. We need to confront culture boldly!
JD: Boldness is the key then?
MO: Well…no. Boldness alone won't do it. In fact, none of this will make much difference unless Christian communities view journalism as a vital calling and Christian journalists as ministers worthy of spiritual and economic support.
The picture of Marvin Olasky has been modified from one found here, and is used under the Creative Commons Attribution-ShareAlike 3.0 License. A version of this article first appeared in the March 2008 issue.